Are You Ready for Some Football?
Big-time college football lives in Winston-Salem, home of the Wake Forest Demon Deacons and Winston-Salem State University Rams. Here's everything you need to know ahead of the 2023 season.
Saturdays in the fall are sacred in Winston-Salem, as big-time college football returns. Two of the state's most storied football programs call Winston-Salem home: the Wake Forest Demon Deacons of the ACC and the Winston-Salem State University Rams of the CIAA. Visitors from all over the country come to see these historic campuses, tailgate with fellow fans, and experience what one of the South's best college towns. https://www.southernliving.com/souths-best/college-towns 
While we're still months away from the 2023 season kick off, it's never too early to start planning a football-themed getaway to Winston-Salem. Here's a 2023 season preview and schedule for both Wake Forest and Winston-Salem State. 
---
Wake Forest Demon Deacons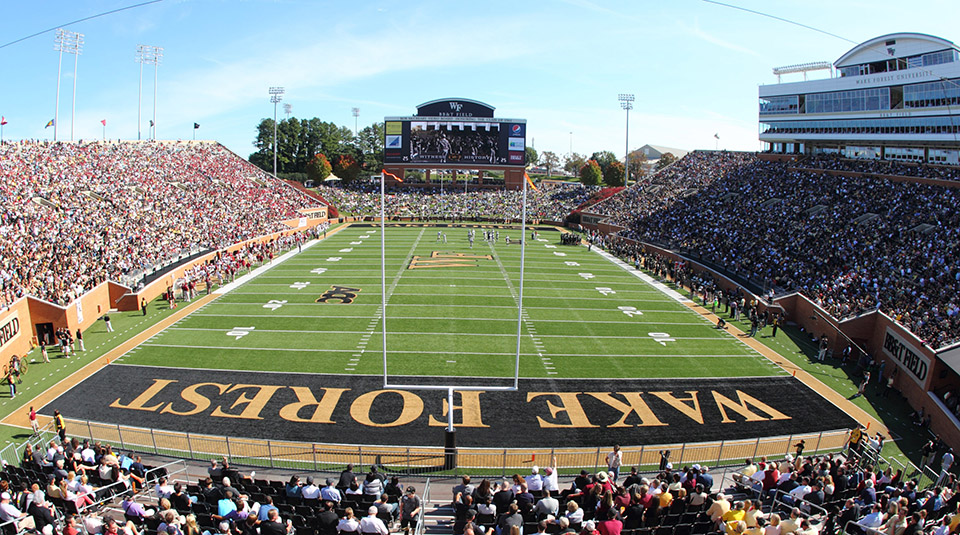 DeacTown be rocking this fall as the revamped Demon Deacons host a half-dozen home games inside the 32,000-seat Truist Stadium. The 2023 home slate features several big-time matchups, highlighted by ACC bouts against rivals Florida State (Oct. 28) and NC State (Nov. 11), and several sellouts are expected. Things kickoff on Thursday, Aug. 31, as Wake Forest battles Elon under the lights.
So how are the Deacs looking this year? In a word (or two) -- sneaky-good. After losing starting QB Sam Hartman to the transfer portal and star WR A.T. Perry to the NFL, Wake appears to be in reload mode this season. But it's hard to bet against Coach Dave Clawson, whose steady leadership and outside-the-box game plans often take the ACC by surprise. This season should be no different, as the Deacs return several playmakers on offense, highlighted by WRs Taylor Morin and Donovan Greene. Don't be surprised if the 2023 ACC Championship runs through Winston-Salem.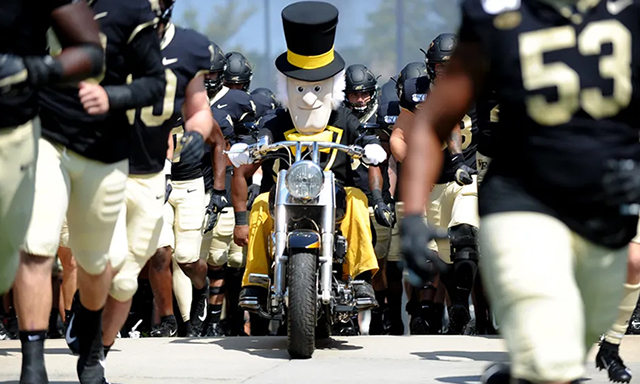 2023 Wake Forest Schedule
*Home game at Truist Stadium (Winston-Salem, NC)
*Aug 31 (Thu)
vs Elon
Truist Field – Winston-Salem, NC
*Sep 9 (Sat)
vs Vanderbilt
Truist Field – Winston-Salem, NC
Unrivaled Weekend
Sep 16 (Sat)
at Old Dominion
Norfolk, VA
*Sep 23 (Sat)
vs Georgia Tech
Truist Field – Winston-Salem, NC
Oct 7 (Sat)
at Clemson
Clemson, SC
Oct 14 (Sat)
at Virginia Tech
Blacksburg, VA
*Oct 21 (Sat)
vs Pittsburgh
Truist Field – Winston-Salem, NC
Homecoming 2023
*Oct 28 (Sat)
vs Florida State
Truist Field – Winston-Salem, NC
Nov 2 (Thu)
at Duke
Durham, NC
*Nov 11 (Sat)
vs NC State
Truist Field – Winston-Salem, NC
Senior Day
Nov 18 (Sat)
at Notre Dame
South Bend, Ind.
Nov 25 (Sat)
at Syracuse
Syracuse, NY
Buy WFU Season Tickets
Guarantee your seat in DEACTOWN for the 2023 season by purchasing a season ticket. Season tickets offer the promise of a great seat and other great offers during Wake's six home games this season. Seat locations will be finalized at a later date. If you have any questions please contact the WFU Ticket Office at [email protected] or by calling 336-758-DEAC. 
"Our fans and student body truly make a difference when we play inside Truist Field. The incredible energy and support we have received has helped us raise the standard for WFU football as we have played in seven-straight bowl games, won five bowl championships, and won the 2021 ACC Atlantic Division title. The 2022 season was the best student and fan engagement during our nine years and I am excited for this fall."
"As Coach Clawson and his squad build on the ACC's second-longest bowl streak at seven-straight seasons, our fans have established Truist Field as a unique and special place to celebrate the color and pageantry of college football. We're excited to again achieve our goal of delivering the Best Fan Experience in North Carolina and encourage all fans to make plans now to bring friends and family to experience DEACTOWN in 2023."
---
Winston-Salem State Football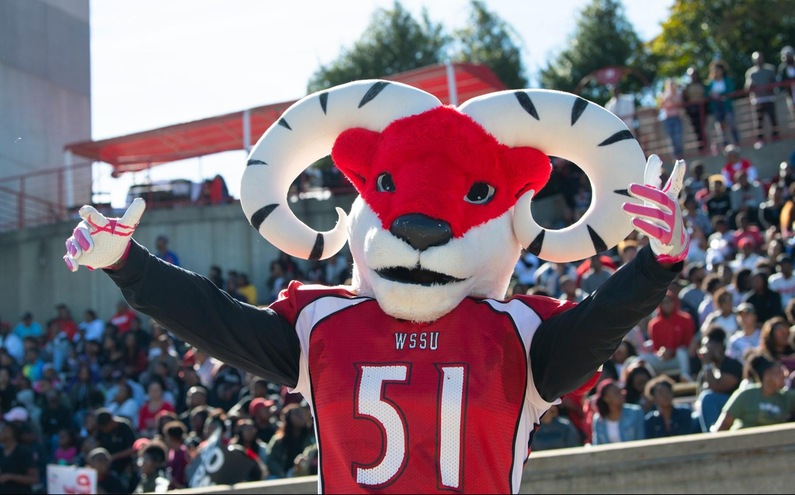 It's one of our favorite sounds of fall — the WSSU Marching Band (aka, the Red Sea of Sound) playing the school's epic "Get Up" anthem as the crowd roars in unison. The Rams play their home games at historic Bowman Gray Stadium, one of the most unique venues in the nation. With seating for nearly 18,000 fans, the stadium hosts one of the most raucous crowds in the region.
There should be plenty to cheer about this season, as the resurgent Rams look to build off some late-season momentum from 2022. This year's squad will be led by a talented mix of newcomers and veterans including sophomore RB JahTwan Stafford, who's coming off an All-Conference rookie season. The offense will be supported by a hard-nosed defense who were ranked among the nation's best last year. Leading the charge is former NFL standout Robert Massey (a 1992 Pro Bowler with the Cardinals), whose goal is to "protect the legacy" of WSSU football that's been established over the decades. "We are working hard to get us back to where we belong: winning championships." Let's go Rams!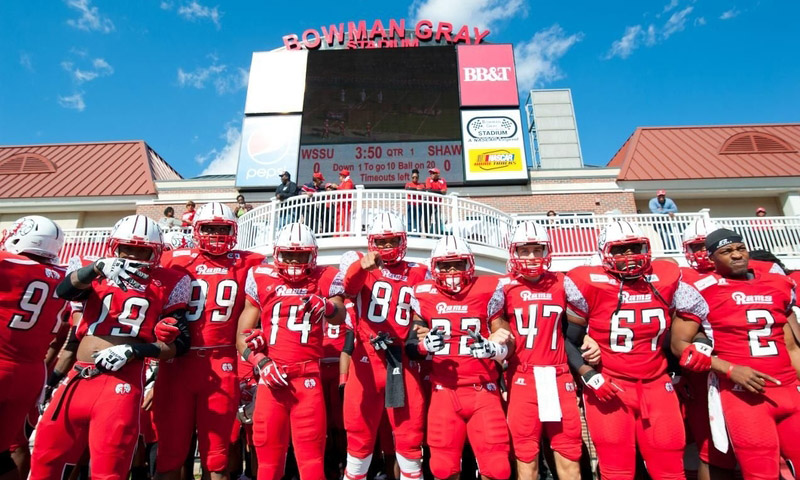 2023 WSSU Football Schedule
*home game at Bowman Gray Stadium
Sept 2 (Sat)
TBD
Winston-Salem, NC
Sept 9 (Sat)
TBD
Winston-Salem, NC
Sept 16 (Sat)
TBD
Winston-Salem, NC
Sept 23 (Sat)
TBD
Winston-Salem, NC
Oct 7 (Sat)
TBD
Winston-Salem, NC
Oct 14 (Sat)
TBD
Winston-Salem, NC
Oct 21 (Sat)
TBD
Winston-Salem, NC
Oct 28 (Sat)
TBD
Winston-Salem, NC
Nov 4 (Sat)
TBD
Winston-Salem, NC
Nov 11 (Sat)
TBD
Winston-Salem, NC
WSSU football updates
The Rams 2023 football schedule will be released in the coming weeks. To stay on top of all the action -- or to get info on tickets, game times, player updates, and more -- go to WSSURams.com, the official page for WSSU athletics.