5 Attractions on Our Holiday Bucket List
Wander your way around our Winston-Salem wonderland this holiday season.
Become enchanted with more than 265-year-old traditions as you delight in our picturesque scenery, the alluring scent of baked goods (think the ever-popular Moravian cookie), and the sound of sleigh bells while on a candlelight carriage ride at Reynolda Village.
Our historic hotels and museums take on a nostalgic twist, adorned from head to toe in warm holiday decor and hot cocoa. Many bring history to life with cherished family recipes revealed just for you or fireside chats that deep dive into storied traditions.
Check off these must-see attractions when you're exploring your "home away from home" this holiday season.
---
Tanglewood Festival of Lights
Nov. 12-Jan. 1, 2022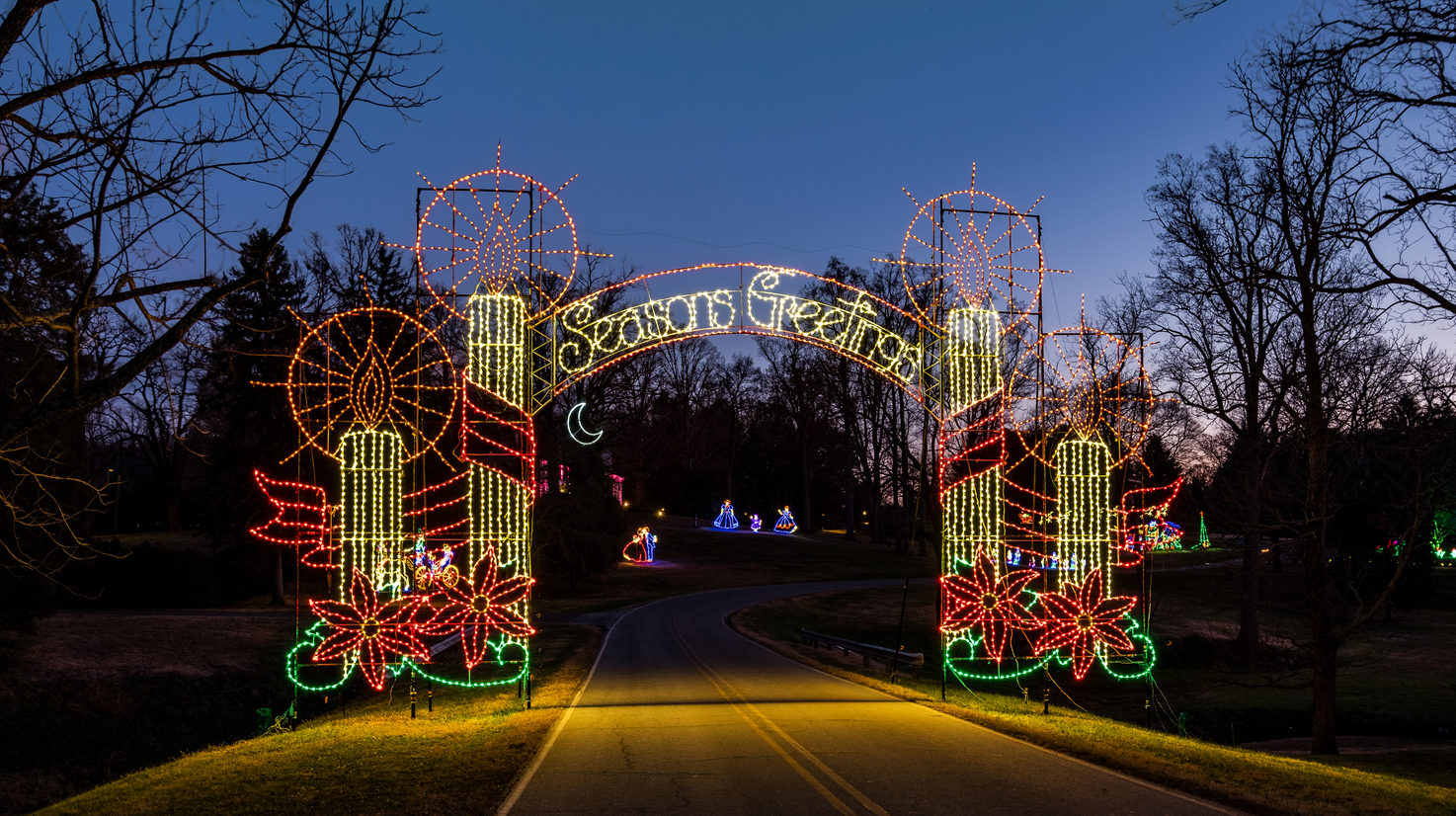 Enjoy the wonder of it all and surround yourself with more than 1 million twinkling lights at the 30th Annual Tanglewood Festival of Lights.
The awe-inspiring light display welcomes more than 250,000 visitors every year, all with their radio dials tuned to WMAG-99.5 FM (through Dec. 25) for holiday jingles, donned in comfortable jammies and good cheer. Vehicles slowly traverse the five-mile route throughout Tanglewood Park, getting swept up in the magic of the attraction that takes more than 60 days and 6,000 hours to set up.
Halfway through the light show route, shop 'til you drop at the Red Barn Gift Shop, finding locally-made treasures. Lowes Foods provides fan-favorite S'moresville, a marshmallow roasting tradition loved by old and young alike. Right next to the gift shop, supplies are available for purchase so eventgoers can warm up by the fire and make a sweet treat.
Carriage and hayrides are also available by reservation.
This year's Tanglewood Festival of Lights runs nightly through Jan. 1 from 6 to 11 p.m.; admission per family car is $20 cash (or $23 per credit card). The bigger the vehicle, the bigger the admission price. Check them out here if you're planning on a caravan.
PRO TIP: Lines can be long at this popular holiday attraction so check out our blog on how to best plan ahead.
RELATED CONTENT: Light Up Your Holidays at the Tanglewood Festival of Lights.
Holidays at Reynolda
Nov. 16-Jan. 1, 2022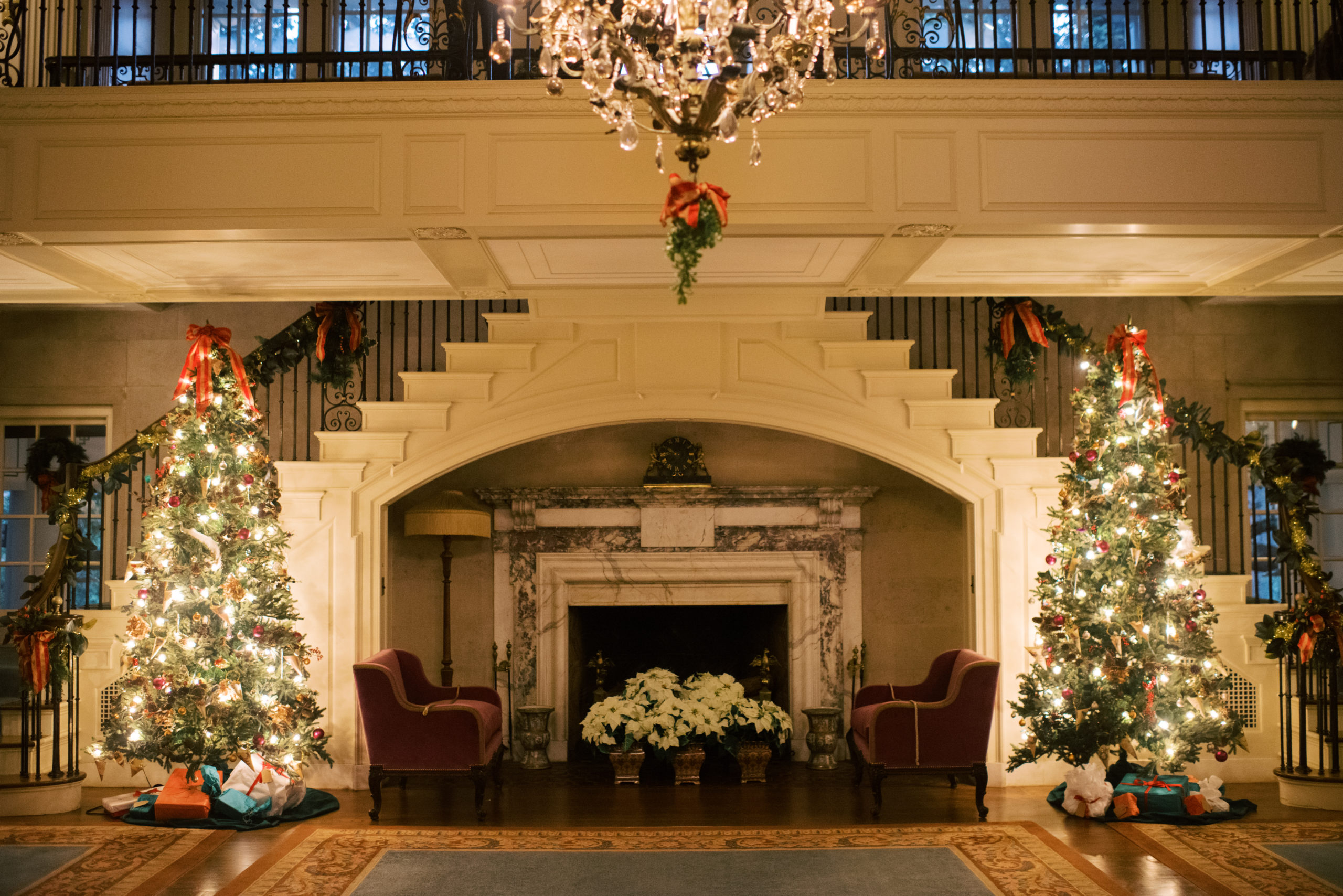 Reynolda House Museum of American Art presents a window into a grand moment of Winston-Salem's history.
The Reynolds' family home, a 34,000-square-foot country bungalow, is transformed from its Roaring '20s grandeur into a special Christmas-themed wonder.
Hand-stamped Christmas cards, antique decorations, garland, and more fill the 1917 home as are dozens of Christmas trees, all glowing in soft light. This year, authentic early 20th-century glass ornaments (a gift from the North Carolina Art Museum) adorn the trees inside the historic house. The collection of antique ornaments includes nearly 400 figures including Santas, fruits, candies, animals, miniature lamps, and tobacco pipes.
At nearby Reynolda Village, guests can take part in a free, bell-jingling carriage ride as part of a Holiday Stroll to enjoy carolers and sightseeing on the historic grounds. Visit local shops to get first dibs on their holiday selections of unique gifts and treat yourself to delicious fare from one of the on-site restaurants.
Reynolda Gardens is a special place during the holidays too. It's always free to explore the gardens, but if their seasonal flora and fauna inspires you, take part in a wreath-making class led by lead horticulturists.
Or take home a piece of Winston-Salem with your very own festive fauna or flora to gift to the green-thumber in your family). The Holiday Plant Sale at Reynolda Gardens (Nov. 17 through Dec. 17) is open Monday through Friday from 10 a.m. to 4 p.m. Holiday plants, including cyclamen, poinsettias, paperwhites, amaryllis, and Christmas cactus are available.
Reynolda's holiday season includes a slate of activities from performances in nearby Reynolda Village to cardmaking workshops. For more info, visit here.
PRO TIP: Plan to spend a full day exploring the "Reynolda Mile." Guests are encouraged to round out the experience with a stay at Historic Graylyn Estate.
Victorian Christmas at Körner's Folly
Nov. 26-Dec. 31, 2021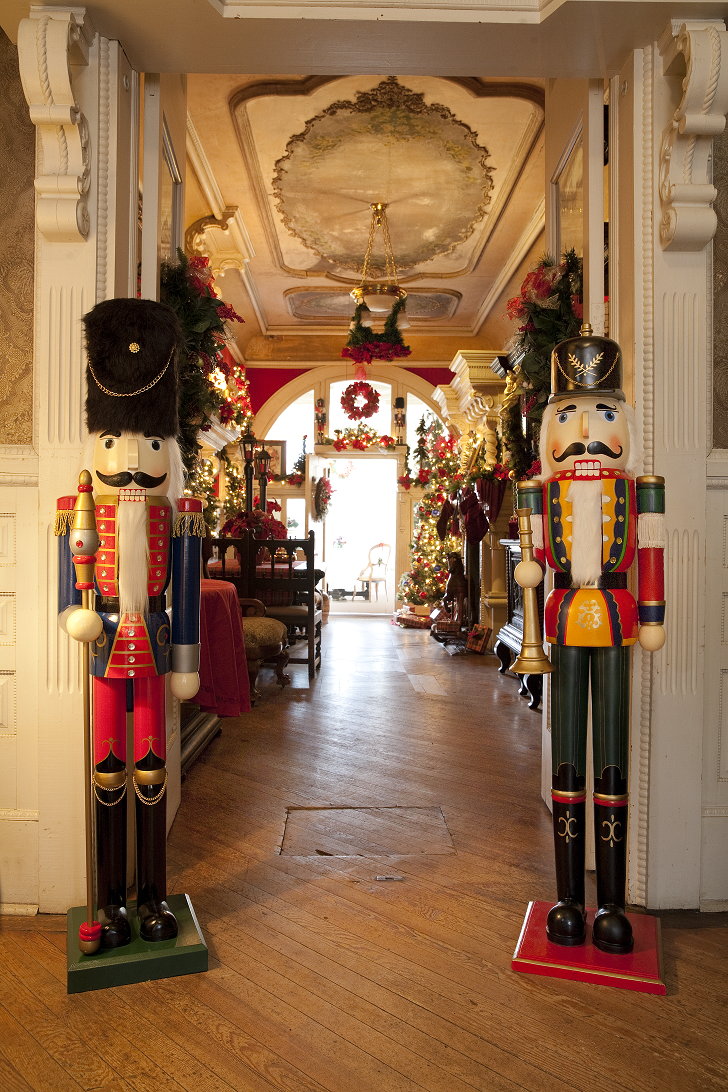 Explore the elegant and eccentric this holiday season at Körner's Folly as you weave through a 22-room house often referred to as "the strangest home in America."
Nestled less than 15 minutes from downtown Winston-Salem, the eclectic three-level, seven-story historic home was built in 1800 as both a home and showroom for designer Jule Körner. Meander your way through rooms of varying ceiling heights from 5 ½ to 25 feet. Find what treasures lie within the cubbyholes and trapdoors and climb the grand staircase to the top level of the home.
This winter, the adventure takes on new charm as the remarkable structure adds another layer of adornment with ornate displays of Christmas decor. Thanks to the energy and creativity of a crew of special volunteers, the 22 rooms of Körner's Folly will be filled with trees, garlands, ornaments, and spectacular interpretations of this year's theme, "A Victorian Winter Wonderland."
Christmas by Candlelight, an exclusive evening event, is sure to spark a feeling of enchantment as spectacular Victorian-inspired decorations shine and the house glows from within. Costumed guides from Kernersville Little Theatre will be stationed throughout the house to receive company, as well as sing carols and recite from, "A Visit from St. Nicholas."
Celebrate a Victorian Christmas at Körner's Folly from Nov. 26 to Dec. 31. For more information, visit here.
PRO TIP: The gift shop at Aunt Dealy's House at Körner's Folly opens for another holiday season, so it's the perfect time to stock up locally made gifts. This small cottage to the rear of the main home was built by Jule Körner as a home for Aunt Dealy, also known as Clara Körner, as his studio-turned-family residence filled up with children, guests, artists, and musicians. Today, Aunt Dealy's House is used as a small but well-curated gift shop providing a unique shopping experience for souvenirs, ornaments, and gifts for friends and family.

Salem Saturdays at Old Salem Museums & Gardens
Nov. 27-Dec. 18, 2021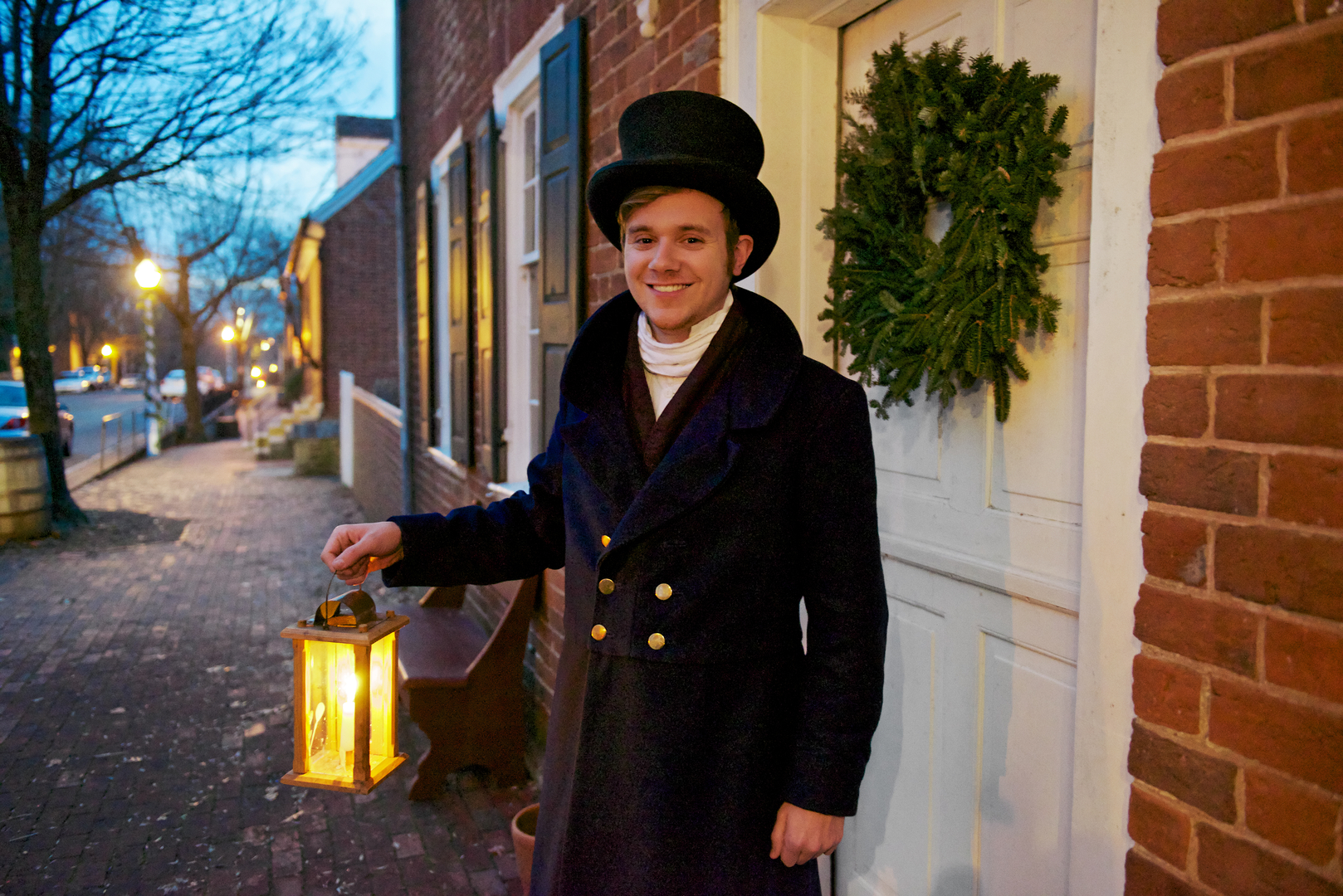 If you're suddenly enveloped in the bold scent of cinnamon, cardamom, and cloves on a Saturday, there's a good chance you've wandered into Old Salem Museums & Gardens.
On select days from 10 a.m. to 2 p.m., Old Salem comes to life with costumed interpreters at the Miksch House demonstrating 18th and 19th-century trades while the aroma of flavored Christmas cakes fills the air. Taste the Christmas season at Winkler Bakery as you inhale a feast for your eyes and your taste buds of warm, sugary goodness. Moravian sugar cake, whisper-thin Moravian cookies, and other sweet treats unique to Winston-Salem are available for purchase.
At the Boys School, visitors will learn about the history of the Moravian star while enjoying the music of the season performed by guest musicians. At the Potter's Workshop at T. Bagge, talented potters are making ceramic chocolate sipping cups and children's toys using molds. Throughout the beautifully decorated historic district, the Single Sisters are caroling while carriage rides are offered.
Nearby, Moravian Book & Gift Shop transforms into a Christmas market. Inside, E.A. Vogler Coffee & Confections provides visitors a warm respite from the nippy winter air. A visit inside is an easy way to shop for treasured gifts for the whole family.
On Saturday, Dec. 4 from noon to 4 p.m., the Candle Tea tradition lives on.
Candle Tea traditionally includes caroling accompanied by a 1798 organ, a lovefeast (a meal) of coffee and Moravian sugar cake, a demonstration of beeswax candle making, and the viewing of traditional Christmas decorations for early and modern Moravians. This year's adapted event will take place at Salem Square. For more information, visit here.
PRO TIP: Check out more historic holiday gift idea inspiration here.

UNCSA Presents "The Nutcracker"
Dec. 10-19, 2021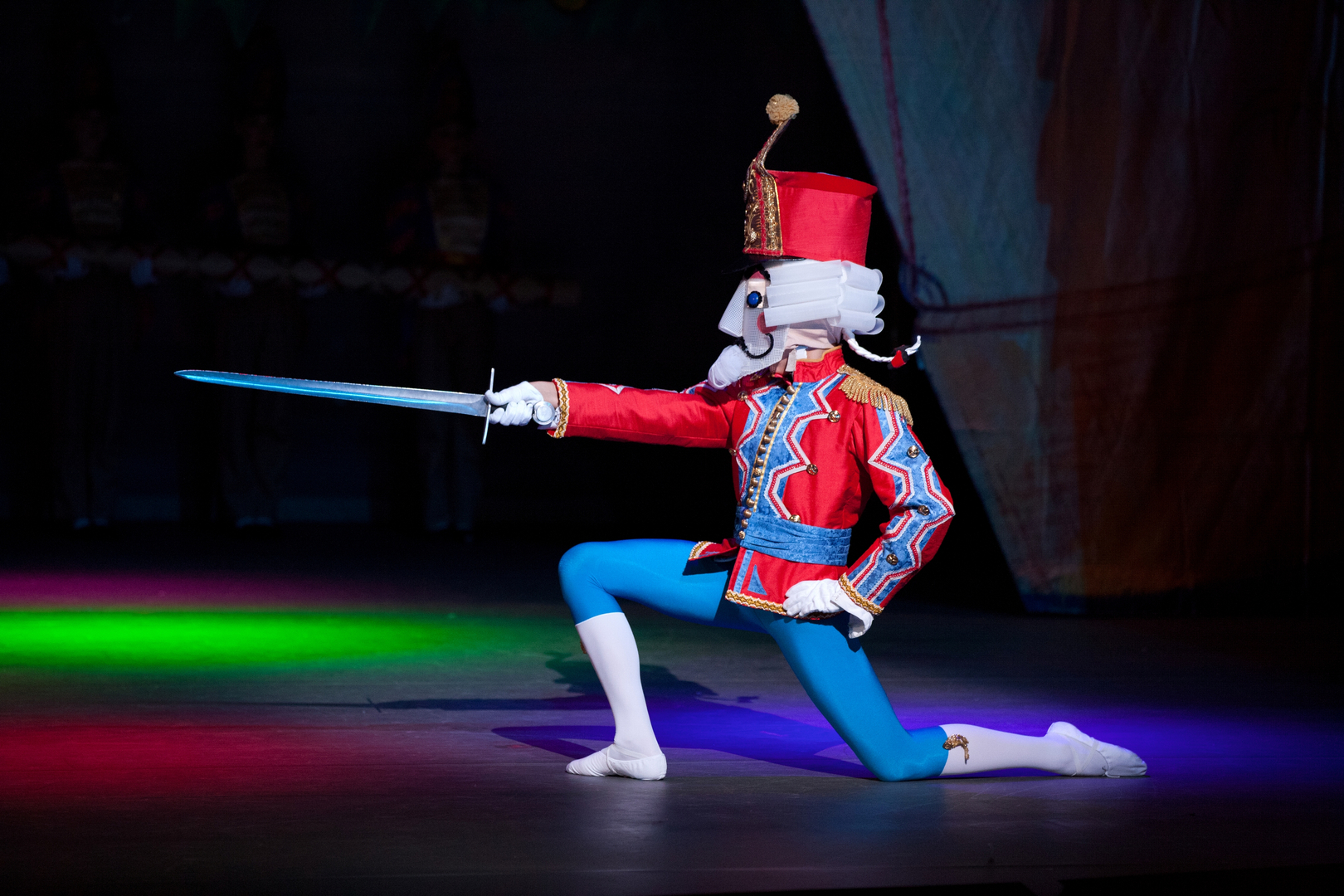 One of Winston-Salem's most loved traditions for more than 50 years, UNC School of the Arts' (UNCSA) annual run of the classic ballet "The Nutcracker" is not your average school play — and it returns to the stage in-person this year.
Held in the historic 1929 Stevens Center in downtown Winston-Salem, this performance of "The Nutcracker" is one of the few featuring a live, all-student orchestra. Each of the 147 costumes (including the 49 tutus!) are created on campus and meticulously maintained by the students too.
Whether you're catching an evening show or a matinee, there's plenty to do within walking distance of the Stevens Center. Swing by Footnote, a cafe adjacent to Bookmarks, a not-for-profit bookstore. Grab a new book from the store (supporting literacy in the community) and enjoy a craft brew, cocktail, or coffee roasted on-site.
For those leaning toward an evening show, sip on a draft beer or cocktail from one of the many craft breweries on our Craft Draft Crawl and cocktail lounges along Fourth Street, the Downtown Arts District — and beyond. Or consider one of the walkable hotels and stay for an encore.
Performances run Dec. 10-19. For tickets and additional information, visit here.