Behind-the-Scenes at Winston-Salem's Favorite Gardens
---
'Tis the season of garden tours!  With Winston-Salem springing back, we're digging in at four of our area's favorite public gardens — Old Salem, Tanglewood, Reynolda Gardens, and Paul J. Ciener Botanical Gardens. We chatted with master gardeners at each location, asking them to spill the dirt on their gardens' hidden gems, fascinating features, and little-known facts.
---
Old Salem Museums & Gardens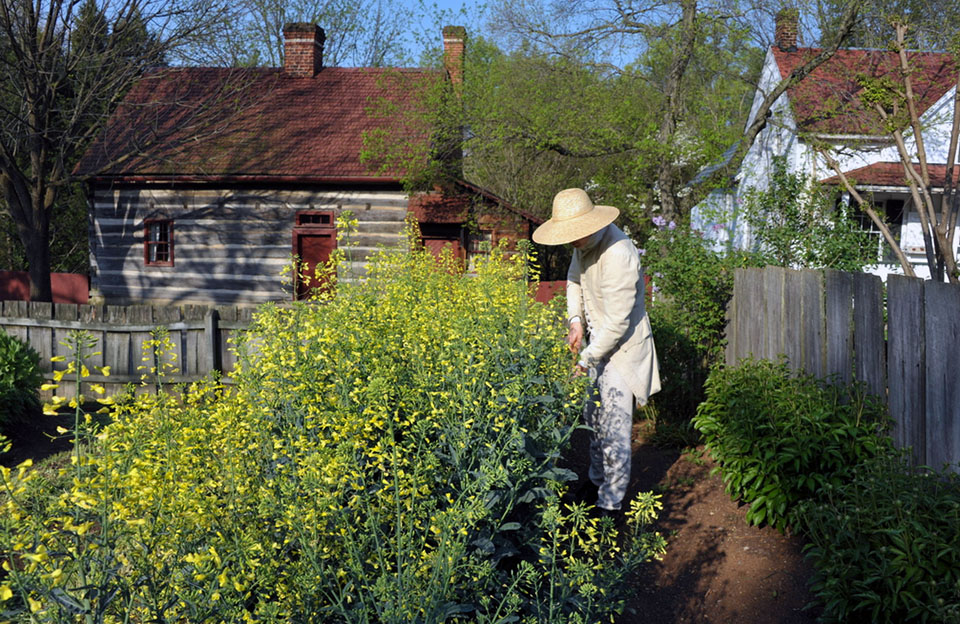 Eric Jackson, Director of Horticulture at Old Salem
Eric Jackson, who grew up in the Moravian church and lived downtown, developed an interest in Old Salem before he started working there in 2009. His lifelong interest in history and heritage and enjoyment of green spaces frequently led him to Old Salem. When he learned about the seed-saving program there, he wanted to learn more about it and became a volunteer. His interest grew, and he eventually started working at Old Salem. "I was interested in the environment and the ecological role that plants play," he says. "Also, the self-sustainability of growing your food was appealing. Old Salem happens to have subsistence gardening with food, medicine, and crops." Old Salem is unique because it has a spectrum of gardens with a mix of ornamental and subsistence plants dating to the 1700s. The Moravians also kept extensive records that revealed much about the crops and plants that grew there.
What are some things that might surprise visitors about the gardens at Old Salem?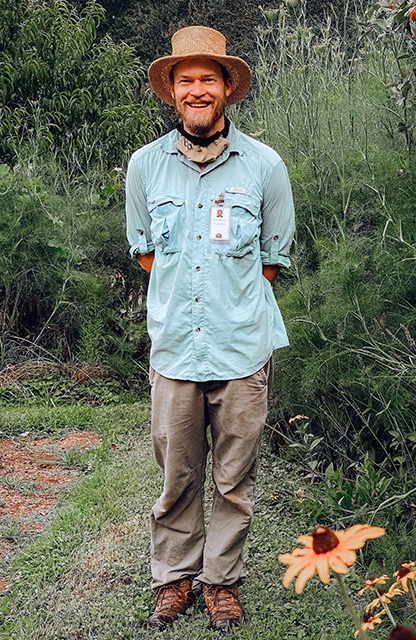 Salem had an indoor water system, second in the U.S. only to Bethlehem, PA, the other major Moravian settlement in the U.S. Quite a few botanists lived in Salem. The most famous is Lewis David Von Schwienitz. There is also a rare native sunflower named after him, the Schwienitz sunflower, which we have growing in Old Salem's landscape.
Are there hidden gems or overlooked features at Old Salem?
There's an area that we call "Plants of Ecological Importance" that is planted, like all of Old Salem's peripheral landscape, with lots of native trees but also many native shrubs. We planted the shrubs as part of a grant from Burt's Bees focused on pollinators about six years ago. The shrubs are now coming into their own, are labeled, and most visitors aren't aware of this area. 
What's your favorite section or feature at Old Salem, and why?
The old, terraced garden behind the doctor's house. It is no longer a garden, but the terraces are still there. Davy was an enslaved Black man who tended that garden, and the foundation of Davy's house is there as well. It's also right next to an extensive terraced garden leading down to a pond where a famous 1890s photo of kids sitting on large lily pads was taken. When I first started volunteering at Old Salem, I worked in the garden there. It has since ceased to be a garden because of shade and roots from large walnut trees.
If You Go: Old Salem
Address: 900 Old Salem Road Winston-Salem
Info: 336.721.7350,  OldSalem.org 
Hours: Wed–Sat, 10 a.m. – 4 p.m. (Closed Sun–Tue)
Good to know: There is no cost to stroll through Old Salem, but tickets are required to enter the interpreted buildings and gardens. All-in-One tickets ($27 adults, $13 students) grant access to all interpreted sites while Two-Stop tickets ($18/$9) grant access to two sites of your choice. Tickets can be purchased online or on-site.
---
Reynolda Gardens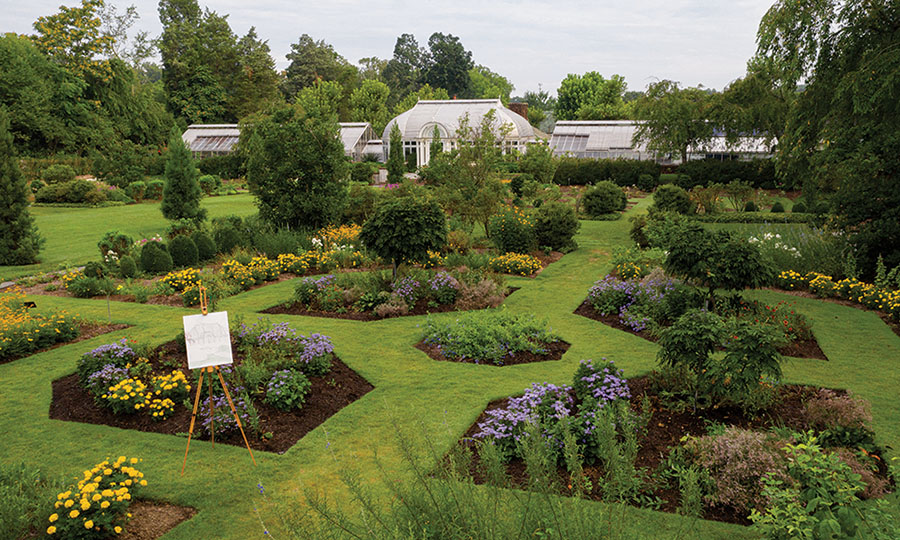 Planted in the early 20th century, Reynolda Gardens reflects the vision of Katharine Reynolds, wife of tobacco baron R.J. Reynolds, who wanted the destination to serve as a beautiful gift to the community. Safe to say, the gift has been well-received, as Reynolda Gardens remains a favorite retreat for locals and visitors alike. The historic grounds are highlighted by a 4-acre formal garden along with a spectacular waterfall, 1913 greenhouse, and several scenic trails.
Overseeing it all is Jon Roethling, who was named director of Reynolda Gardens in 2018. Roethling is one-half of a horticulture power couple in Winston-Salem. His wife, Adrienne Roethling, is director of nearby Paul J. Ciener Botanical Gardens (more on that later). He says getting a chance to brighten people's day is the best part of the job. 
"Public horticulture is amazing," Jon says. "We get to create spaces that can be so powerful in terms of impacting people. We saw that during COVID, people needed a place to be outside to escape from things. Gardens can provide that. Especially a place like Reynolda Gardens, which has the ability to transport you to another time and place."
What are some things Reynolda visitors are surprised to learn?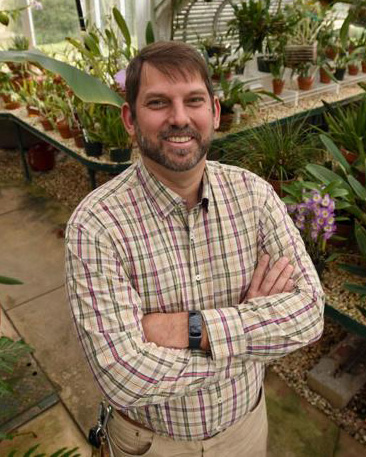 I think it is important for people to know that most of the planning and decision-making for the creation of the estate was led by Katharine Reynolds (wife of tobacco tycoon R.J. Reynolds). That wasn't a common thing in the early 1900s.
Are there hidden gems or features that visitors may overlook at Reynolda?
I think many people only think of the four acres of formal gardens as Reynolda Gardens. However, there are 130+ more acres that encompass almost two miles of walking trails, a 16-acre meadow, a wildflower garden, recently reclaimed areas that were overrun with invasives that we have replanted with natives, boardwalks, as well as parts of the old estate (outdoor swimming pool, cistern, and pump house). Also, what was Lake Katharine is now a wetland home to a diverse wildlife population. There's a bridge over there (Lake Katharine Bridge) and a waterfall that comes as a surprise to a lot of people, too.
What's your favorite section or feature at Reynolda, and why? 
I love the boardwalk we installed along the trails parallel to Coliseum Road. It was a muddy, invasive-ridden mess that we have transformed into a diverse planting with a boardwalk meandering through it. The public response to this project has been resoundingly positive.  
If You Go: Reynolda Gardens
Address: 100 Reynolda Village, Winston-Salem
Info: 336.758.5593, ReynoldaGardens.org
Hours: Reynolda Gardens are open daily from dawn to dusk. The greenhouse is open Tue–Fri, 10 a.m. – 4 p.m. (Closed Sat–Sun)
Good to know: While the gardens are free to enter year-round, tickets are required to tour the adjacent Reynolda House Museum of American Art ($18; free for students, kids, seniors, and military.). Find details at reynolda.org/visit
---
Tanglewood Arboretum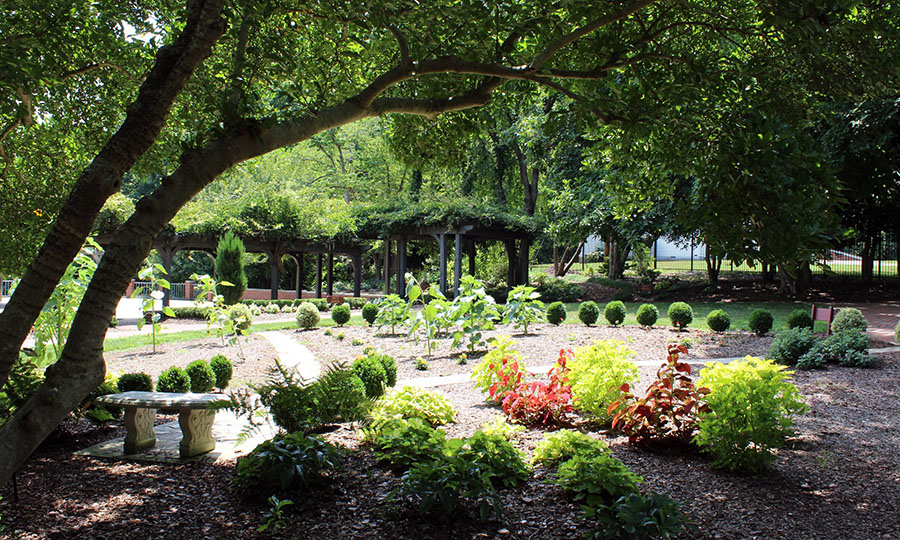 Leslie Rose, horticulture agent and director of the Arboretum at Tanglewood.  Like the Roethlings, Rose grew up with an appreciation for plants and the outdoors. Though her early career experience wasn't garden-specific, her Peace Corps and AmeriCorps roles did involve agriculture. Her AmeriCorps job working with a school garden in Eastern N.C. prompted her to earn a Master's in horticulture, eventually leading her to Tanglewood.
Most know Tanglewood for its holiday light displays but don't realize there's a 3-acre arboretum and gardens behind the Manor House (a historic B&B built in 1917). The Arboretum is maintained by Rose, a part-time technician, and about 80 volunteers through the N.C. Cooperative Extension's Master Gardener program. "People stumble upon (the Arboretum) and never realized it was here," Rose says. In addition to being open daily for free, self-guided tours, the Arboretum serves as a demo garden to show people what they can grow locally. Many of the Arboretum's regular visitors find out about it through educational programs offered onsite by Rose and others with the Cooperative Extension.
What are some things visitors to the Tanglewood Arboretum are surprised to learn?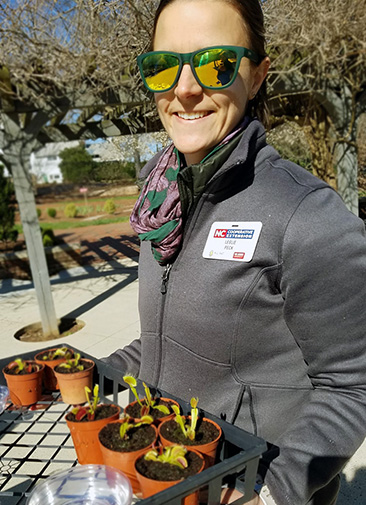 Well, one thing people are surprised to learn about Tanglewood — not just the Arboretum — is that the park sits on land that used to belong to the Reynolds family. (Specifically, it was owned by William Reynolds, brother of tobacco tycoon of R.J. Reynolds, and his wife, Kate. In the 1950s, they willed the entire 1,100-acre property to the citizens of Forsyth County to share as a public park.) William and Kate lived in the Manor House next to the Arboretum and built the glass greenhouse we still use today.)
Are there hidden gems or features that visitors may overlook?
Our Wildflower Garden is a hidden gem. It features all native plants, and people don't always find it because it's at the bottom of a hill. The garden is fully shaded, and it feels like you are lost in the woods. Spring is the best time to visit the Wildflower Garden because you'll find spring ephemerals blooming, usually in March and April. But, as the name suggests, you must come at the right time because they don't bloom long. The Bog Garden within our Children's Garden area is also a unique feature. You can see native carnivorous plants and hybrids. In the spring, you'll see the flowers of pitcher plants, and then they grow pitchers that stay standing through fall and into winter. There are also some Venus flytraps and sundews growing in the Bog Garden. 
What's your favorite section or feature at Tanglewood, and why?
I love the Children's Garden because it almost always has visitors of varying ages. The kids come and enjoy seeing butterflies in the pollinator garden area, checking out the carnivorous plants, looking at vegetables growing in the vegetable garden, and reading books from the Little Free Library display. It's great to see community members enjoying the gardens we work so hard to maintain.
If You Go: Tanglewood Arboretum
Address: 4201 Manor House Circle Clemmons, NC (The Arboretum is behind to the Tanglewood Manor House, located about a mile beyond the entrance gate.)
Info: 336.703.2850 or 336.703.6400, TanglewoodPark.org
Hours: Tanglewood Park and Arboretum is open daily throughout the year, though hours shift seasonally. Spring hours are 7 a.m. – 8 p.m. (Mar–April) and 6:30 a.m.–9 p.m. (May–July).
Good to know: While there is no charge to tour the Arboretum, there is a $2 entry fee (per car) to enter Tanglewood Park, which is paid at the main entrance gate.
---
Paul J. Ciener Botanical Gardens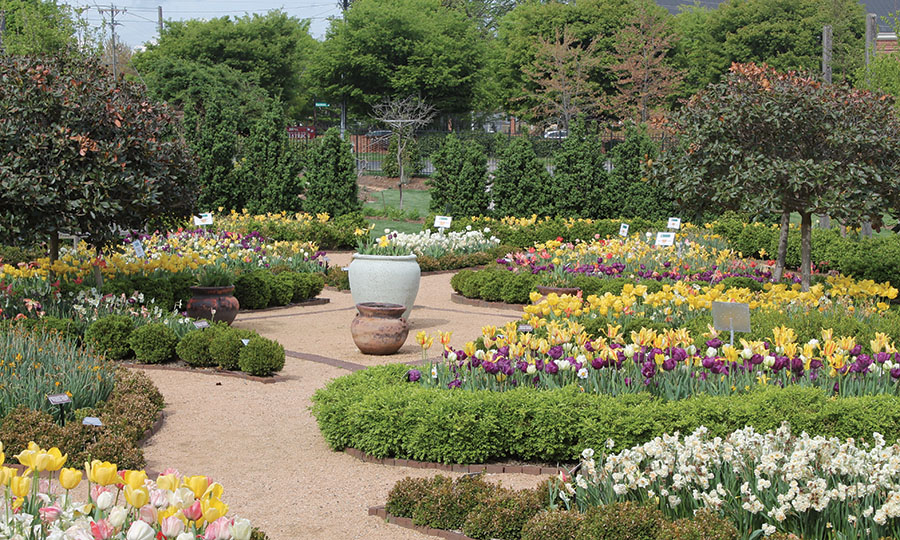 Nestled 15 minutes east of downtown Winston-Salem, Paul J. Ciener Botanical Gardens (PJCBG) opened in 2011 in the town of Kernersville, making it among the "newest" garden in our region. Spanning nearly 7 acres, the garden delights with its Moravian quilt-style raised kitchen garden beds, more than 20,000 tulip bulbs, and more than 15 different themed gardens.
Helping bring the various displays to life is Executive Director Adrienne Roethling, who's overseen the garden since its opening. She came to North Carolina around 2000 to work as curator at Juniper Level Botanic Garden in Raleigh. That's where she met her future husband Jon Roethling, who was then a part-time worker at the garden. (Jon is now the director of Reynolda Gardens.)  A passion for plants and friendship quickly bloomed into nearly two decades of marriage for the couple (pictured at right).
What are some hidden gems at Ciener that visitors might overlook?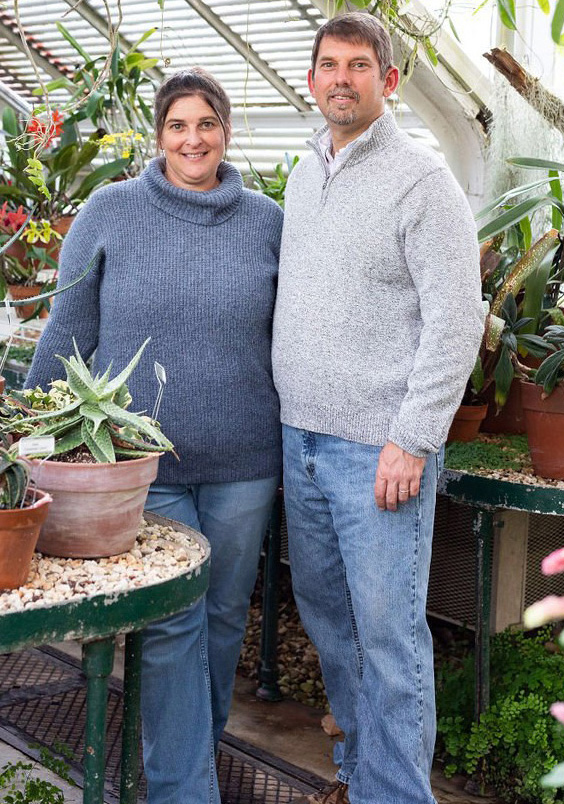 One hidden gem is the Japanese Garden. Our garden reflects the interests of Paul J. Ciener. He traveled extensively and wanted to bring features into downtown Kernersville. His favorite style of gardening was a Japanese garden, specifically bonsai. Therefore, after receiving over 60 different types of Japanese Maples, we placed them in a themed garden. Right now, it is really interesting to see the bark on the different varieties.
What are visitors surprised to learn about the garden?
We absolutely do grow native plants. We are so in tune with helping the Monarch Butterfly population. One of our garden displays is the Discovery Garden. One can find half a dozen species of milkweed, butterfly weed, and various plants native to the Southeast. We also have the largest Tulip and Daffodil display in the Triad region. Every year, we plant between 25,000 to 30,000 flower bulbs.
What's your favorite section or feature at Ciener, and why?
Some of my favorite things here are creating container displays. Not only selecting the plants that go in them, but also the container and the placement of the container. Along with the many themed displays here at Ciener, I get to create mini works of art. I carefully choose where they are going and the style of container that best suits that area. We have a lot of different container styles — plastic, colorful, concrete, and stone.
Lastly , the plants change seasonally with containers, making it more fun. One thing we like to do is to dry and preserve plants and reuse them. For instance, when hydrangeas are done blooming, we like to dry and spray paint them in different colors. We painted them fall colors one year, and I created a spiral flower tree using a tomato cage. Another time, I painted them red and used them as the top of some gnomes we displayed at Christmas. We also use dried ornamental onion seed heads, dried grasses, and even dried gourds for displays.
If You Go: Ciener Botanical Gardens
Address: 215 S. Main St., Kernersville, NC
Info: 336.996.7888, CienerBotanicalGarden.org
Hours: The garden is open daily from dawn to dusk, 365 days a year. The Welcome Center and Garden Shop are open on weekdays from 10 a.m. – 4 p.m.
Good to know: Admission is free, though donations are welcomed. Guided tours are offered by appointment on weekdays from 10 a.m. – 3 p.m.
---
This article was written by local journalist Tina Firesheets, author of "100 Things to Do in Winston-Salem Before You Die."