Are You Ready For Football?
---

Big-time college football lives in Winston-Salem. Here's what you need to know about the 2023 season.
Fall Saturdays are sacred in the South, as college football reigns supreme. That's especially true in Winston-Salem, home of Wake Forest University (Go Deacs!) and Winston-Salem State University (Go Rams!). Visitors from across the country descend on Winston-Salem each autumn to experience the tailgating, pageantry, and gameday traditions in a city Southern Living recently named a "Top 10 College Town in the South." Below is a quick guide to the 2023 season for both Wake Forest and Winston-Salem State. If you need help planning a gridiron getaway to Winston-Salem, check out our Gameday Guide for tips on where to park, eat, sleep, and celebrate in town.
---
Wake Forest University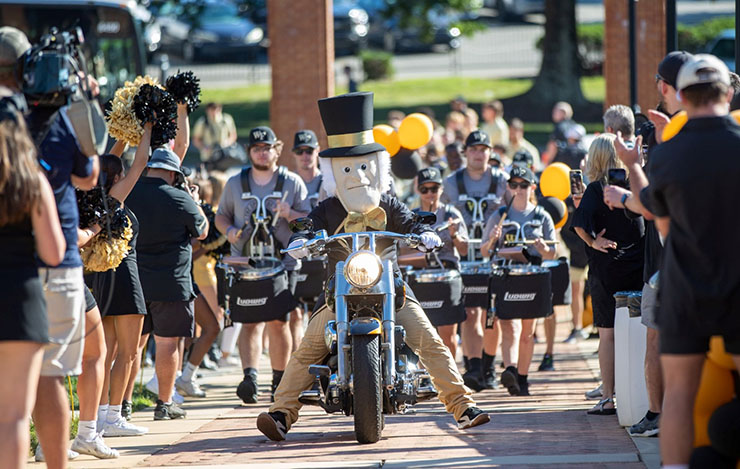 DEACTOWN be rocking this fall as the revamped Demon Deacons host six home games at Truist Field. At the helm will be Wake Forest Head Coach Dave Clawson, whose steady hand has guided the Deacs to seven straight bowl games (the second-longest streak in the ACC). Wake has amassed 19 wins over the past two years, one of the highest marks in the country, and fan support is at an all-time high.
"Our fans and students truly make a difference when we play at Truist Field," Clawson said. "The past two seasons have been the best fan engagement I've experienced during my nine years at Wake and has helped us raise the standard for Demon Deacons football."
The 2023 home slate features big-time matchups against ACC rivals Florida State (Oct. 28) and NC State (Nov. 11), and several sellouts are expected. You can purchase tickets online or by calling the WFU Ticket Office (336-758-3322).
2023 Wake Forest Schedule
Home games (denoted in bold) are at Truist Field in Winston-Salem, NC. Kickoff times for several games are subject to change.
Aug 31 (Thu)
vs Elon  @7pm
Sep 9 (Sat)
vs Vanderbilt  @11am
Sep 16 (Sat)
at Old Dominion (Norfolk, VA)  @12pm
Sep 23 (Sat)
vs Georgia Tech – Family Weekend
Oct 7 (Sat)
at Clemson (Clemson, SC)
Oct 14 (Sat)
at Virginia Tech (Blacksburg, VA)
Oct 21 (Sat)
vs Pittsburgh – Homecoming 2023
Oct 28 (Sat)
vs Florida State
Nov 2 (Thu)
at Duke (Durham, NC)  @7:30pm
Nov 11 (Sat)
vs NC State – Senior Day
Nov 18 (Sat)
at Notre Dame (South Bend, IN)  @3:30pm
Nov 25 (Sat)
at Syracuse (Syracuse, NY)
---
Winston-Salem State University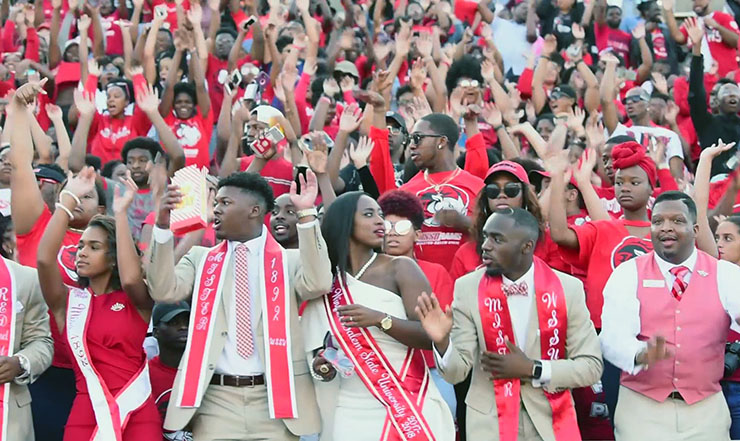 As one of America's most successful HBCUs, Winston-Salem State is looking to reclaim its place atop the CIAA Conference this season. Since 1977, the Rams have captured a dozen CIAA football titles, including four since 2011. One of those titles came in their historic 2012 season when the Rams amassed a 14-1 record (the best of any HBCU) en route to a national championship appearance.
This season features four home games inside historic Bowman Gray Stadium, home of the Rams since 1937. Leading the team will be second-year head coach Robert Massey — a former NFL standout and Pro Bowler — whose main goal is to "protect the legacy" of WSSU football. "Our mission is simple," Massey said. "We are working hard to get back to where we belong: winning championships." 
Single-game tickets are $25 for all games except homecoming ($45) and can be purchased online at wssu.edu\tickets. For more on gameday festivities, parking info, and stadium policies, go to wssurams.com/sports/football
2023 WSSU Football Schedule
Home games (denoted in bold) are played at Bowman Gray Stadium in Winston-Salem, NC
Sept 2 (Sat)
@ NC Central University (Durham, NC)
Sept 16 (Sat)
vs. Elizabeth City State
Sept 23 (Sat)
vs. Bluefield State
Sept 30 (Sat)
@ Lincoln University (Lincoln, PA)
Oct 7 (Sat)
vs. Livingstone College
Oct 14 (Sat)
at Shaw University  (Durham, NC)
Oct 21 (Sat)
vs. Saint Augustine's  (Homecoming)
Oct 28 (Sat)
@ Johnson C. Smith (Charlotte, NC)
Nov 11 (Sat)
@ Fayetteville State (Fayetteville, NC)
For more on the Rams 2023 season, go to the football section of WSSURams.com.