BeLeaf in Love with the Roethlings
Two of Winston-Salem's best green-thumbers know a thing or two about budding plants and flowers. They also know a thing a two or about budding romance; after all, the couple has been married for almost 20 years.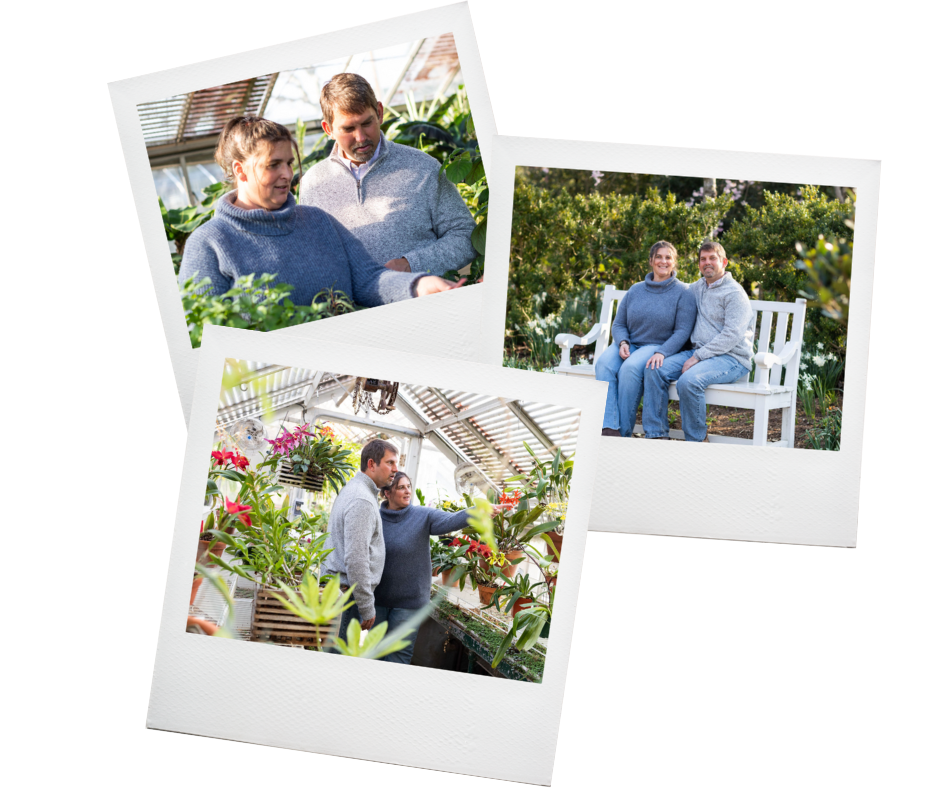 Adrienne and Jon Roethling hang out among the plants at Reynolda Gardens.[/caption] Paul J. Ciener Botanical Garden fascinates with its Moravian quilt-style raised kitchen garden beds, more than 20,000 tulip bulbs, and more than 15 different themed gardens. Executive Director of the garden Adrienne Roethling spends as much time as possible on the grounds, lending her adoration and talent to the soil as the Kernersville garden oasis celebrates its 10th anniversary. Nearby on the historic Reynolda Mile, her husband, Jon Roethling, leads the Reynolda Gardens as its director, the namesake formal gardens left behind by Katharine Reynolds, wife of tobacco baron R.J. Reynolds. Here, Jon nurtures the colorful and lush plant life that includes more than 300 rose bushes, Japanese weeping cherry trees, and all that grows inside the 1913 formal greenhouse. As spring blooms, join us as we dig into their love story.
Visit Winston-Salem: How did you meet one another?
Adrienne Roethling: I attended the two-year Professional Horticulture program at Longwood Gardens in Kennett Square, PA. Several colleagues suggested I call Plant Delights Nursery in Raleigh to work at the Juniper Level Botanic Garden that was developing on the same grounds. I began in spring of 2000 as Garden Curator where I discovered there was a team of two part-timers. I was introduced to Jon Roethling, who stood up from weeding. I thought to myself, "That is the man I'm going to marry."
Jon Roethling: We always joke about this! She was my boss and still is. I was working at a Juniper Level Botanic Garden in Raleigh part-time in college at North Carolina State University and Adrienne was hired a year later as the new curator. A passion for plants and friendship quickly grew into the best 22 years of my life.  
VWS: What is it like to be director of a formal garden?
JR: It has been the best move for me personally as I have never been this professionally charged up. Bringing my vision of what Reynolda can be and how the community embraces and values what we are for the community is so fulfilling. Also inspiring my team to carry out the vision, seeing them thrive and enjoying what they do is just as rewarding.  
VWS: What about gardening/horticulture compelled you to pursue it as a career?
AR: I come from the generation that loved being outdoors; where you didn't mind the bugs, climbed trees, and got dirty. My aunt and uncle owned a garden center specializing in herbaceous plants and throughout high school, I worked there. It began my passion for plants and gardening, and I pursued my studies in public horticulture.  
VWS: You're both so dedicated to "digging in" at work. What is your home garden like?
AR: HA, everyone always asks if we are sick of it when we get home. No, quite the opposite. We just moved into a house on 11 acres about a year and a half ago. We are taking it slow to really get to know the environment. We actually said, "Let's not buy plants for a year," but being married to a fellow plant nerd, that's not possible — especially when one says, "Let's go plant shopping." The house has a sunroom which has been a great place to begin seeds and store houseplants. It quickly became our favorite room. We have enjoyed playing with some sections of the yard just a bit. The entire property will never be developed; most of it will be left alone and natural. I started a small sun border last year and look forward to expanding that more. Jon planted an understory of evergreens and small flowering trees where tree seedlings were. It's got so much possibility but enjoying the quietness of nature is what really makes it special.
JR: For me there is no dogma, it's my place to try anything and grow anything.  
VWS: What type of garden secrets do you live by in the Roethling home?
JR: There's always room for one more plant.
AR: Don't sweat the small stuff. Bugs, disease, frost, and other frustrating things will happen. But grab a cup of coffee or glass of wine, walk the gardens often, and know that there is always next year.  
VWS: When you surprise your wife with a springtime bouquet, what flowers would be included?
JR: Easy, sunflowers.  
VWS: When is the best time to visit a formal garden in Winston-Salem/Forsyth County?
JR: Today! So many people feel that you must time it when the roses are in bloom, or the bulbs, or the fill-in-the-blank. However, we are blessed with a climate that allows for year-round gardening and visits any day here is rewarding, even if it is just appreciating the bones of the garden in winter.
#
This spring, experience history in full heirbloom with a self-guided exploration of Winston-Salem's lush garden collection dating back more than 260 years — including a pitstop to see Jon and Adrienne at their respective "offices." Reynolda Gardens' annual plant sale takes place on Saturday, April 23 from 8 a.m. to 2 p.m. on the lawn of the Reynolda House Museum of American Art. To learn more about this historic garden as well as Paul J. Ciener Botanical Garden, visit here.