Dining FAQ
Your Winston-Salem Restaurant Guide
Warm sugar cake wafting through the air. The smokey allure of fresh, North Carolina BBQ. Locally roasted coffee beans lined up neatly on cafe shelves. Are you hungry yet? We've got your guide to all things food and drink while you're exploring our hip and historic city. For a full list of our local dining options, click here.
What are some hot local coffee shops in Winston-Salem?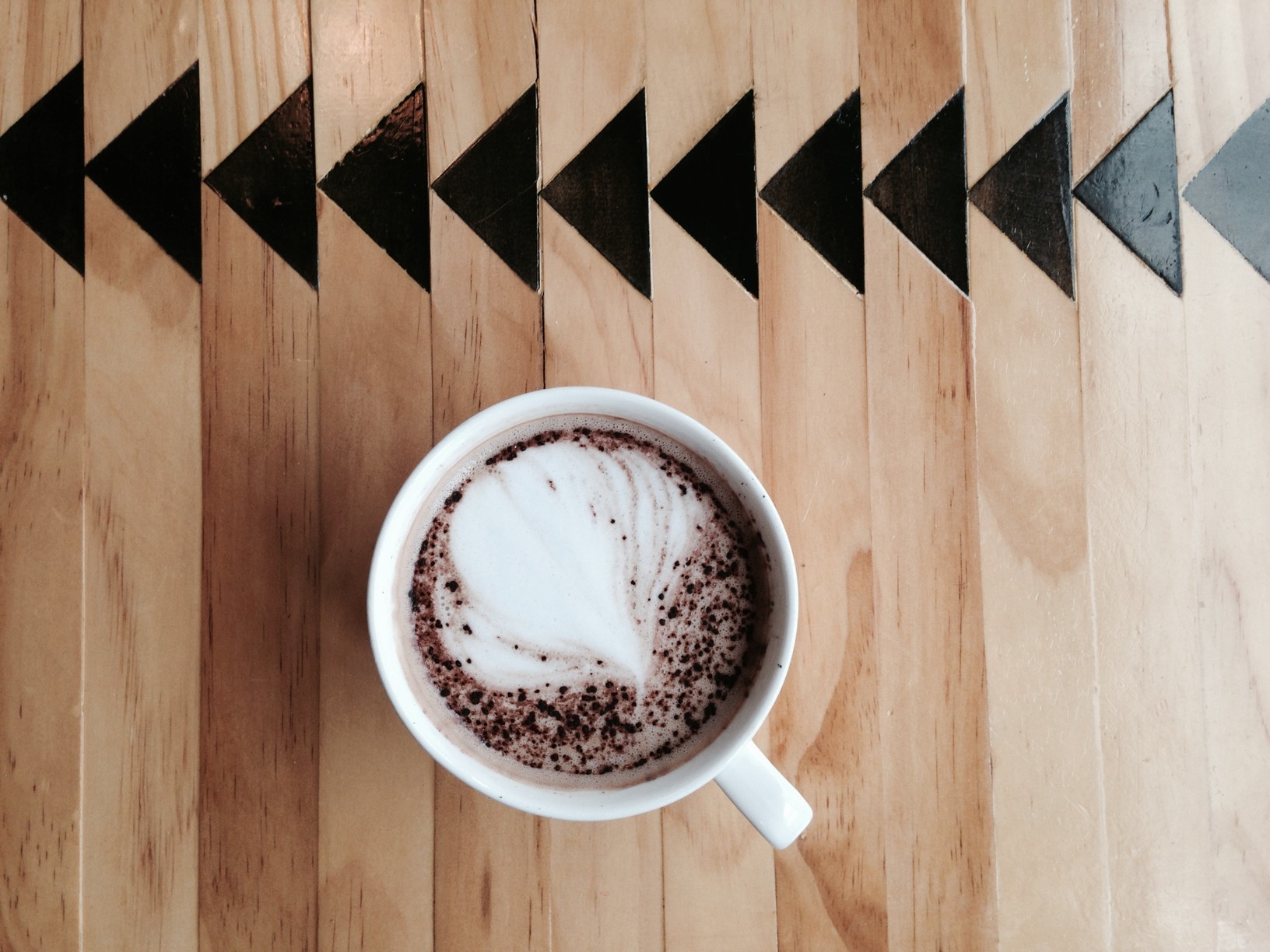 Anchor Coffee
Nestled in the heart of downtown's Innovation Quarter in the historic Bailey Power Plant, Anchor Coffee was founded on sustainable sourcing principles and quality roasting of single-origin coffees.
ByGood Coffee
This black-owned coffee shop and roastery, within easy walking distance to Old Salem, opened with the mission of providing high-quality coffee roasted in small batches. Operated by husband-and-wife duo Daryl and Abbey Garner, ByGood roasts their beans on-site. Grab your favorite brew and enjoy the breeze on their charming covered patio.
Footnote
This java-fueled offshoot of Foothills Brewing is tucked in a colorful alleyway off Fourth Street, adjacent to Bookmarks bookstore. In addition to beverages such as cold brews, iced lattes, and macchiatos, Footnote features curated coffee flights that change seasonally. In the evenings, Footnote shifts into bar mode, complementing their coffee offerings with a variety of cocktails, craft beer, and wine.
Krankies
A downtown icon, Krankies has been serving up robust house blends for more than 20 years, evolving from a funky, under-the-radar art space into a trendy café with just the right amount of weird. Throughout its evolution, the one constant has been the coffee, which is freshly roasted in-house. Stop in for a double espresso, nitro cold brew, or drip coffee — and grab one of their savory biscuit sandwiches while you're at it.
---
What are a few popular breweries in Winston-Salem?
Foothills Brewing
The first craft brewery in Winston-Salem, Foothills is a staple in North Carolina's craft beer community, boasting a lineup of award-winning brews. You'll find over a dozen options on tap at their downtown brewpub, from core brands such as People's Porter and Jade IPA to seasonal sips like Oktoberfest, Frostbite Black IPA, and the ever-popular Sexual Chocolate Imperial Stout.
Incendiary Brewery
Anchoring the ground floor of downtown's Bailey Power Plant, Incendiary pairs Winston-Salem's industrial vibes with innovative brewing styles. Hop heads will love the SHIFT series of IPAs, while sour beer fans will find plenty of outside-the-box options (key lime pie beer, anyone?) Enjoy a pint on the brewery's massive concrete patio (the Coal Pit), a public park-like space that buzzes with live music on the weekends. Hungry? Try a Neapolitan-style pizza from Incendiary's neighbor Cugino Forno.
Small Batch
Shake the ordinary with Small Batch Beer Co., where craft beer plus craft burgers equals a match made in heaven. Soccer fans appreciate finding a game on one of their multiple TVs. The brewery is conveniently located at the corner of Fifth and Cherry Street, adjacent to the Benton Convention Center, which places it walking distance to all of the downtown excitement. 
Wise Man Brewing
Stationed in downtown's Industry Hill area, Wise Man was founded in 2017 by a chemist, a lawyer, and an accountant (three wise men). Since then, it's become one of the most decorated breweries in the Southeast and earned countless awards — including a Gold Medal at the 2019 Great American Beer Festival. Favorites include the Body Electric IPA, Tropical Shirts Sour, and Scoop Dogg Golden Ale. The industrial chic tap room features community tables, colorful murals, and two distinct patios.
---
What restaurants in Winston-Salem have great outdoor dining?
Finnigan's Wake
The outdoor area at downtown's beloved Irish pub doesn't feel much like Ireland. Shaded by leafy trees and wrapped by a wooden fence, it has a suburban backyard feel, making I easy to forget you're in the heart of downtown. Order up a pint of Guinness and a basket of crisps and soak up the good vibes.
Mozelle's Fresh Southern Bistro
Mozelle's is a quaint corner bistro serving southern comfort food with an elegant touch. Sit inside their light and airy dining room or grab a spot at one of their sidewalk patio tables. The menu features scratch-made, locally sourced fare, from starters such as fried pickles and southern spring rolls to signature entrees such as the modern meatloaf and tomato pie.
The Old Fourth Street Filling Station
This gas station-turned-eatery in downtown's West End neighborhood features one of the most popular alfresco options in the city. Enclosed in brick and shaded by an oak tree, the patio is partially covered by a roof — and completely enclosed in winter — allowing diners to enjoy it regardless of the weather. As for the menu? Try the Filet Napoleon or Carolina Shrimp and Grits, two dishes that have earned praise in Southern Living.
Village Tavern (Reynolda Village)
The original Village Tavern opened in Reynolda Village in 1984, and it's been a local favorite for brunch, lunch, and dinner ever since. While many come for the fresh ingredients and artisan-inspired menu, most come for its dreamy patio. Trademarked by yellow umbrellas and wrought-iron tables, the deck is tucked among lush mature trees and illuminated by string lights, striking a perfect balance between lively and serene.
---
What are the best-known fine-dining restaurants in Winston-Salem?
1703
Family-owned for over 20 years, 1703 is tucked in Winston-Salem's upscale Buena Vista neighborhood, just a few minutes north of downtown. The menu features classic French and new-Southern cuisine created by renowned chef Curtis Hackaday. With expansive outdoor seating and the capacity for large groups, diners have a variety of options.
Bernardin's Restaurant @ Zevely House
Bernardin's is known among locals as one of the city's finest dining experiences. Located in the 200-year-old historic Zevely House in downtown's West End neighborhood, Bernardin's secluded inside dining areas are complemented by a magnificent, covered patio out back. Famed local chef Freddy Lee oversees the always interesting, ever-evolving menu, which features favorites such as Lamb Chops and Brie-Stuffed Chicken.
The Katharine Brasserie & Bar
The Katharine offers an elegant yet inviting backdrop for your next fine-dining experience with a classic Parisian brasserie-inspired menu. A vibrant bar area sits adjacent to the main dining room, where curved booths and art deco décor create a truly transportive experience. The Katharine is on the ground floor of the 1929 Reynolds Building, an iconic skyscraper now occupied by the Kimpton Cardinal Hotel. (Bonus tip for vino fans, ask to see the 'Elevated Wine List.' It's impressive!)
Meridian Restaurant
Located in the Brookstown area on the southern edge of downtown, Merdian offers a casual-elegant environment with dim lighting, white tablecloths, and an open kitchen layout. The innovative menu features a mix of Mediterranean and Southern-inspired fare prepared using local organic ingredients. Try anything from its shareable tapas menu, from the empanadas to the bacon-wrapped dates to the seafood paella. And don't skip dessert — especially the triple chocolate mousse cake.
Ryan's Restaurant
For nearly a half-century, Ryan's has been a standard-setter for fine dining in Winston-Salem. The dining room has a mountain lodge-esque vibe with multiple fireplaces, distinctive wood paneling, and expansive windows overlooking a tree-covered ravine. Menu mainstays include Oysters Rockefeller, Steak Au Poivre, and Pan Seared Salmon. Ryan's also has one of the largest wine lists in the Triad, along with an impressive stock of bourbons.
---
What are some of the most popular restaurants in Winston-Salem for cheap eats?

Cagney's Kitchen
Serving three delicious meals daily, Cagney's is best known for their all-day breakfast offerings and rotating daily specials, from chicken & dumplings to pork chops to pot roast. No matter which of its 10 area locations you visit, you're sure to feel right at home thanks to the warm service, cozy café setting, and consistently tasty comfort food.
Dairi-O
This locally owned fast-food spot has a fan following for family favorites such as hot dogs, burgers, a variety of salads, and their famous ice cream dessert menu. You'll find Dari-O's scattered around Forsyth County, including spots in Clemmons, Kernersville, King, and its flagship location off University Parkway in the Stanleyville area.
Grecian Corner
A landmark in Winston-Salem since 1970, this family-run hidden gem near Baptist Medical Center boasts an affordable menu of Greek and American favorites. Popular menu options include specialty platters such as chicken souvlaki and gyros, crispy falafel, savory Greek salads, and piping hot Lemon Chicken and Orzo soup.
TJ's Deli
This neighborhood deli at the corner of Robinhood and Country Club is known for its no-frills ambiance and always-reliable grub. Most come for the soups and sandwiches — including the legendary Cham, a combo of deep-fried chicken and grilled ham. But others skip straight to dessert, as TJ's serves up homemade ice cream and a variety of frozen treats (floats, sundaes, banana splits, and more).
---
What are some of the best spots for barbecue in Winston-Salem?
Camel City BBQ Factory
Located on Liberty Street in the Downtown Arts District, this multi-level, industrial-style eatery is unlike any other barbecue joint in the city (possibly even the nation). Most go for the Lexington-style barbecue and the brisket, then hang around for a beer in the expansive game room, where you'll find pinball, foosball, ski ball, and various arcade games. It's a veritable grown-up playground that's complemented by a full bar.
Honky Tonk Smokehouse
Not to be mistaken for its North Carolina neighbors — Eastern and Lexington-style 'que — Honky Tonk offers visitors Texas- and  Memphis-style barbeque fare. The meats are hand-pulled or sliced, not finely chopped, with a special sauce served on the side. Other popular options include chicken wings, Brunswick stew, corn fritters, and a slew of desserts — all made to order.
Little Richard's Smokehouse
Little Richard's is a name that's synonymous with Lexington-style BBQ in these parts. You'll find several locations in the area, including Clemmons and Walburg. But for an elevated Lexington-style experience, head to Little Richard's Smokehouse in the Five Points area of Winston-Salem (near Thruway Shopping Center). The menu includes all the barbecue classics (chopped plates, sandwiches, etc.) but also features smoked meats such as beef brisket and baby back ribs — plus a full bar.
Real Q 
Looking for an authentic Lexington-style barbecue experience in Winston-Salem (right down to the red-checkered tablecloth)? Real Q is the real deal. Drive by the venerable barbecue joint on Country Club Road, and you'll likely see smoke hovering overhead. That's because — in true Lexington style — Real Q pit-cooks their pork low and slow over wood coals for 12 hours each day. Order a chopped sandwich, a side of hushpuppies, and a sweet tea, just like a local!
---
What are some of the best wine bars in Winston-Salem?
6th & Vine
A staple of the Downtown Arts District, 6th and Vine offers contemporary American cuisine and wines from around the world. The expansive wine list is ever-evolving and printed on actual wine bottles (nice touch!). Wine flights are also available daily and half-price on Wednesdays. Cozy up inside the art-adorned bar area or grab a seat on their popular, multi-tiered patio.
Joyner's Bar
Relax in Joyner's cozy chic setting, reminiscent of a Prohibition-era speakeasy. This popular corner bar in downtown's West End area is stationed in the iconic 1891 Flat Iron building at the corner of Fourth and Burke Streets. Much of the historic charm remains, complete with plush leather chairs, cozy nooks, shelves of books, and Prohibition-era cocktails with a modern twist.
The Caviste 
The Caviste's oval-shaped wine bar is perfect for sipping and stirring up a lively conversation over a glass of Cabernet. Carrying wines sourced from small estate producers who practice sustainable, organic farming, The Caviste emphasizes taste and quality over marketing. The shop is at the corner of Robinhood and Reynolda Roads, sharing its space with another local favorite, Bobby Boy Bakeshop (more on them below).
Sir Winston Wine Loft & Restaurant
Located in the historic Pepper Building downtown, now the Hotel Indigo, the Sir Winston Wine Loft offers an amazing selection of North Carolina wines and an array of domestic varietals. Outfitted in art deco décor, the wine loft is perched above the hotel's main restaurant and lobby, providing an intimate space for vinos and light fare.
---
What are some popular spots for dessert in Winston-Salem?
Bobby Boy Bakeshop
This beloved grab-and-go bakery is modeled after a French-style bistro with swanky honeycomb tiles, a black-and-white specials board, and an alluring wine bar next door (The Caviste). Walk in, and you're immediately beckoned by Bobby's Boy's Instagram-worthy display case, where fresh artisan breads, decadent pastries, and exceptional desserts await. Favorites include chocolate croissants, morning buns, macarons — and basically everything else.
Café Gelato
Winston-Salem's oldest gelato shop boasts award-winning gelato and more. Made fresh on-site daily, you'll find new favorite flavors every time you visit. You'll also find a lot more on the menu than just gelato — including banana splits, ice coffees, teas, and over a dozen crepe varieties. The West End-area shop is adjacent to Hanes Park on Reynolda Road, just outside downtown.
Camino Bakery
With two locations downtown, Camino Bakery is Winston-Salem's go-to spot for fresh-baked treats. Skilled baristas prepare handcrafted drinks to complement fresh breads, quiches, and sweet treats — all made from scratch daily. Grab an almond horn, Pain au Levain, or pumpkin chocolate chip muffin, and pull up a seat on the sidewalk patio (especially if you're at the original Fourth Street location). You won't find a better people-watching spot in the city.
Cheesecakes by Alex
Steps away from the boutiques and art galleries on Trade Street, Cheesecakes by Alex offers 20 cheesecake flavors and a variety of cakes and pastries, many of which rotate by the season. They even stay open late for your end-of-the-day cravings.
Midtown Café & Dessertery
Ask most locals where they go for dessert, and they'll likely direct you to this casual eatery in the Thruway/Five Points area. Opened since 1987, Midtown serves three meals daily — including an amazing breakfast — and features a full slate of menu options. But it's most famous for its desserts. Stop in anytime, and you'll find more than 30 scratch-made desserts lining their bakery case, from 5-flavor Pound Cake to Italian Cream Cake to Apple Crunch Pie, Triple Chocolate Cheesecake, to Bourbon Berry Bread Pudding.