Create Your Own Fall Craft Beer Crawl (and try these hop-inspired pairings!)
From Major Winston's Wheat to Mountain Calling, Pilot Mountain Pale Ale, and more, Winston-Salem, North Carolina is no stranger to locally crafted beer. In fact, you could say the city inspires as many varieties as we do people who love it.
Perhaps it's the history--Winston-Salem's first Moravian settlers were quite fond of brewing beer. The first microbrewery in the state, Single Brother's Brewery, opened in 1773 inside the historic footprint of Old Salem to a robust following. (Of course, it didn't hurt that the Moravian church elders of the settlement officially encouraged beer as a wholesome community drink.)
Fast forward to today, where locally-owned craft breweries have blossomed, earning Winston-Salem a proud reputation as being home to some of the state's most beloved small-batch brews. In fact, there are enough craft brewers in downtown Winston-Salem alone (nine!), you can fashion your own Craft Draft Crawl without ever leaving downtown.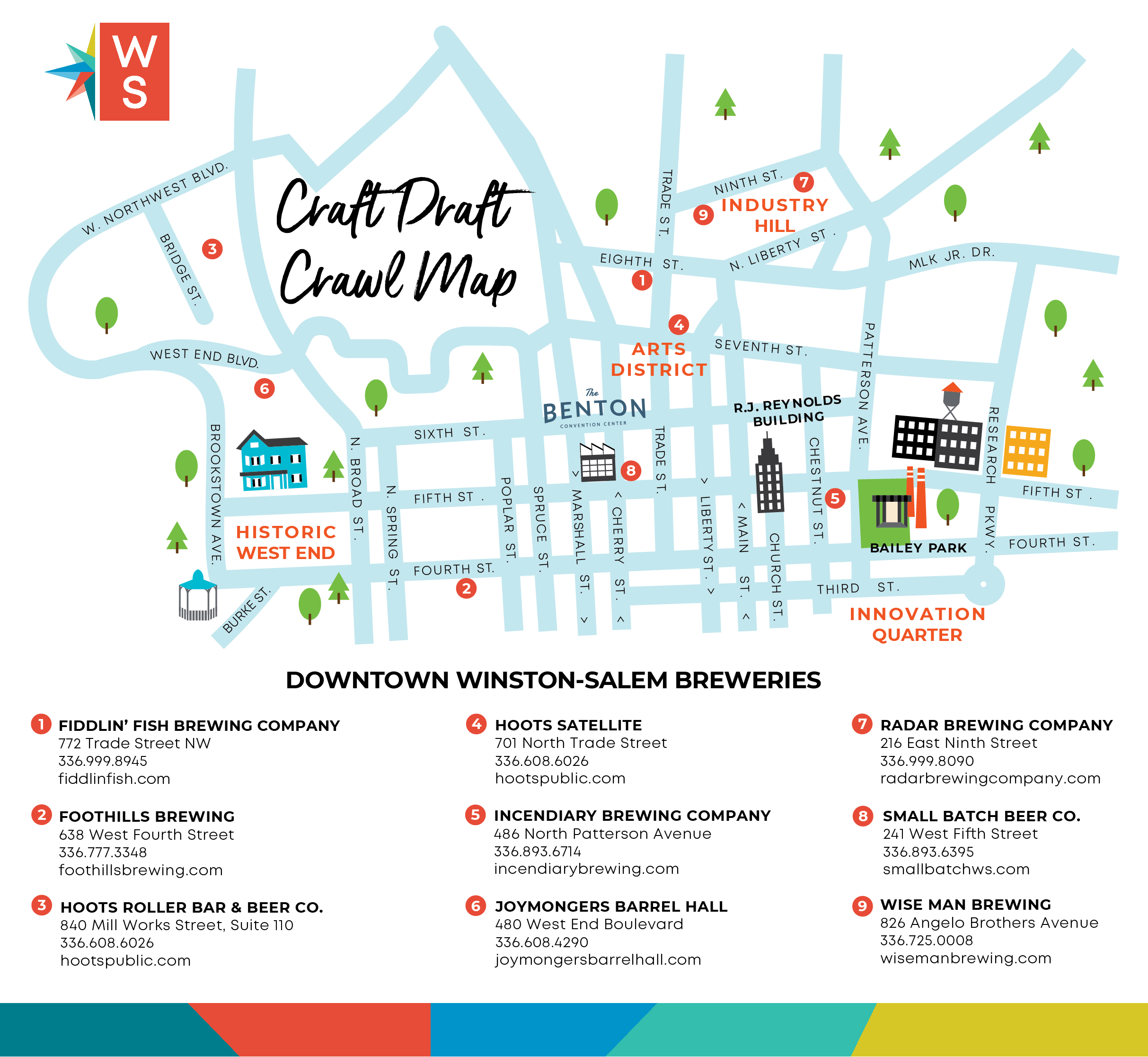 Create your own Fall Craft Draft Crawl by using our alphabetical listing of downtown craft breweries below:  
Fiddlin' Fish Brewing
Started by two Blue Ridge Mountain-loving cousins with a passion for beer, Fiddlin' Fish is located in a converted tobacco warehouse on Trade Street with a 15-barrel brewhouse producing traditional styles as well as an ever-changing cast of seasonals and one-offs. The 'Fish' also has six 60" TVs showing all your favorite sports and regular live music, games, and events on the covered patio. Food trucks daily. Dogs welcome.
Fall Tap Tip: Try their latest release just in time for fall, the Oktoberfest - Märzen Lager. Notes of nostalgia come through in this centuries-old tradition of bottom-fermented, malt-forward Bavarian lagers. That first sip is a smooth malty lager, seemingly signaling the arrival of autumn. Fiddlin' Fish Brewing is located at 772 Trade Street NW, in northwest downtown Winston-Salem.  
Foothills Brewing
A Winston-Salem original, this brewing success story started at the original West Fourth Street (downtown) location in March 2005, with three 15-barrel fermenters producing just 800 barrels of beer. Today, their two locations, national distribution, and craft beer enthusiasts keep the pub full. Check out the growing list of craft beers here. Better yet, visit Winston-Salem and see what's on the menu today! (Ask about their daily #Shanewich).
Fall Tap Tip: While you're a bit too early for the annual February favorite, Sexual Chocolate Imperial stour, you can still imbibe their limited edition seasonal beers, including Foothills Oktoberfest and Foothills Pumpkin Ale - a crisp, dry ale that uses pumpkin pie spices brewed with real pumpkin and a blend of malts. Choose from two locations: the original Brew Pub at 638 West 4th Street in downtown Winston-Salem's historic West End, and at the Brewery and Tasting Room 3800 Kimwell Drive, Winston-Salem.  
Hoots Roller Bar
At the edge of downtown is fan favorite, Hoots Roller Bar. One stop at Hoots and you'll know--this is a beer lover's joint. Started by what can only be referred to as the "mysterious brotherhood of blue-collar beer," Hoots is all about the brew. And the name? Originally Hoots Roller Mill, the factory turned brewery was once a flour mill (which used huge concrete rollers to crush grain into powder).
Fall Tap Tip: Wunderbar! (Wonderful!) Hoots just tapped into their two new fall releases for you to enjoy now -- the Zinzendorf Oktoberfest Märzen and the Helles German Lager. Try one, or try em' both. Located at 840 Mill Works Street in the far West End of downtown Winston-Salem. P.S. Hoots Roller Bar recently opened a satellite location in the heart of the Downtown Arts District! Find it at 701 Trade St NW, Winston-Salem, NC 27101.  
Incendiary Brewing
incendiarybrewing.com
486 N Patterson Ave, Winston-Salem, North Carolina 27101
Tucked away in the historic and restored Bailey Power Plant, Incendiary Brewing offers a mix of industrial vibes blended with innovative brewing styles. Enjoy your beer seated on their massive outdoor patio space, originally the coal pit of this historic power plant for Reynolds Tobacco Company. Next door, order a pizza from Cugino Forno to enjoy alongside your seasonal release from Incendiary.
Fall Tap Tip: Cozy up to an autumn "breakfast by the glass" when you order their Blueberry Banana Pancake imperial stout. Conditioned with blueberries, bananas, and maple syrup, this stout is sure to be a memorable brew moment in Winston-Salem this fall.  
Radar Brewing
radarbrewingcompany.com
216 E 9th Street, Winston-Salem, NC 27101 Located in one of Winston-Salem's newest and hippest downtown districts -- Industry Hill, Radar Brewing is in an unassuming building with a NASCAR history. Learn more about its historic location here. Owners Aaron Sizemore, Aaron Wall, and Eric Peck are three friends who had a dream of opening a brewery together. Their collective brewing experience including Foothills, Wicked Weed, and Brooklyn Brewery, is notable in every pint. Their classic style of brewing utilizes an open fermentation system, rendering a strong Belgium style lineup including their True Currency Saison, First Aid Belgium Golden, Belgian Dark Strong, and Belgium Pale Ale.
Fall Tap Tip: Ask about the "Union" -- an Oktoberfest Marzen release with a flavor profile that is malty and complemented by toasted/bready notes.  
Small Batch Beer Co.
smallbatchws.com
241 W 5th St, Winston-Salem, NC 27101
Small Batch is a place that invites you in for a totally different adventure every time you walk through its door -- all thanks to its commitment to sourcing local and utilizing out-of-the-box ingredients, as evidenced in its wildly popular Mr. Lemon Man IPA.  Come for the beer and stay for the food. Small Batch serves up craft burgers in addition to their housemade bratwurst sausages - just in time for your Oktoberfest festivities.
Fall Tap Tip: Don't miss their seasonal Percolator Mocha Stout, which due to popularity is in increasingly short supply.  
Wise Man Brewing
wisemanbrewing.com
826 Angelo Bros Ave, Winston-Salem, NC 27101
They say it was a wise man who invented beer. Led by "three wise men" (a chemist, an attorney, and an accountant), Wise Man Brewing is a families-owned small business pouring passion into every pint. Focused on "diversity of beer styles and flavors," Wise Man has fast become a local favorite in Winston-Salem's artisanal beer world.
Fall Tap Tip: The team at Wise Man collaBEERated with the folks at Krankies Coffee -- a Winston-Salem original coffee roaster -- and took their Shape Shifter coffee beans to make autumn magic resulting in the Shape Shifter Blonde, a delicate blonde ale with a silky-smooth base of malt.  
Foothills Brewwing
Foothills Brewing
638 W. Fourth Street, Winston-Salem, NC 27101 336.777.3348
Fall Pairings Featuring Foothills Brewing: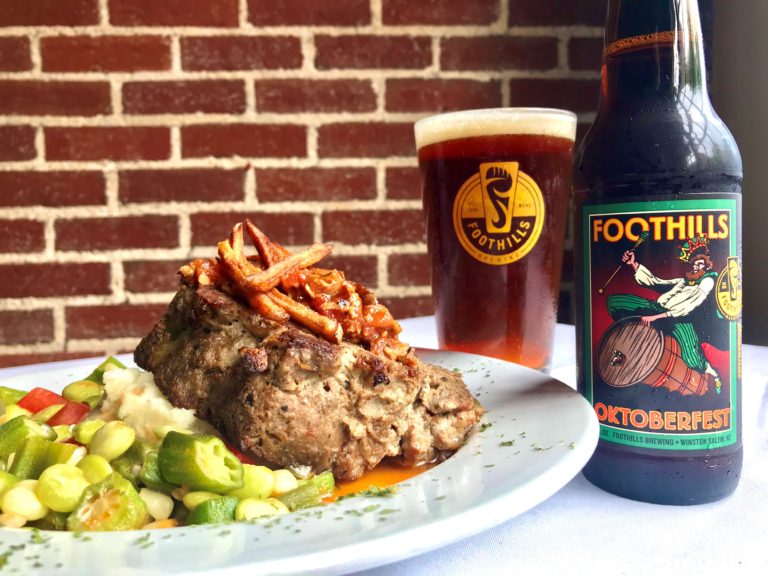 From Chef Shane Moore; Foothills Brewing "Our Chef Shane Buffaloaf is the perfect food pairing for the popular Oktoberfest Lager. Buffaloaf is essentially your favorite comfort food -- meatloaf made with ground buffalo and ground beef. The hearty flavors of the dish go well with the toasty caramel malt flavor of the beer. I add just a little spiciness and zest to this recipe, and the lager's sweetness not only pulls those flavors out but complements them well."
From Chef Peyton Smith; Mission Pizza "I like to pair one of our more popular pizzas, the Billy Jowl, with a Foothills Torch Pilsner. The pizza features a rich ricotta cream, smoked mozzarella cheese, and savory guanciale--cured pork jowl, topped with freshly cracked black pepper. Torch provides a crisp, clean complement to the richness and mouthfeel of the cheese, and the salty/savory punch of the guanciale."
707 Trade St NW #1430, Winston-Salem, NC 27101
336.893.8217  
Find hours of operations for each restaurant and more details with our thorough brewery and distillery directory here.  
Plan for a Hop-Infused Hotel Getaway
Book the Foothills Brewing Craft Beer Package at the Marriott Winston-Salem Downtown.