Drink in Our History With A Craft Draft Crawl in Winston-Salem
Create your own walkable "Craft Draft Crawl" in downtown Winston-Salem. Choose from nine craft breweries all within a 1.5-mile radius of each other. Below is a list of local breweries in alphabetical order. Take your pick or try them all!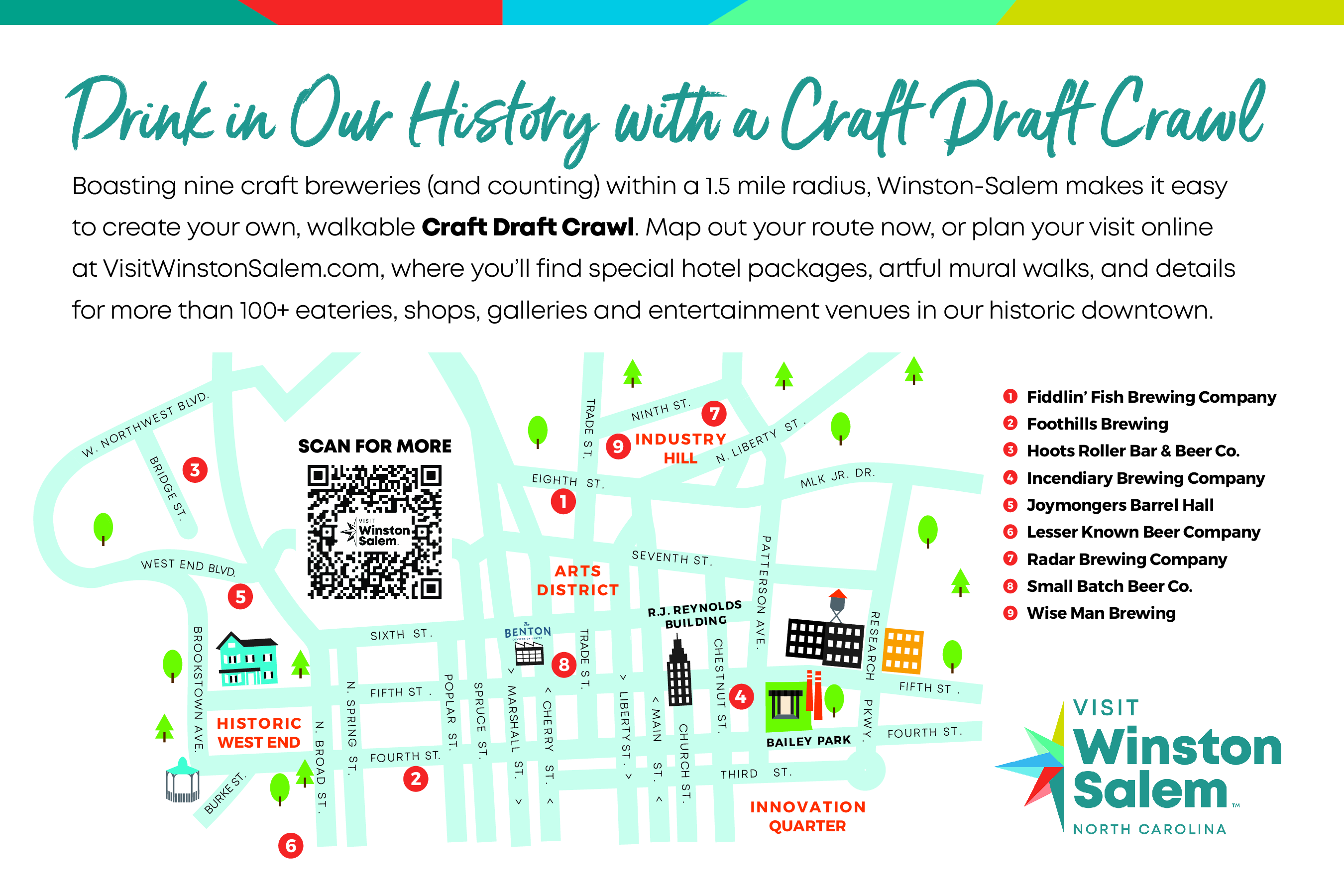 Fiddlin' Fish Brewing Company
Fiddlin' Fish is the brew-child of Stuart Barnhart of Winston-Salem and his cousin David Ashe of Richmond. Together, they share a passion for cold beer and a love of the outdoors. In 2016, Stuart and David left jobs in finance and hospitality with a concept for creating great tasting beer in a taproom where people would want to become regulars. After hundreds of hours of brewing, tasting, strategizing, and accounting in Stuart's basement what was once a late night "what-if" finally took shape in the summer of 2017. The name Fiddlin' Fish comes from the cousins' childhood summers in the Blue Ridge Mountains, hiking, fishing and listening to mountain music. When they decided to open a brewery, they wanted it to be a reflection of what they love. The brewery, on Trade Street, has a 15-barrel brewhouse producing traditional styles as well as an ever-changing cast of seasonals and one-offs. The Fish also has eight 60" TVs (including two on the patio!) showing all your favorite sporting events, a 150" projector screen for big games, and regular live music, games, and events. Stop by for a pint or a tasting flight, or just relax outside on the spacious covered patio. 

Foothills Brewing Opened in 2005, Foothills certainly spearheaded the modern-day craft beer movement in Winston-Salem and continues to lead the way as the beer scene here continues to expand. If the name Foothills rings a bell, it may be because of their wildly popular Sexual Chocolate Imperial Stout, released just once a year in February, that sells out within days.


 
 

Hoots Roller Bar & Beer Co. The Hoots Beer Co. is a Winston-Salem brewery with a focus on developing beer that is representative of the local culture. Hoots Beer Co. maintains blue collar classics, as well as, pioneering new American styles. Anything from lagers and stouts, to wormwood sours and Heather Ales. The name is a reference to the building's amazing history - The Hoots Roller Mill and storage warehouse were once used to produce flour. Built by the Hoots family between the 1930s and 1950s, the buildings are full of local history and character.
Incendiary Brewing Company Incendiary Brewing marries wide open outdoor spaces with original, industrial construction. Located in the revitalized Bailey Power Plant at Innovation Quarter, the ever-rotating taps with local favorites will always invite you back.


 

Joymongers Barrel Hall Joymongers Barrel Hall is one of the few breweries in the nation to dedicate its production of special, barrel-aged beers in a separate facility with its own taproom. Dedicated to spreading joy, one pint at a time, Joymongers serves up the traditional craft varieties such as IPA's, Pale Ale's, Lagers and Stout's while also creating new beers by aging them to perfection in fresh bourbon and wine barrels.

Radar Brewing Company Radar Brewing is Winston-Salem's newest brewery featuring a rotating selection of beer, wine, and cider in a modern design taproom. Pets are welcome in the outdoor beer garden.

Small Batch Beer Co. Small Batch Beer Co. brews their craft beers one barrel at a time ensuring that the importance of quality always trumps the need for quantity with the theory that "superiority comes from simplicity." Along with craft beers, carefully selected wines and spirits infused with locally-sourced ingredients are among the options found in this eclectic bar located in downtown Winston-Salem's former iconic Kopper Kitchen. Small Batch is located on Fifth Street in downtown Winston-Salem directly across from the Benton Convention Center.

Wise Man Brewing Wise Man was founded by just that, three wise men. A Ph.D. chemist, lawyer, and accountant banded together to open up the brewery located in the historic Angelo Brothers building just on the edge of the Downtown Arts District. Serving up over 20 craft brews and seltzers, Wise Man often has food trucks parked out front on a regular basis to serve up delicious fare to pair perfectly with your beer.