Star of the Season: Ken Manuel
Get to know Ken Manual (AKA, "The Star Man" of Winston-Salem), who handcrafts hundreds of Moravian Stars for the Holidays every year.
By Tina Firesheets | Photos by Scott Muthersbaugh/Perfecta Visuals
The beauty behind a perfectly constructed Moravian star is a bit of a math lesson. Geometry, to be exact. Its origins have been traced to a geometry lesson at a German Moravian Boys' School in the 1830s. Today the stars appear on front porches, in homes, and elsewhere throughout Winston-Salem, signaling the holiday season.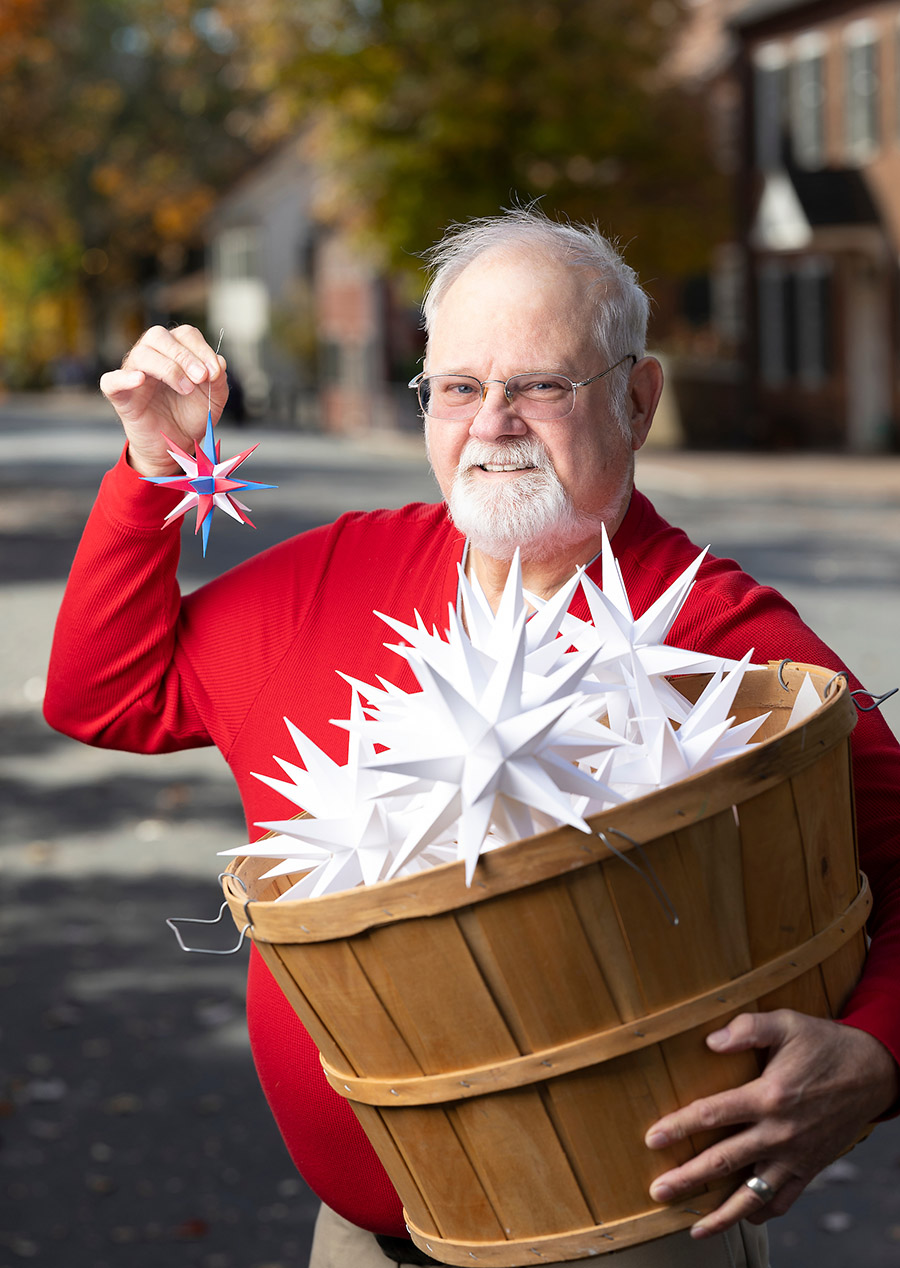 For many, Moravian Stars make a grand appearance during the holidays, then retreat — stored away with the rest of the decorations — for the remainder of the year. But for Ken Manuel, the Moravian star is a yearlong pursuit that peaks in November and December. It's right now — his "Super Bowl season."   Manuel handcrafts between 1,000-1,500 Moravian stars annually, most of which are sold at Old Salem Museum & Gardens. He also sells them at holiday craft shows and locally-owned retail shops. He's a kind man with gentle eyes and a warm voice that attracts visitors to his table at the Moravian Book & Gift Shop in Old Salem, where he also gives demonstrations.   Manuel has been drawn to Moravian stars since he was a boy, he says — in part because his great-grandmother was Moravian. (NOTE: Moravians are a small protestant religious group that originated in modern-day Czech Republic and settled locally in the mid-1600s. In addition to founding Salem, they founded dozens of churches in and around Winston-Salem, many of which are going strong today.)  
"My great-grandmother was a lifelong Moravian, and that's where I was introduced to the Moravian star and was enthralled with it from the get-go," he says. "It's a thing of beauty." 
If you deconstruct a Moravian star, it comes down to 26 points — 18 squares and eight triangles. And all of those points must be consistent. Manuel takes pride in his points.   "All the edges are real sharp and crisp," he says. "The secret to a good-looking star is your points."   He's got the process down to a science. He makes each one by hand, mostly in his basement workshop that he calls his "man cave." In recent years he developed a machine to cut the points and adapted other tools to mass produce the stars with precision.   People often ask how long it takes to make one star. It's hard to calculate, he says, because he's broken down the process and doesn't make them individually from start to finish.   Some people find the process too tedious and exacting, he says, but he finds it relaxing. He can fold the points while watching a western movie or detective show on TV, with a board stretched across his recliner and one of his cats resting at his feet.  
The Making of the 'Star Man'   Manuel may have given himself the title "Master Star-Maker," but it's a designation Old Salem fully endorses. The living history museum is where you can find all things Moravian and by-far his top client. Before he became "the star man," Manuel worked for the Alcoholic Beverage Control (ABC) Commission in Winston-Salem for 30 years. His retail sales job didn't require fine motor skills, but Manuel always had a knack for constructing things. His grandfather was a master carpenter. Manuel took wood and metal shop classes in high school and studied drafting and design at Forsyth Tech Community College.   Upon retirement in 2003, he found himself searching for something to do. He took a Moravian star-making class on a whim and has been making them ever since.   His hobby evolved into a full-time job over the past decade. In the weeks leading up to Christmas, he regularly works past midnight. He may take a couple of weeks off after Christmas but returns to the workshop in January to rebuild his inventory.   "If I don't continually make them, I can get behind. Then I have to be rushed, and I don't like to be rushed," he says. "But I enjoy it. If I didn't enjoy it, I wouldn't do it."   And it's not just the process of putting together the stars he loves. It's the idea that he's continuing a local legacy that started long ago. "Moravians have been making stars like this since the 1850s," he says. "The stars connect us to our city's past. I'm just carrying on the tradition."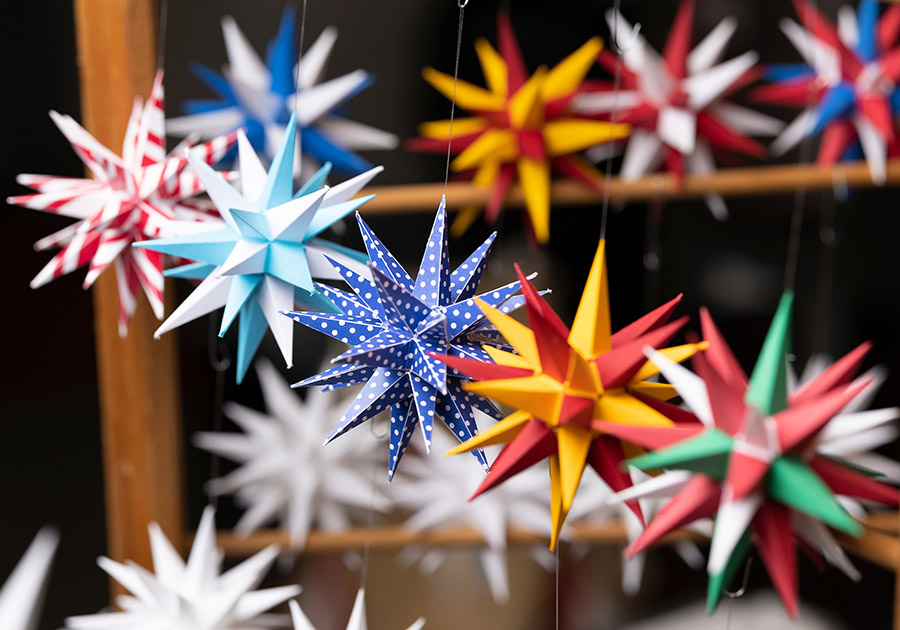 Stars made by Ken Manuel are for sale at Old Salem retail shops. 
GOOD TO KNOW: You can find Ken Manuel's stars for sale in Old Salem retail shops, including the Moravian Book & Gift Shop as well as Old Salem's website. 
---
BONUS POINTS: Three Things You Probably Didn't Know About Moravian Stars
Traditional Moravian stars have 26 points, yet some go well beyond the 26-point limit. In Winston-Salem, the pointiest star we know of is on display during Home Moravian's annual Candle Tea — a 110-point masterpiece made by Max Brady of Greensboro.
Moravians didn't bring the stars with them when they settled here in the 1760s, contrary to common belief. The stars originally appeared in Germany, where they were used to teach geometry lessons in the Moravian Boys School, eventually making their way to Salem in the mid-1800s.
The city of Winston-Salem has used Moravian stars in its downtown decorations since 1959. The stars are found inside wreaths along downtown's main thoroughfares, creating a uniquely festive streetscape that can't be found anywhere else in America.