A Guide to Birdwatching in Winston-Salem
Where are the best birdwatching spots in Winston-Salem? And why is birding a big deal here?
Birdwatching is soaring in popularity in Winston-Salem — and for good reason. With the city's picturesque parks, rolling hills, and abundance of feathered friends, Winston-Salem is a hotbed for birding activity. The city is home to nearly 300 documented bird species, from the tiny Ruby-throated Hummingbird to the regal Great Blue Heron. 
Whether you're a seasoned birder or just starting out, our city offers ample opportunities to connect with nature and enjoy the beauty of avian life. So grab your binoculars, lace up your hiking boots, and come along with a quick guide to birdwatching in Winston-Salem.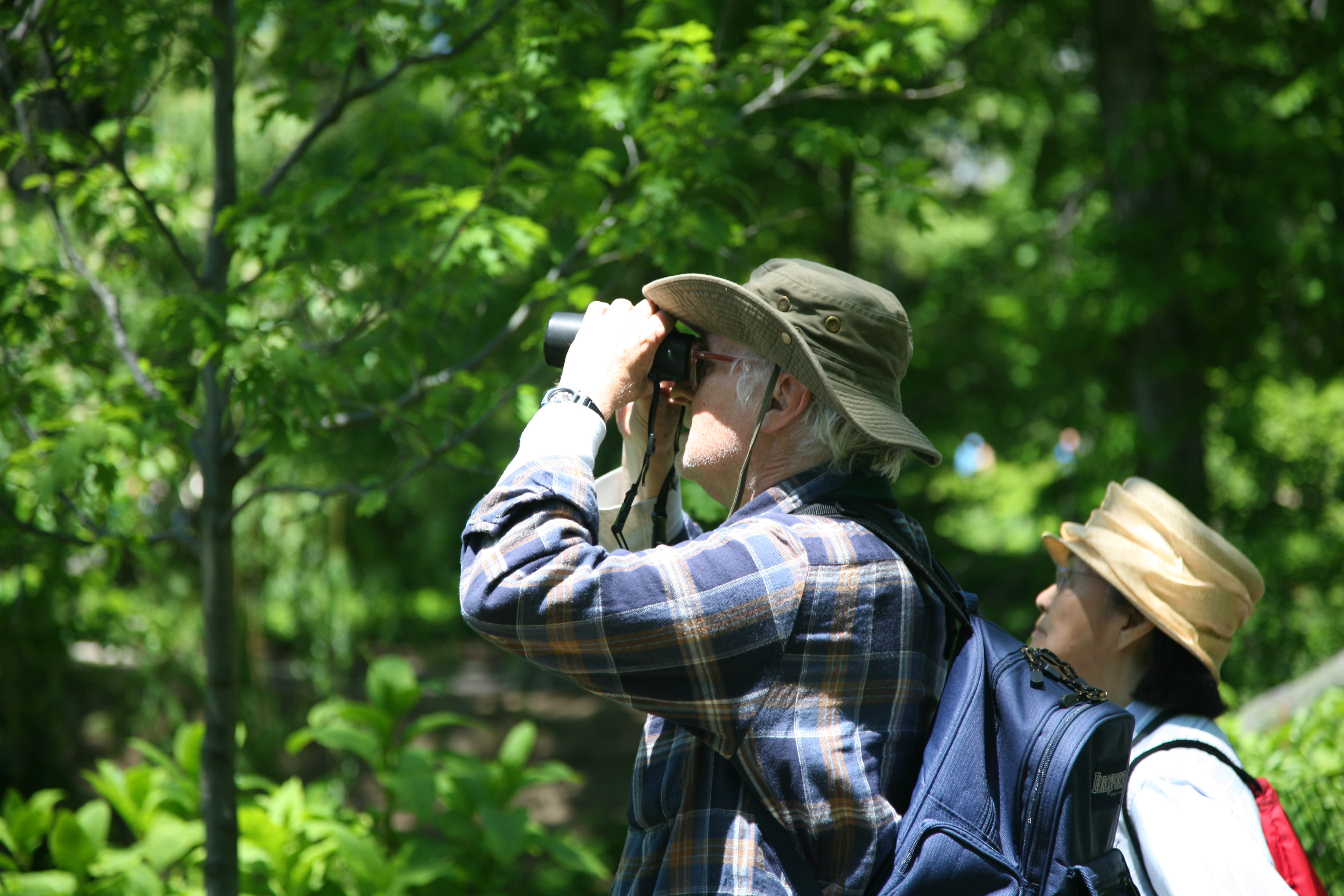 FLY ZONES | The Best Spots for Birdwatching 
With more than 300 bird species soaring through our skies, Winston-Salem offers boundless opportunities for bird-spotting. Here's where birdwatchers tend to flock in and around Winston-Salem. 
BETHABARA PARK
Why it's special: Birds flock to tend to flock to Historic Bethabara Park, an archeological site and nature preserve 10 minutes north of downtown. Watch for Eastern Bluebird as you stroll from the Visitor Center parking lot to a paved greenway behind the reconstructed fort. The greenway grants you access to the Lower and Mill Creek Trails, both of which ultimately lead to the 'Beaver Pond,' a marshy wetland area viewable from two observation decks. Beavers and otters are often seen here, along with a colorful assortment of birds.  
Look for: Wood Duck, Brown-headed Nuthatch, Wood Thrush, Indigo Bunting, Tree Swallow
MILLER PARK
Located in the heart of Winston-Salem's Historic Ardmore neighborhood, this lively park is popular with people and birds alike. Part of the reason is its natural, bird-friendly amenities — towering hardwoods, meandering creeks, and sloping elevation — all of which helped it earn a place on the NC Birding Trail. Keep an eye out for herons in the pines near Shelters 1 and 2, as well as barreled owls nested behind the park's rec center
Look for: Yellow-crowned Night-Heron, Cooper's Hawk, Barred Owl, Brown Creeper 
REYNOLDA GARDENS
Stunning scenery meets fascinating history at Reynolda, the former estate of tobacco tycoon R.J. Reynolds. Several paths meander through the 130-acre estate, traveling through woodlands, wetlands, and rolling fields. Spring and summer are prime birding times at Reynolda, particularly at the Lake Katharine wetlands. Here you'll find a variety of avian life, such as Red-winged blackbirds, sandpipers, warblers, and resident raptors. Another hotspot is Reynolda's Woodland Loop, especially in the summertime, when you'll see Ruby-throated Hummingbirds and an array of owls.
Look for:  Black-billed Cuckoo, Swainson's Thrush, Gray-cheeked Thrush, Scarlet Tanager, Rose-breasted Grosbeak
SALEM LAKE
One of the city's recreational gems, this 365-acre reservoir near downtown features a 7.1-mile greenway path that traces the shoreline, offering excellent viewpoints — especially from the south shore. Warm weather attracts herons, egrets, and occasional Ospreys, while grebes, gulls, and various duck species are seen throughout the year. The Salem Lake Trail connects to the 5.2-mile Salem Creek Greenway, home to a mix of birdlife and wildflowers.
Look for: Wilson's Snipe, Brown-headed Nuthatch, Winter Wren, Warbling Vireo, Willow Flycatcher
TANGLEWOOD PARK
Stationed 10 miles west of downtown along the Yadkin River, Tanglewood offers birding opportunities year-round. Start with a trip down the popular Bluebird Trail maintained by the NC Bluebird Society, located near the park's Welcome Center. Then, continue to the Arboretum, where you'll find Baltimore Oriole perched in the large trees overlooking the Manor House. End your expedition with a stroll around Mallard Lake, where you'll encounter Red-headed Woodpeckers, Green herons, Barred Owl, and Brown-headed Nuthatch (among others). 
Look for: Wood Duck, Red-headed Woodpecker, Brown-headed Nuthatch, Prothonotary Warbler, Baltimore Oriole
HANGING ROCK STATE PARK
Located 45 minutes north of Winston-Salem, Hanging Rock is a haven for birdwatchers and nature lovers in general. The 7,000-acre park offers more than 18 miles of trails that trace up mountainsides, along riverbanks, and even under waterfalls. While most hikers opt for the iconic Hanging Rock Trail or the popular Moore's Wall Loop, the best birding is typically found along the park's newest path, the 1.3-mile River Bluffs Trail, which loops through bottomland woods along the Dan River. You'll encounter nearly 100 bird species along the route, including Orchard Orioles, Pileated Woodpeckers, and Scarlet Tanager.
Look for: Broad-winged Hawk, Common Raven, Black-throated Green Warbler, Hooded Warbler
PILOT MOUNTAIN STATE PARK
This popular state park 20 minutes north of downtown is part of the Important Bird Area (IBA) Program, a global initiative identifying areas vital for bird conservation and other biodiversity. According to conservationists, Pilot Mountain attracts birds typically seen in higher elevations and is a key corridor for migrating raptors. After parking in the main lot, take the short hike up to the Little Pinnacle Overlook for a close-up view of Pilots' signature knob and sweeping vistas of the valleys below. But for the best birdwatching, take the 2-mile Ivy Bluffs Trail at the base of the mountain, which offers loops around the banks of the Yadkin River.
Look for: Bald Eagle, Common Raven, migrating raptors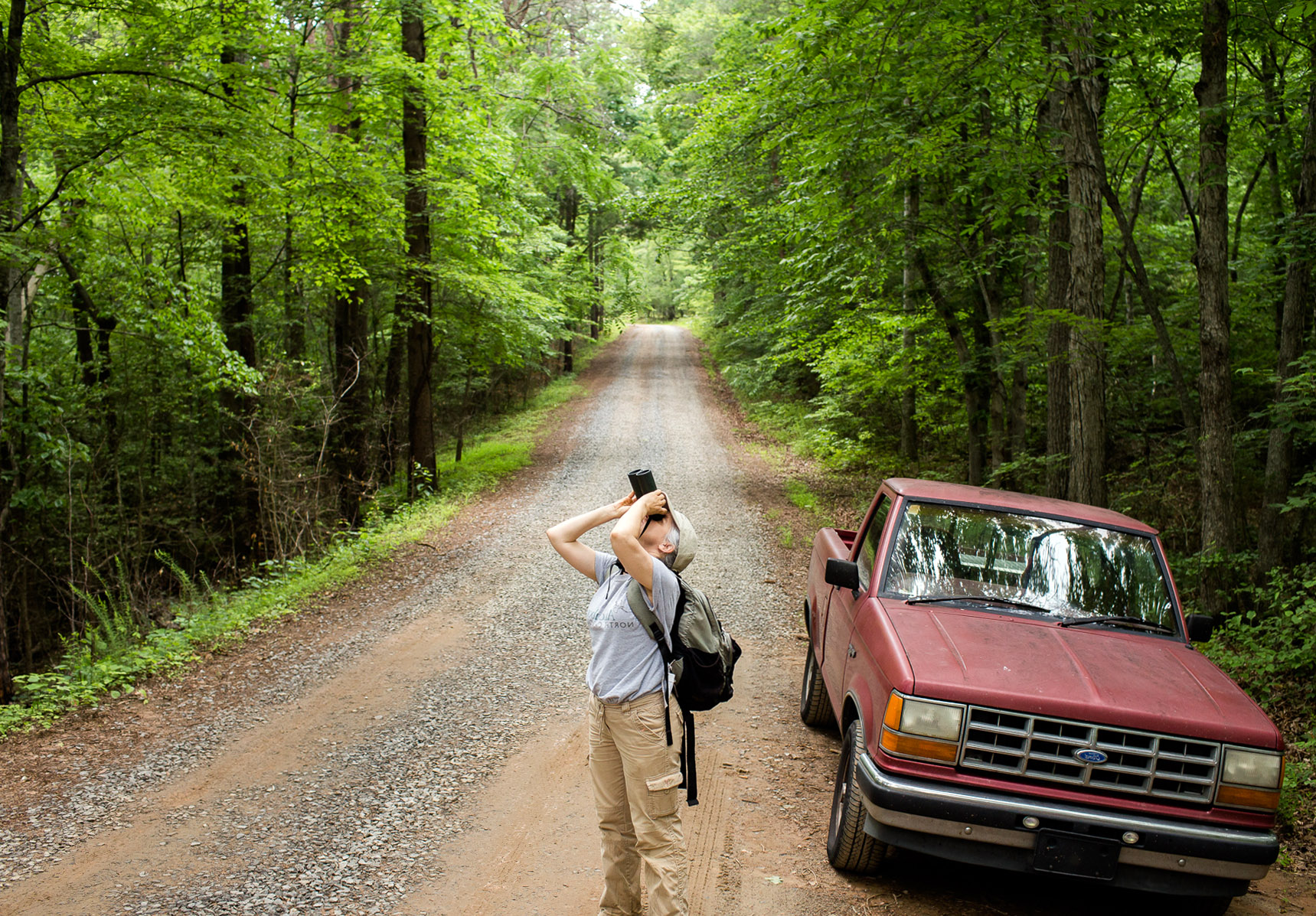 ---
More to Explore
The seven spots listed above are all featured stops along the North Carolina Birding Trail, a network of 300 viewing locations established to promote bird conservation and eco-tourism. However, Winston-Salem has plenty of birdwatching hotspots not on the state trail. Here are a few more favorites:
Gateway Nature Preserve. A mile south of downtown, this 19-acre urban wildlife habitat along Salem Creek features hiking trails, a pollinator garden, and educational programs. It's adjacent to Washington Park, where towering hardwoods and rolling topography attract many a feathered friend
Horizons Park. Birding options abound at this sprawling 500-acre park on the north end of Winston-Salem, particularly along a 2.5-mile trail that meanders through the grounds.
Muddy Creek Greenway. Ten miles west of downtown, this popular 2.9-mile walkway follows the quiet waters of Muddy Creek along Meadowlark Drive, passing by small farms, soccer fields, and horse pastures.
Old Salem Museum & Gardens. The reconstructed historic village is a great place for a leisurely stroll and an under-the-radar hub for birding — particularly at God's Acre/Salem Cemetery and the May Dell (amphitheater) at Salem College.
Stuart & Emma Thomas Memorial Trail: This newly opened 3-mile trail at the Crosnore Children's Home winds through one of the most beautiful sites in the city, with views of creeks, cow pastures, even the downtown skyline. Look for the many varieties of birds flitting between the vegetation.
---
FOR THE BIRDS: Why Birds (and Birders) Love Winston-Salem
What makes Winston-Salem such a hotbed for birding? To get some answers, we asked our friends at the Forsyth Audubon Society, a local chapter of the National Audubon Society. They cited the area's diverse geography and nearby natural areas, along with the city's unique position along a main birding superhighway.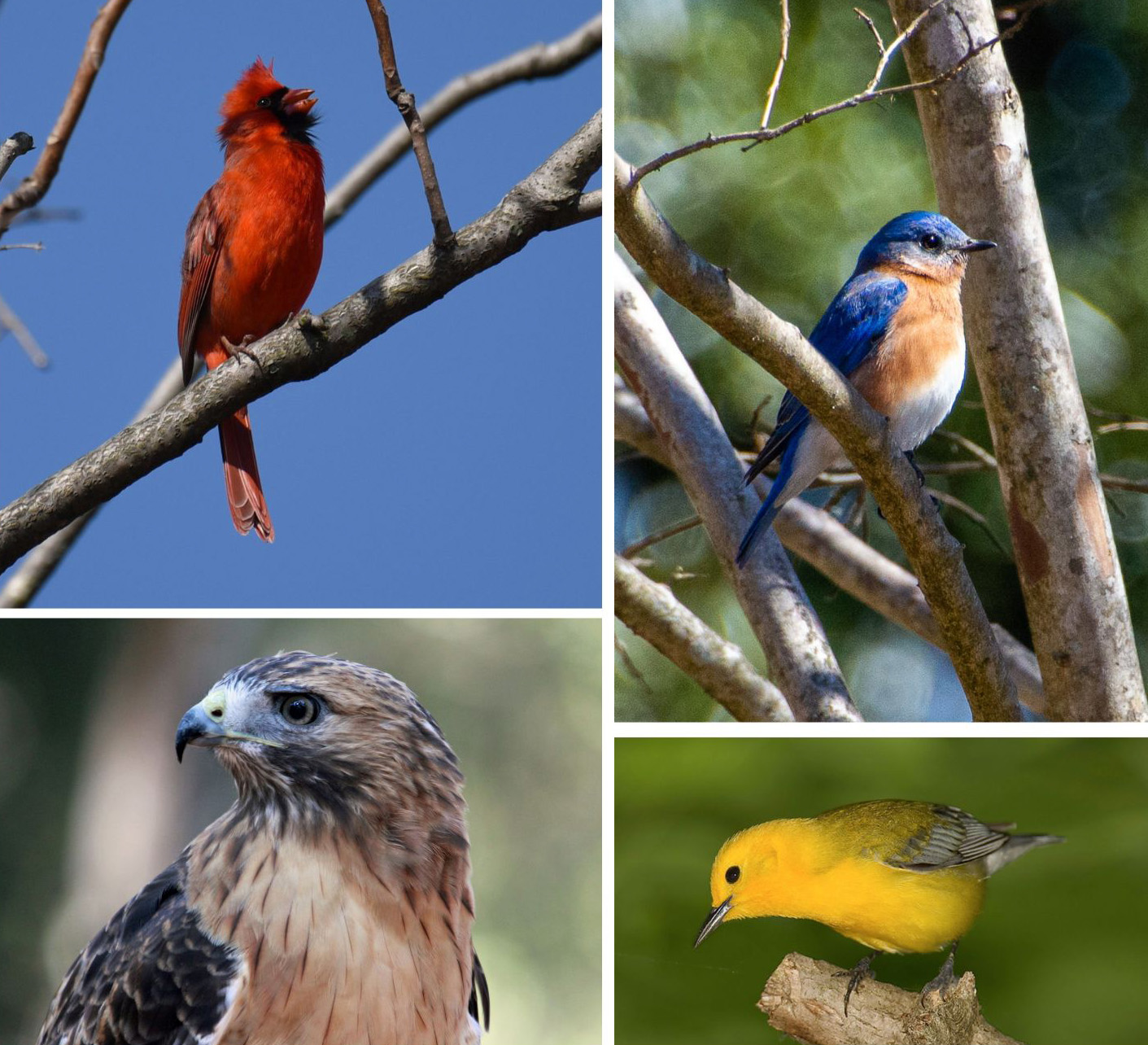 ---
Geographical Diversity: Stationed at the base of North Carolina's foothills, the city offers a diverse range of ecosystems, including forests, wetlands, rivers, and lakes. This diversity of habitats increases the likelihood of encountering a variety of  bird species.
Proximity to Natural Areas: Winston-Salem is surrounded by several state parks and protected areas ideal for birdwatching. Highlights include Pilot Mountain State Park and the Yadkin River, both 30 miles or less from downtown, along with in-town hubs such as Salem Lake, Tanglewood Park, and the Gateway Nature Preserve.
Diverse Bird Species: Due to its favorable location and varied habitats, Winston-Salem boasts an impressive diversity of bird species. More than 300 bird species are found here, including notables such as the Northern Cardinal, Eastern Bluebird, Great Blue Heron, Belted Kingfisher, and Red-tailed Hawk.
Seasonal Bird Migration: Winston-Salem lies along the Atlantic Flyway, a major migratory route for birds traveling between their breeding grounds in the North and their wintering grounds in the South. During spring and fall migration seasons, you'll find a stunning variety of species stopping to rest and refuel in our region.
Bountiful Birding Hotspots: As previously noted, Winston-Salem and surrounding areas offer numerous hotspots for birding, such as Tanglewood Park, Bethabara Park, Salem Lake, and Reynolda Gardens (all highlighted above) These locations provide well-maintained trails, observation platforms, and knowledgeable staff or volunteers to fill you in on local bird species. 
Birding Groups: Our city is home to several prominent birding organizations including the Forsyth Audubon Society, part of the National Audubon Society. In addition to offering various resources and education programs, the society hosts group outings throughout the year, including their popular "Second Saturday" bird walks each month. You can find more details on the bird walks and other activities on the group's website and Facebook page.
Specialty Shops. Winston-Salem is home to several top-notch birding shops that offer everything bird lovers need, from bird baths to binoculars to birding maps and more. Local shops such as Wright's Backyard Birding Center complement national franchises such as Wild Birds Unlimited (568 Hanes Mall Blvd.).