Winston-Salem's Beard-Nominated Chefs
Get to Know Winston-Salem's Three James Beard-nominated chefs and the restaurants they run.
If you've become a James Beard Foundation semi-finalist, there's a good chance that the rest of the world will find out about it before you do. At least, that's the way it happened for Winston-Salem chefs Stephanie Tyson (Sweet Potatoes Restaurant), Peyton Smith (Mission Pizza), and Justin Webster (Heff's Burger Club).
"Congratulations," a friend said to Tyson, who earned her second Beard semifinalist nomination this year.
"For what?," Tyson replied. (If it's announced on social media, she'd be the last to find out because she's not on it, she says). "They just announce it. Somewhere. And people see it. Except for me. So I'm getting the news from friends."
That's also how Smith found out about his Beard nomination last year. "Friends started blowing my phone up," he says, "and I had no idea why at first." He thought maybe he had unintentionally posted something offensive on social media.
Webster, who earned his first semifinalist nomination this year, also got a congratulatory text from a friend before seeing the article about it. "I just started crying," he says, adding that he always dreamed of earning a James Beard nomination.
Their restaurant journeys and the food they serve — Southern soul food (Tyson), handmade Neapolitan-style pizza (Smith), and smash burgers (Webster) — are as different as their personalities. But they also share a lot in common. Tyson and Webster grew up spending a lot of time in kitchens and attended culinary schools. Smith on the other hand left a safe, well-paying pharmaceutical job to learn how to make pizza. Another similarity? They are all really, really good at what they do.
There's no doubt that a James Beard nomination significantly boosts their businesses and affirms their relevance in the industry. But their dedication to their craft outweighs recognition and awards. They remain grounded because, at the end of the day, they still have restaurants to run, people to feed, and staffs that depend on them. And each of them is still fueled by a deep hunger to keep improving their craft.
---
Chef Stephanie Tyson
Restaurant: Sweet Potatoes Restaurant and Miss Ora's Kitchen
Nomination: Best Chef semifinalist 2022 + 2023 (Southeast region)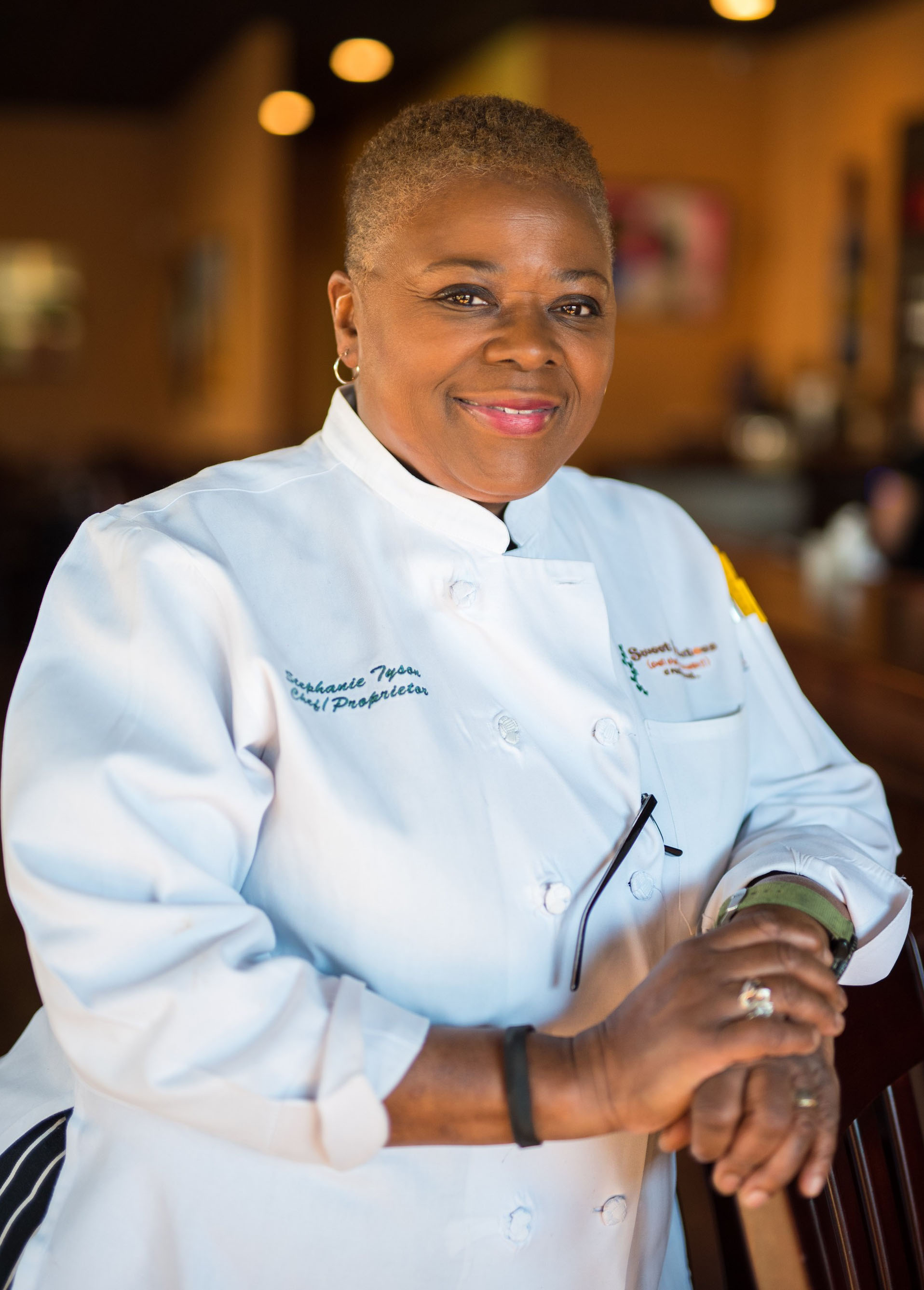 "You still gotta take out the garbage"
In January, Tyson and Vivián Joiner celebrated 20 years of running their Trade Street eatery, Sweet Potatoes Restaurant and Miss Ora's Kitchen. They've collected numerous accolades through the years. Their first location — also on Trade Street — was an intimate space that commanded a two-hour wait for dinner from the very beginning. Since then, they've been featured in Our State and Southern Living magazines and the Food Network's Guilty Pleasures show.
They've survived recessions and the pandemic shutdown. Since 2020, they have fought to keep their business afloat, along with many other restaurant owners across the country. The shut-down, supply shortages, rising inflation, and higher food and labor costs have challenged restaurateurs. They have a greater appreciation for their successes now because of the pandemic, Tyson says.
"2020 pretty much put the brakes on everything. It changed our focus. So it didn't really matter that [we] were in Southern Living or Our State magazine or The New York Times," she says. "It didn't matter at all because 2020 was a great equalizer. It didn't matter how many stars your restaurant had, or whatever — you were shut down."
As for the James Beard nomination, Tyson recalls the first thing she thought when she heard she'd been nominated. "I thought, 'Am I supposed to verify or register or do something? Because I haven't done that yet.' Vivián, my partner, keeps up with that stuff. I just wander through life with my head in the clouds thinking of food things. She keeps me grounded."
She added that she never focuses on winning awards because the reward should be how well you do your job.
"I just want to do what, I think, I was called to do, which is to feed people," she says. "James Beard is very prestigious, so I guess this is saying that you did your job really well. So it's an honor."  
While the recognition brings more people through the door and widespread respect within the industry, Tyson remains humble and grounded. She recalls going to see their friend Ricky Moore, of Saltbox Seafood Joint in Durham, after he won Best Chef in the Southeast in 2022.
"So, we were at his restaurant, and everybody was making a big deal. But he was like, 'Hold up, I gotta go take the garbage out.' And that's how it is; you still have to do the job," Tyson says. "It's really easy to stay grounded when you have bills to pay."
Tyson says there's no time to pat yourself on the back when you've got to be on the line flipping burgers, cooking steaks, and making soup.
"I just try to do the best I can all the time, which is all I can do," she says. "When you start getting your head caught up in stuff, you stop doing your job."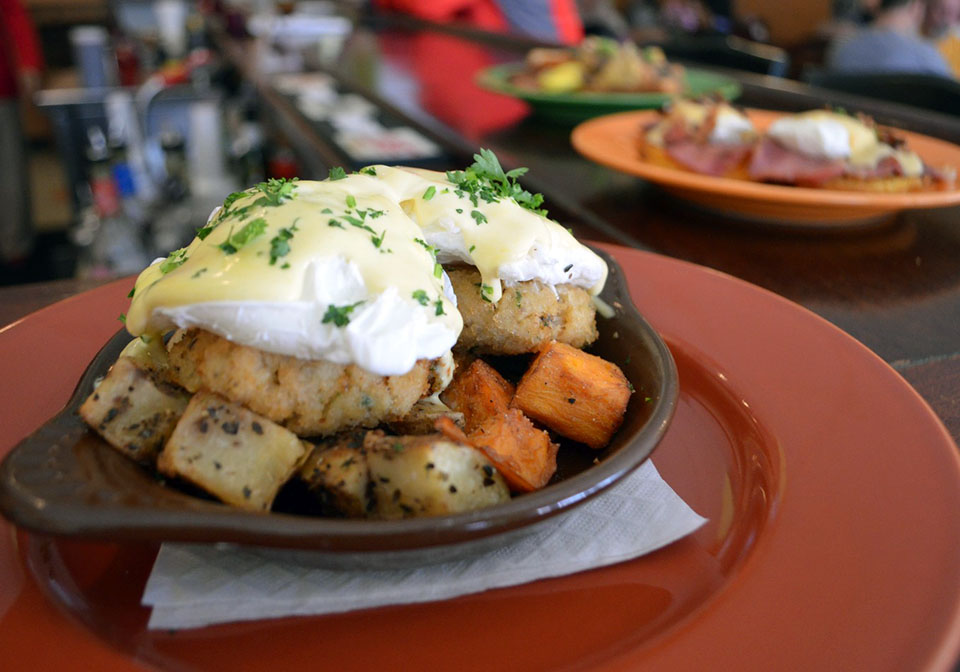 IF YOU GO: Sweet Potatoes
Where: 607 Trade St NW, Winston-Salem
Hours: Wed, 5:30–9 p.m.; Thu–Sat, 11:30 a.m.–9 p.m. (closed Sun –Tue)
Contact: (336) 727-4844, sweetpotatoes.ws
Good to know: Sweet Potatoes has full bar service. Patio seating is available. Takeout is offered on Fridays and Saturdays. Gift cards and merchandise (including Chef Stephanie's cookbooks) are available at the restaurant.
Bonus tip: Miss Ora's Kitchen is next to Sweet Potatoes and serves lunch Thu–Fri.
---
Chef Justin Webster
Restaurant: Heff's Burger Club
Nomination: Best New Restaurant 2023 (nationwide)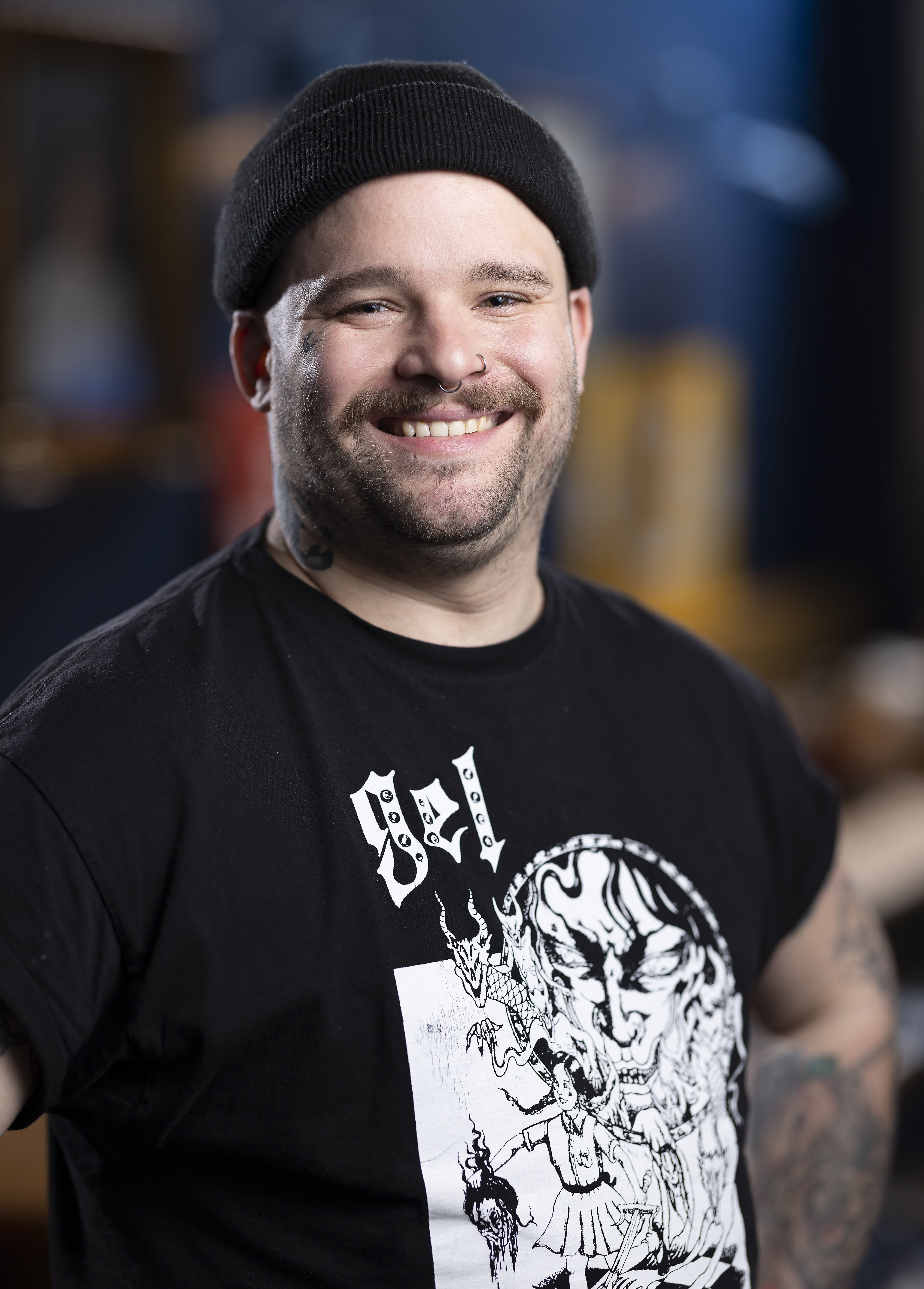 "A Smashing Success" of a Burger Joint
Heff's Burger Club's smash burgers have become a smash hit. If you're unfamiliar with the concept, it's a 4 oz. patty smashed thin so that it cooks quickly to yield a crispy, crunchy burger. Justin Webster, executive chef and owner of Heff's describes it as big, wide, and yummy. "We think they are the superior burgers," he says.
Webster, 30, came across them while working on a burger truck in Brooklyn. He was reminded of the old-school burgers of his youth, and that's when an idea started to form.
"My idea was to elevate the fast-food burgers from my youth. So what if a Whopper was elevated? Or what if a Baconator was elevated? What if we used really good ingredients and made these fast food burgers really good?" he mused.
Fast forward to him working as the head chef at Krankies, a popular coffee shop-turned-restaurant in downtown Winston-Salem. He was asked to create a last-minute burger pop-up menu for an event at Krankies. He called the pop-up Heff's Smash Burgers (named after his wife, Heather, whose nickname is "Heff"). They sold out — about 100 burgers — within an hour. They did another Heff's burger pop-up. Another smash success, so to speak.
So they got investors and opened their brick-and-mortar spot last summer on Fourth Street downtown (aka, Winston-Salem's Restaurant Row). There are just four burgers on the menu, which are served with toppings such as griddled onions, hickory smoked bacon, pimiento cheese, locally-sourced pickles, spicy ketchup, or smoky Cheerwine bbq sauce.
Webster says the James Beard nomination is a lifelong dream come true that he didn't expect to achieve until much later in his career. "When I first started cooking, James Beard was like this almost unattainable thing, like a Michelin star. Even a nomination is like an award in and of itself," he says.
But he also doesn't see it as the pinnacle of his success. "I think right now my main goal is to figure out how to perfect this. I want this to be a Winston-Salem staple for a long time. My goal with Heff's is to show people that even though Winston-Salem has always been a meat and potatoes town, you can make a really big splash here," he says. "Beyond that, I just want to continue being ourselves — making good burgers, making good food, winning awards, doing cool stuff."
His 10-year plan is to open more restaurants with different concepts, but all in the same spirit as Heff's, which has a vibe he described as "nontraditional." Some may even call it weird, he says.
"We're unapologetically ourselves. We will always play loud punk music here. Our art is funky and offensive. We play cartoons on the TV all the time," he says. "That's who we are. And if you're cool and you're nice, we'll always give you a good experience."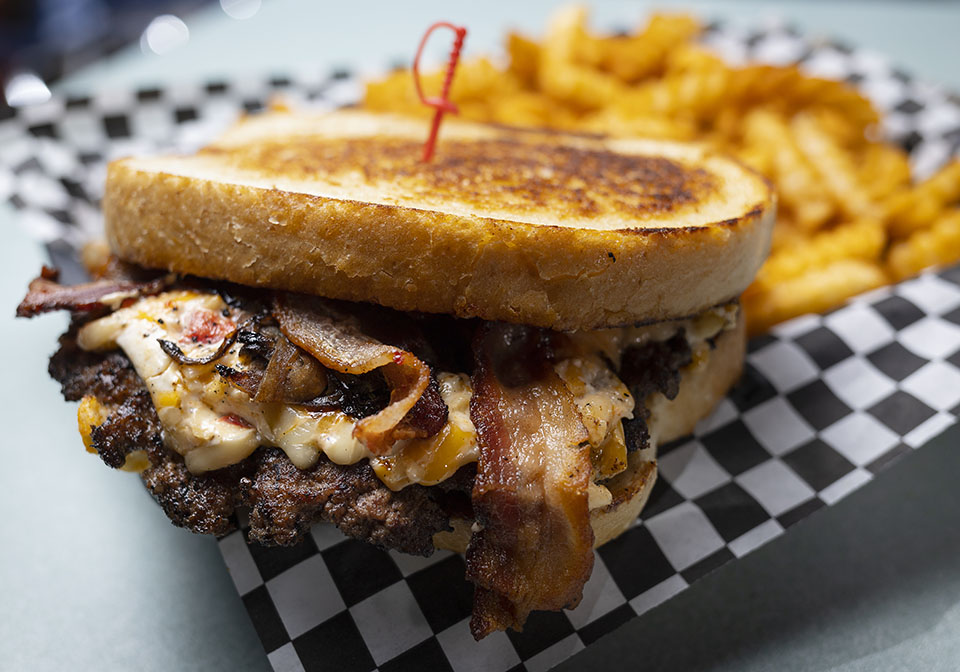 IF YOU GO: Heff's Burger Club
Where: 285 W Fourth St., Winston-Salem (downtown)
Hours: Sun–Thu, 11 a.m.–9 p.m.; Fri–Sat, 11 a.m.–11 p.m. (closed Tuesdays)
Contact: (336) 813-9473, heffsburgerclub.com,
Good to know: Dine-in, Takeout, and Delivery is available. Heff's currently doesn't serve alcohol, though they have a great selection of glass-bottled sodas available.
Bonus tip: On weekdays, Heff's offers an option to Buy a Meal for someone in need. The $8 meal includes a burger and fries.
---
Peyton Smith
Restaurant: Mission Pizza Napoletana
Nomination: Best Chef 2022 (Southeast region)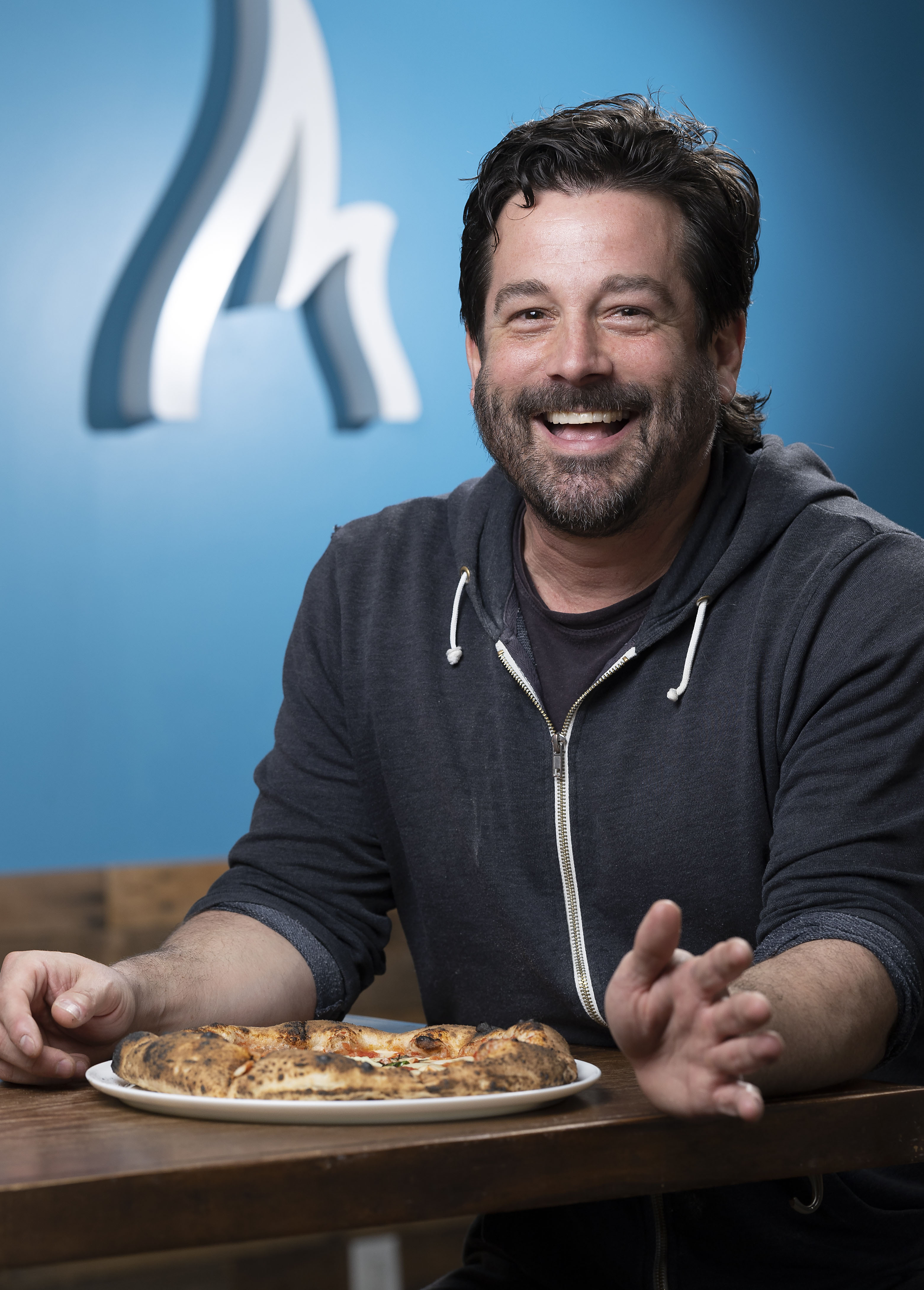 Following His "Inner-Pizza Voice"
How does a Winston-Salem native become an expert in crafting traditional Neapolitan-style pizza? Not only that, but how does a relative outsider to the restaurant industry get a James Beard nomination as one of the best chefs in the Southeast?
Dedication. Hard work. Respect for the craft.
Peyton Smith didn't set out to be a chef. He had a pharmaceutical job with a good salary but found it unfulfilling. "I just wanted to go in the direction of doing real things. Like making a real thing," he says. His favorite food at the time was barbecue, but there were several reasons why that didn't seem like a good business venture, he says. Then there was pizza. He spent time in New York and in Naples, Italy, eating and learning about pizza.
"I was introduced to this idea that there's a different way to make pizza. So it started with this totally nondescript anonymous place in Naples and then into these coal-fired legacy, turn-of-the-century places in New York," he says.
He also likes how easy it is to consume Neapolitan-style pizza and that it really showcases fresh ingredients — the ripe, juicy tomatoes; the soft, fresh cheese; the aromatic herbs. The crust is light and thin, but it's also chewy and substantial. The process of making pizza this way is an unpredictable, ever-changing science project, he says — much like running a restaurant. This complexity in pizza-making is what has continued to challenge and intrigue him during his more than 10 years at the helm of Mission Pizza.
"You've got so many incredible, fine technical procedures in a short amount of time," he says. It could be managing the oven, reading how the fire works, understanding where the dough is."
Weather, humidity, the thickness of the pizza sauce, the condition of the wood firing the pizza oven — all of these factors weigh into the outcome. He's constantly tweaking and evolving the process. "The science of making pizza continues to fascinate me. There are so many intricacies and variables that make it so complex. It's really kind of stupid to make pizza this way (Neapolitan-style), because it's really the hardest way to make pizza," he laughs.
If anything, a James Beard nomination affirms the countless hours he's put in over the years. Smith also says it's a testament to the hard work of his staff. As former competitive soccer player, he knows "a star player is nothing without a good team."
Once he committed to pizza, he was all in. And when he's deep into pizza-making, he's not really thinking about how his customers or reviewers are going to respond. He's got his own barometer, or "inner pizza voice," developed and fine-tuned from spending a lot of time eating and studying pizza worldwide. "I feel like the more I give to pizza, the more pizza gives to me," he says. "I love making pizza. And I just want to get better and better and better."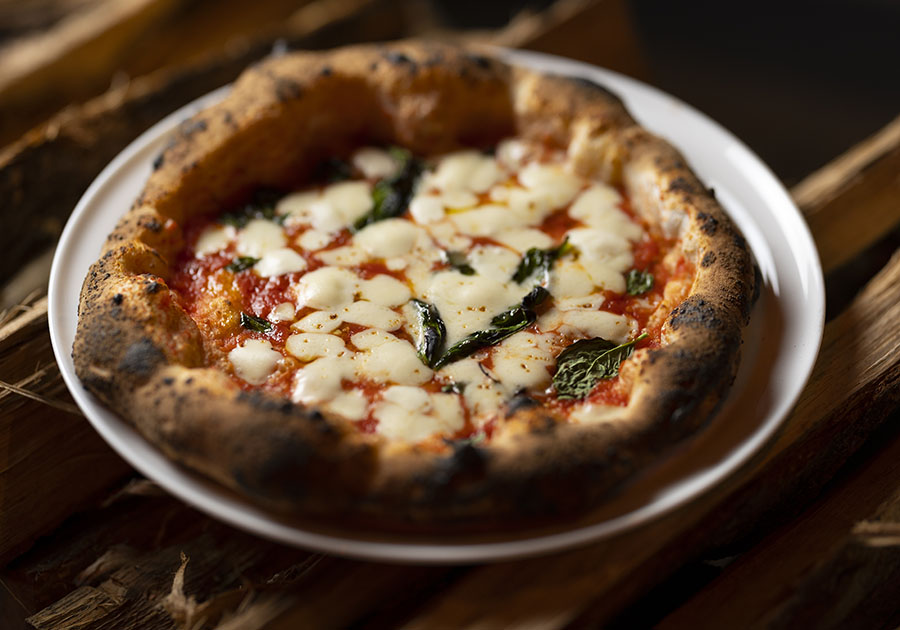 IF YOU GO: Mission Pizza Napoletana
Where: 707 Trade St NW, Winston-Salem (downtown)
Hours: Wed–Thu, 5 p.m.–9 p.m., Fri–Sat, 5 p.m.–9 p.m. (closed Sun –Tue)
Contact: (336) 893-8217, missionpizzanapoletana.com
Good to know: Mission Pizza offers Dine-in, Takeout, and Gift Cards. Beer and wine are sold onsite. Custom dining experiences (including Pizzakase and Prix Fixe) are available by reservation and can be made online.
---
ON THE SIDE
Get to know a little more about Winston-Salem's three Beard-nominated chefs.
Stephanie Tyson (Sweet Potatoes)
What she cooks at home: "I'm pretty regular in terms of what we do at home, but every now and then, I'll break out a cookbook and just try some different stuff."
What she likes to eat: "I'm big on flavors, whether it's Caribbean, Italian, Mediterranean, French … I really like French food. I keep thinking we need a French restaurant in this city."
Dining tip: Sweet Potatoes doesn't take reservations, but if you must wait for a table, work up an appetite with a stroll along Trade Street and take in its art galleries and locally-owned shops. Then you won't feel so guilty about ordering that mouth-watering basket of fried green tomatoes and okra.
Fun fact: Before Tyson made restaurants her career, she worked in theater for a few years after college.
Justin Webster (Heff's)
Where he likes to eat: The Downtown Grille, Mission Pizza Napoletana, Sweet Potatoes and pop-ups like Native Root. "I think the younger chefs and the pop-ups are where it's at."
What he grew up eating: Everything was fried in a cast iron skillet, says the Virginia native. Fried livers and onions and fried green tomatoes. His grandfather made Brunswick stew with whole rabbits and his family was known for smoking whole pigs.
Heff's menu recommendation: "The Ladykiller (white American cheese, red onion, shredded lettuce, Niki's pickles and black garlic sauce) is our magnum opus. To me, it's a perfect burger but the Piggy Wiggy is my go-to — simple, with bacon, griddled onions, American cheese, spicy ketchup and Duke's mayo.
Fun fact: His dad, a corporate chef, got him into cooking. They have friendly competitions about who brought the best dish to a family function.
Peyton Smith (Mission Pizza)
Where he likes to eat: Mozelle's. West End Cafe for lunch. There's a lot of good Mexican food on the south side of Winston-Salem. PB's hot dogs, Bobby Boy Bakeshop, Camino Bakery and Sweet Potatoes.
How many pizzas he's made: 200,000?
How many pizzas he's eaten: If you count restaurants, delivery, frozen — maybe 10,000+?
Fun fact: Represented Team USA at Coupe du Monde de Baby Foot (World Cup of Foosball) in Nantes, FR 1998.  
His Mission menu recommendations: Bucatini All'Amatriciana (a pasta dish) and Pizzakase Pizza Tasting Menu, a curated selection of unique, off-menu pizzas inspired by his love of pizza. It's based on the Japanese custom of omakase, which means, "I leave it up to you."
Best pizza he's eaten: "I have had so much great pizza. Some of my favorites [in the USA] — Una Pizza Napoletana (NYC), Apollonia's Pizzeria (L.A.), Metro Pizza Sicilian, (Las Vegas) …"
---
What's the big deal with James Beard?
The James Beard Foundation is a nonprofit culinary arts organization named after the prolific teacher, food writer, and cookbook author James Beard. Based in New York, the foundation is best known for its annual James Beard Foundation Awards, which recognize exceptional talent in the restaurant and food media industries. (Think of them as the Oscars of the food world.) Restaurant and chef semifinalists were announced in January and can be found on the foundation's website.
"Best Chef" nominees grouped into 12 regions (NC is in the Southeast region), and each region has 20 semifinalists.
Restaurants are grouped into categories (Best Bar, Best Bakery, Best New Restaurant, etc.), with 20-30 nominees per category.
The semifinalists are voted on by more than 600 culinary professionals, including previous award winners. Winners will be celebrated at the James Beard Restaurant and Chef Awards Ceremony on June 5 in Chicago.
---
This article was written by local journalist Tina Firesheets, author of "100 Things to Do in Winston-Salem Before You Die."