As residents of Winston-Salem, we share a keen sense of pride living in a place where centuries-rich history seamlessly blends with our innovative and entrepreneurial spirit.
Our mission at Visit Winston-Salem is to continue to grow Winston-Salem's economy as a regional leader for leisure, meetings, conventions, motorcoach tours, and sporting events. These visitors are investing their dollars in our community and fortifying Winston-Salem's future. Although our sales team canvasses the country, we know the best referrals come from you. 
Help us "Bring Meetings Home," a grassroots resident referral program and hometown initiative designed to secure more conventions, regional meetings, and sporting events for our community.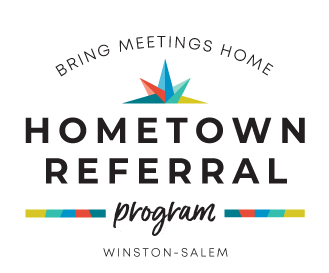 STEP ONE: Consider & Create
Think about the groups to which you belong or have a connection. This could be an association, corporation, social, fraternal, or athletic organization.
STEP TWO: Connect & Communicate
Simply complete the form below, and our sales team will handle the rest!
If you have any questions, contact Christian Schroeder, Director of Sales and Services at 336.728.4218 or [email protected].