Curious about how Winston-Salem got its hyphen? The tale of our twin city status begins with the Moravian settlers over 265 years ago.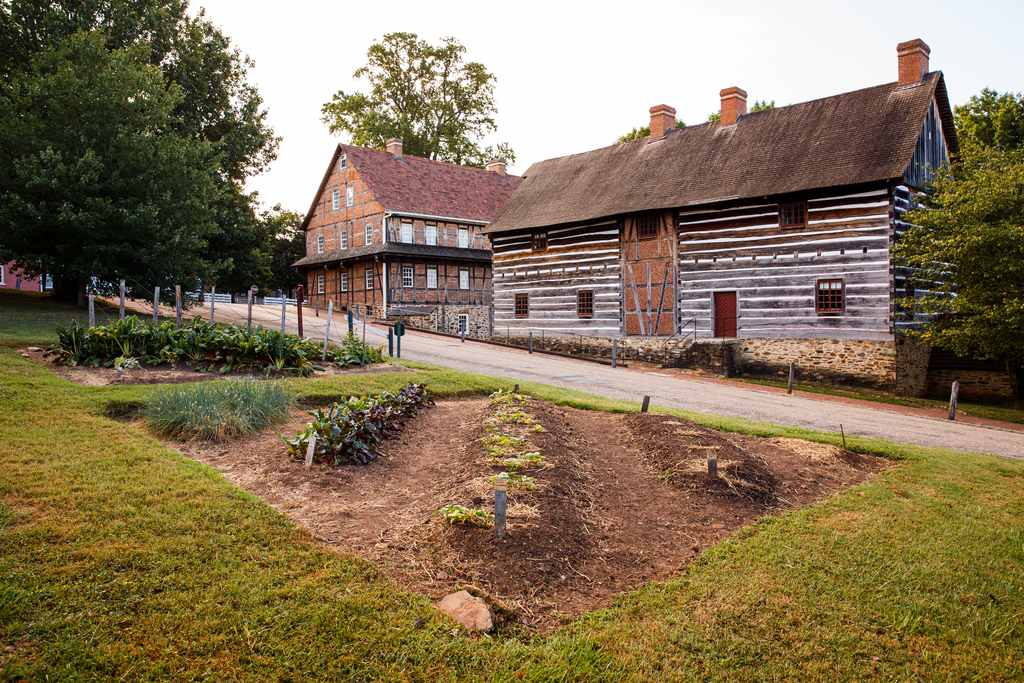 In 1753, the Moravians — a devout religious group originally from Eastern Europe — moved to central North Carolina for its fertile soil, abundant water, and temperate climate. They settled on a pristine, 100,000-acre tract they dubbed "Wachovia," which today makes up most of Winston-Salem/Forsyth County. Here is where the founding Moravians steeled Historic Bethabara, and as the community grew, developed nearby Bethania- North Carolina's first planned Moravian community in 1759. They needed a central community for trade and church governing purposes, so they established Salem in 1766. Salem soon became a sought-after trading post for artists and craftsmen. In the following decades, the town would also develop into a burgeoning manufacturing hub, particularly in textiles, and played a pivotal role as a supplier during the American Revolution — and later, the Civil War.
A mile north of Salem, the town of Winston would begin taking shape in the mid-1800s, taking its name from local legislator and Revolutionary War hero Joseph Winston. It would quickly become a regional leader in manufacturing, buoyed by the twin powers of tobacco and textiles. With business tycoons like R.J. Reynolds and the Hanes family leading the way, Winston exploded in population and financial importance, becoming the greatest industrial center in the Southeast.
In 1913, the two neighboring towns merged into one — pooling their resources, streamlining bureaucracy, and forming the uniquely vibrant (and distinctly hyphenated) city of Winston-Salem.
Education
The early Moravians were highly progressive for the time. Their faith-based philosophy held that everyone should be educated, regardless of race or gender. In 1772, they opened what would become Salem Academy & College, now the country's oldest educational institution for women. Meanwhile, records show that African Americans in Salem were being educated as early as the 1820s — despite state laws prohibiting it.
The neighboring town of Winston was also well ahead of its time regarding education — particularly African-American education. Much of this is thanks to Simon Green Atkins, an African-American education reformer. Recognizing the shortage of fair education for his community, Atkins opened the Depot Street School in 1887 as the first black school in Winston. He served as principal of the school for decades while founding several higher-education institutes, including Slater Industrial Academy, which we now know today as Winston-Salem State University (WSSU). Like the Moravian settlers before him, Atkins knew that a good life starts with a good education — a belief that continues to drive Winston-Salem today.
The Arts
Winston-Salem's ongoing connection to creativity in all forms has cultivated our history of artistic firsts. The earliest compositions of classical music were composed in the early days of Salem. As the home of the nation's first arts council, Winston-Salem paved the way for the public-private support of the arts and created the model for art councils across the country. Winston-Salem is also the site of the first state-supported arts conservatory in the country, the internationally regarded UNC School of the Arts.
Business
Winston-Salem's early accomplishments as an industrial center brought wealth to the community that fueled the startup of other successful companies, including Piedmont Airlines (later absorbed by U.S. Airways), T.W. Garner Foods (creators of Texas Pete Hot Sauce), Wachovia Bank (now Wells Fargo), and Krispy Kreme Doughnuts. The companies all added to Winston-Salem's reputation as an industrial powerhouse, bringing thousands of jobs to the city.
Another homegrown company would make it easier for local minorities to reach all these jobs. Recognizing that local African Americans had limited transportation options, Mrs. Jesse Hayes brought the first "black only" bus system to Winston-Salem in 1926, providing safer travel for minorities and women. By 1968, her bus system — the Safe Bus Company — had grown to several hundred employees, proudly claiming the title of "largest black-owned transportation business in the world." Through it all, Winston-Salem's commitment to innovation, entrepreneurism, and education set the stage for the thriving, modern city we know today.
---


Today, Winton-Salem is the fifth largest city in North Carolina, and we're still constantly growing and evolving. With the development of a diverse business base, we've become a leader in nanotechnology and stem cell research, finance and financial technology, manufacturing, cybersecurity, and aviation- again reaffirming our time-honored tradition of boldly forging ahead. In fact, Winston-Salem has been consistently ranked as one of the best cities in the nation for generating new startup companies by Wallethub.com.
Over $2 billion has been recently invested in Winston-Salem's downtown development, now home to more than 120 local restaurants, shops, galleries, cafes, breweries, and bars — as well as more than 1,200 hotel rooms. The efforts have gained national attention, earning praise from Forbes as one of America's Top 10 Best Downtowns.
Highlighting the downtown redevelopment efforts is the Innovation Quarter (IQ), a booming mixed-use district and one of America's fastest-growing research parks. Home to 90 companies and more than 4,500 workers, the IQ is set along the eastern edge of downtown. That's where hulking factories and abandoned warehouses have been transformed into thriving tech hubs, art studios, craft breweries, and co-working spaces, signaling Winston-Salem's shift from a manufacturing-based economy to one centered on technology, medicine, and education.
Speaking of education, Winston-Salem was recently named one of America's top college towns by Southern Living, underscoring its commitment to higher education. The city is currently home to more than 30,000 college students and six standout colleges and universities, including:
Our city's ongoing cultivation of arts and culture can be seen today in the numerous galleries, performing arts groups, theaters, collectives, and collections that attract and impress artists, collectors, and admirers worldwide. In addition, Winston-Salem hosts many arts-focused festivals and events year-round, including the RiverRun International Film Festival, Piedmont Craftsmen's Fair, and the biennial National Black Theatre Festival- to name a few. Add it all up, and you get a perfect mix of small-town charms and big-city excitement.
---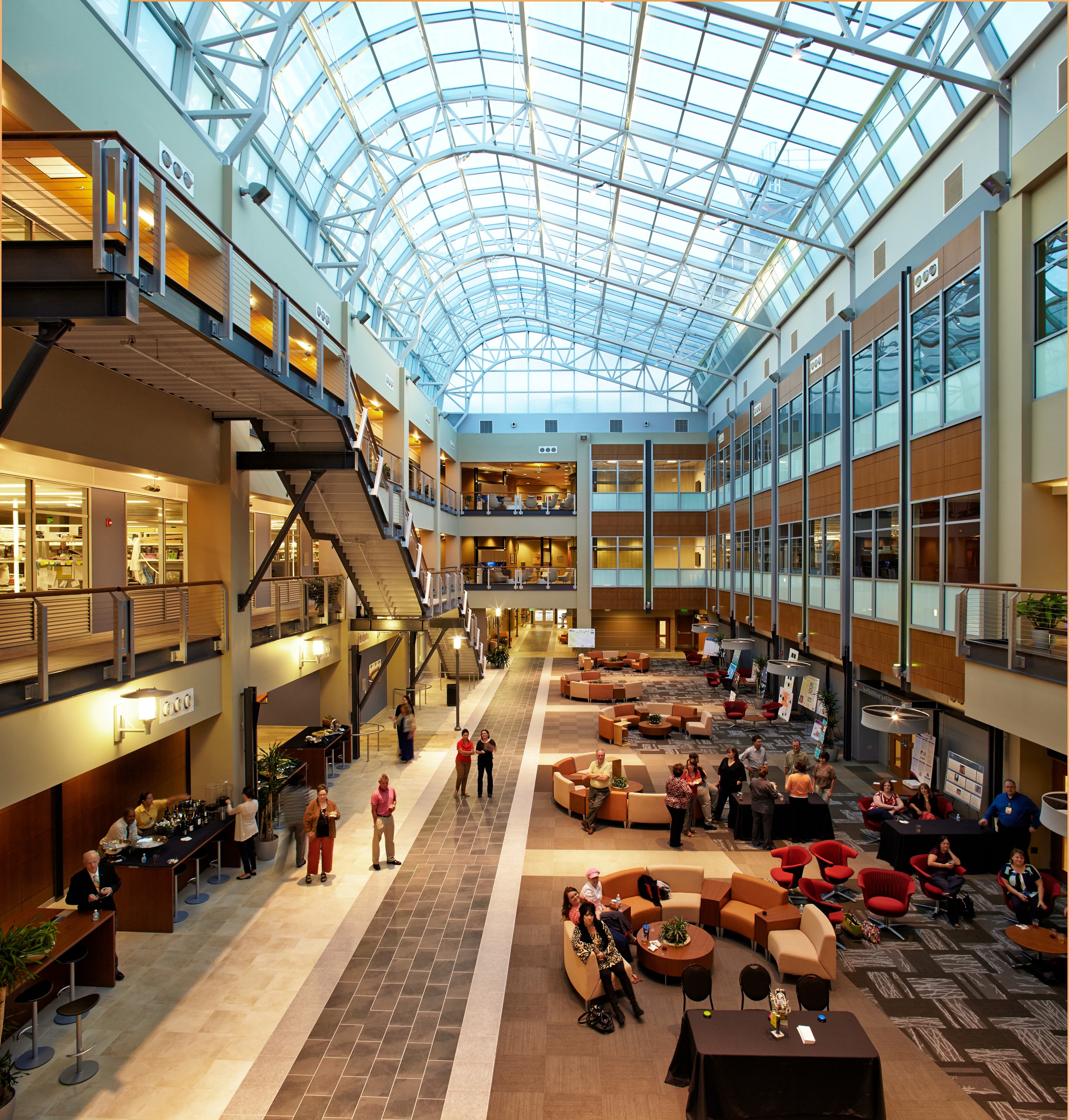 Built by entrepreneurs, innovators, educators, and artists, Winston-Salem is constantly pushing forward, creating a resilient and thriving community. From startups to Fortune 500 companies such as Hanesbrands and Krispy Kreme, our history certainly provides a solid footing for businesses to succeed with the help of collaborative efforts found throughout the community. Winston-Salem is about constantly reimagining what could be, pushing boundaries, and bringing new industries. We hope you'll see and agree.