With three state parks in our backyard, Winston-Salem is the perfect home base for outdoor adventures.
Mountains, streams, and a whole lot of green -- you'll find all of that and more right here. With three state parks less than an hour away, some of the best hiking in the Southeast is right in our backyard. Come along for a tour of Pilot Mountain, Hanging Rock, and Stone Mountain state parks.
1 Days
Hanging Rock State Park, Pilot Mountain State Park, and Stone Mountain State Park
3 Stops
Day 1
Pilot Mountain State Park
Located just half an hour from downtown, Pilot Mountain a treasured North Carolina state park. Known for its iconic peak—a perfect backdrop for pictures—Pilot Mountain offers miles of winding trails to take in stunning views year-round.
Choose your own adventure from beginner to advanced, whether hiking or biking. Rock climbing and rappelling are even allowed on portions of the park's cliffs. If you make it to the summit, Pilot Mountain will reward you with striking long-range views of the entire region, including Sauratown and Blue Ridge Mountains.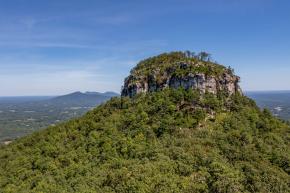 Hanging Rock State Park
Twisted pathways lead to awe-inspiring waterfalls at Hanging Rock State Park, located just 40 minutes from downtown Winston-Salem. Choose from one of three trails to venture or head to the lake in the foothills for a dip. The paths here are wide enough for small children and pets to navigate without worry.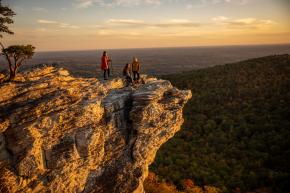 Stone Mountain State Park
Located less than an hour from Winston-Salem, Stone Mountain features some of the best hiking trails in the state. The park's signature trail is the moderately strenuous Stone Mountain Loop, a 4.5-mile trek that leads to the top of the 600-foot granite dome. Along the way you'll encounter a towering 200-foot waterfall, a historic homestead, and a picturesque rolling meadow before ascending the summit, where a postcard-worthy view awaits. The state park is located in Wilkes County near the town of Roaring Gap, NC, less than an hour NW of Winston-Salem.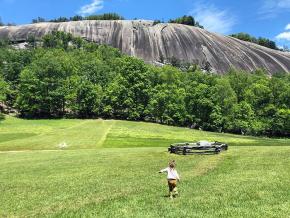 Tour End