Day 1
Historic Bethabara Park
Begin your history lesson on Winston-Salem's horticulture with a tour through Historic Bethabara Park and enter into the days of the 18th century North Carolina backcountry. The park dates back to 1753 when the Moravians first settled the area. Dig up more than two centuries of gardening traditions with a stroll through Hortus Medicus (reconstructed), the country's oldest known medicinal garden, and the 1759 Community Garden, the only known, well-documented colonial garden in the U.S.
*Park grounds are open daily from dawn to dusk.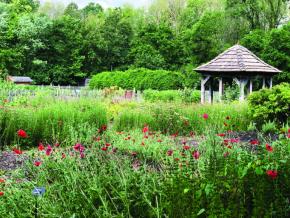 Old Salem Museums & Gardens
Head over to Old Salem Museums & Gardens, one of America's most well-documented historic attractions. Old Salem offers visitors a hands-on exploration of 18th and 19th century Moravian traditions. Discover the Miksch heirloom gardens and the Single Brothers' Garden, an award-winning restoration garden and the largest interpreted garden in Old Salem. If you'd like to tour the historic buildings and learn from costumed interpreters, purchase an admission ticket at the Old Salem Visitor Center.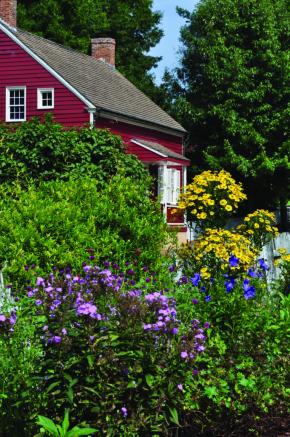 Pit Stop at Reynolda Village
After a morning full of garden exploration, refresh and refuel at Reynolda Village, just ten minutes from Old Salem. Reynolda Village is comprised of charming historic buildings which once supported the 1,067 acre estate of the R.J. Reynolds family. The restored buildings now house unique stores, restaurants, services, and offices.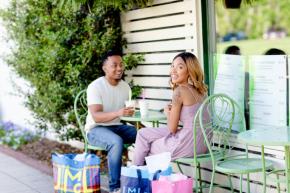 Reynolda Gardens
Adjacent to Reynolda Village, Reynolda Gardens was planted in the early 20th century-- a result of Katharine Reynolds' vision and progressive thinking. Mrs. Reynolds, wife of tobacco baron R.J. Reynolds, firmly promoted healthy eating and cooking habits and wanted her gardens to be a beautiful gift to the community and the workers on her country estate. A step into the 1913 greenhouse opens the door to a wonderland of vividly colored plant life. Reynolda Gardens is also a part of the NC birding trail, making it an ideal spot for bird watching. Walk over and take a self-guided tour of Katharine's former home, now Reynolda House Museum of American Art.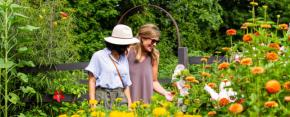 Day 2
The Arboretum and Gardens at Tanglewood Park
Located in Clemmons, a charming suburb of Winston-Salem, Tanglewood Park's Arboretum is home to 26 stunning gardens showcasing seasonal flowers and ornamental shrubs. Nestled next to the Historic Manor House, find the sensational rose gardens. The gardens at Tanglewood are known to be one of the most beautiful year-round outdoor attractions in the area.
*Park entry fee is $2/vehicle
Paul J. Ciener Botanical Gardens
Nestled 25 minutes northeast of Clemmons, Paul J. Ciener Botanical Gardens (PJCBG) is the "newest" garden in our area. Featuring 15 separate gardens and continuing to grow (literally and figuratively), PJCBG is home to a Kitchen Garden that is planted based upon traditional Moravian methods and a Pattern Garden. PJCBG also boasts the largest spring bulb display in the area—more than 25,000 tulips. Don't miss out on their spring gardening workshops with special guest speakers. Stop into the gift shop to find locally crafted birdhouses and seasonal plants.
*The gardens are open daily from dawn to dusk.
Tour End