Touring the Historic Inns of Winston-Salem
Three iconic downtown homes, now reborn as exquisite B&B's. Come along for a tour of the shaffner and summit street inns.
---
Winston-Salem is a city that prides itself on its rich history and vibrant arts scene. Now, visitors can experience three significant historic properties in Downtown Winston-Salem like never before — the Shaffner House, Ludlow House, and Sheppard House — all of which have been fully renovated and reopened as B&B's. Known collectively as the Winston-Salem Historic Inns, the charming properties offer a memorable lodging experience for travelers seeking to immerse themselves in the city's past and wake up in a different era. Here's what you need to know about each.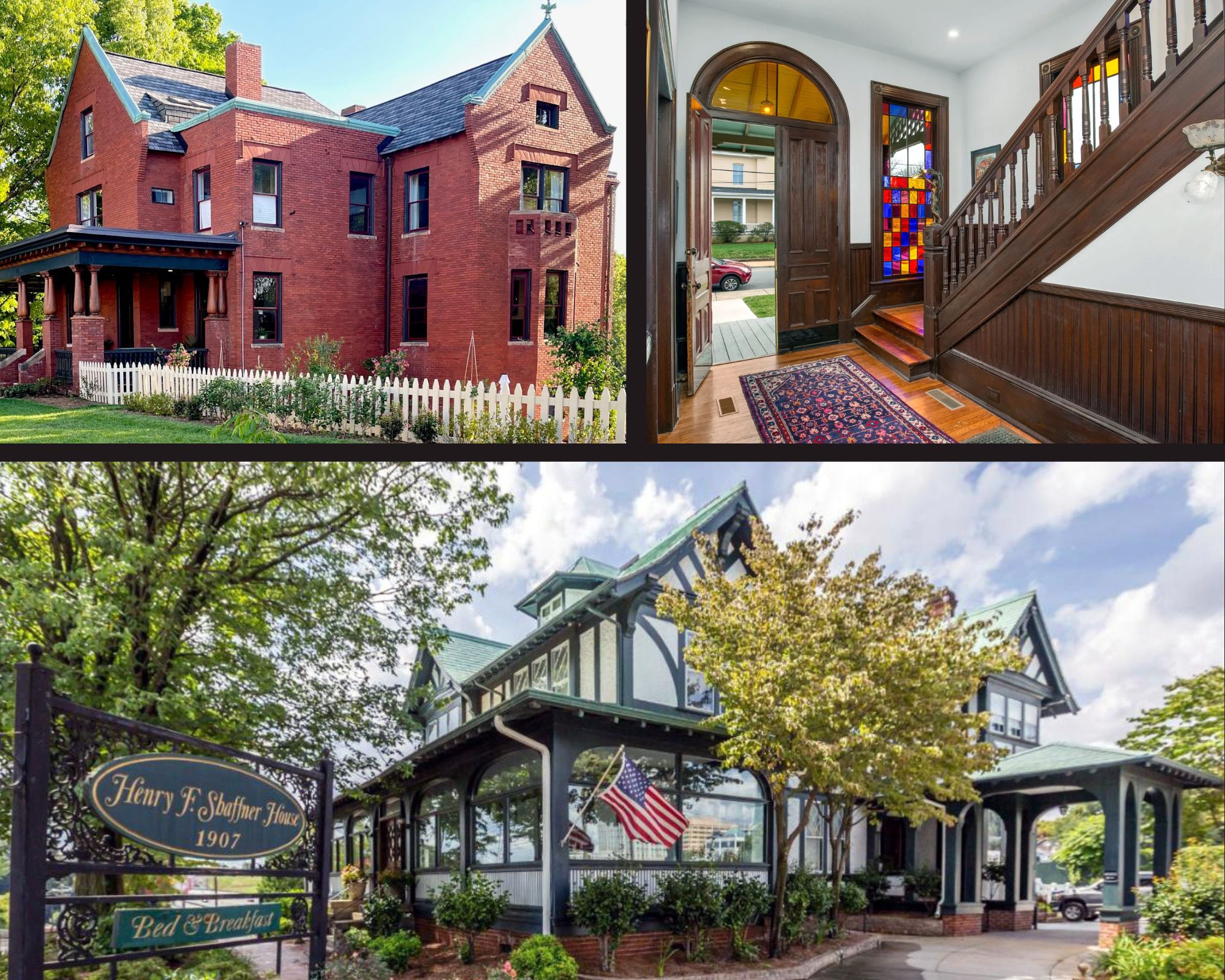 Summit Street Inns: Shared wonders
Located side-by-side on Summit Street in the heart of Winston-Salem's Historic West End, the Colonel Ludlow House and the B.J. Sheppard House are sister properties operating as the Summit Street Inns. A shared garden patio links the two mansions, both of which date back to the late 1800s. With their impressive architecture, unique features, and prime location, the homes have long been favorites of historic fans and architecture buffs, despite falling into disrepair in recent years. However, after a multi-million-dollar renovation, the homes have regained their former grandeur and reopened to overnight guests.
The homes now offer 10 well-appointed guest rooms — four rooms in the Ludlow, six in the Sheppard — each with impressive character and luxurious amenities. The accommodations here are designed to provide guests with the utmost comfort and relaxation, with features such as over-the-top bathrooms, plush bedding, and high-quality linens. Guests at the Summit Street Inns can also enjoy several amenities, such as a communal dining space (in the Ludlow House), a billiards room/parlor (in the Sheppard House), and wraparound front porches. The homes also feature an enchanting brick-lined terrace, perfect for cocktail events and garden weddings, and convenient onsite parking.
As far as dining, a lighter continental breakfast is available on site at both inns, and guests also have the option of enjoying a full complimentary breakfast at Founder's Restaurant, located less than a mile away inside the inn's sister property, the Shaffner Inn. In addition, several of downtown's most popular restaurants are literally steps away — including Mozelle's, Bernardin's, West End Cafe, Fourth Street Filling Station, and Joyner's Bar — all of which can be reached in under two minutes. Add it all up, and the Summit Street Inns offer an ideal destination for a romantic getaway or a relaxing retreat in the very heart of the city. (Read more about the history of the homes here.)
---
The Shaffner Inn: reviving an icon
Located a mile southwest of the Summit Street Inns at 150 S. Marshall St., the Henry F. Shaffner House has served as a bed-and-breakfast since 1992. However, a substantial renovation in 2021 breathed new life into what's long been one of downtown Winston-Salem's most iconic homes, adding luxury touches and giving the inn a more boutique feel overall. The Inn now features eight overnight guest rooms, each with its own unique style and character. In addition to offering luxurious accommodations, the inn also provides meeting and event space, making it an ideal venue for intimate gatherings, corporate outings, and business meetings.
The final piece of the recent renovation was completed in late 2022, when Founders Restaurant opened on the first floor, offering complimentary breakfast/brunch to overnight guests. Specializing in Southern fare, Founders is also open to the public for breakfast and lunch six days a week (closed Mondays). Some of the restaurant's specialties include New Orleans-style shrimp and grits, Texas Pete honey chicken and waffles, and a weekly-changing chef's choice avocado toast. In addition to its extensive breakfast and lunch menu, Founders also caters parties at the inn and offers special pop-up dinners in the evenings. With its historic charm and unique location, the space provides a memorable backdrop for dining and events.
 
Why You Should Stay at a Historic Inn
When visiting Winston-Salem, consider staying at a historic inn like the Ludlow Inn or the Shaffner Inn. These inns provide a unique lodging experience that showcases the city's rich history and architectural beauty. Here are a few reasons why you should choose a historic inn during your visit:
• Embrace the History - Staying at a historic inn allows you to immerse yourself in the history of Winston-Salem, offering a glimpse into the city's past through the architecture, furnishings, and stories of the people who once lived there. This connection to the past makes for a truly memorable travel experience.
• Experience Unique Accommodations - Historic inns such as the Shaffner and Summit Street Inn offer special traits not typically found in chain hotels or standard B&Bs. Each room has its own unique character and charm, providing a one-of-a-kind lodging experience.
• Support Local Businesses - By choosing to stay at a historic inn, you are supporting local businesses and preserving the city's historic landmarks. This helps to ensure that future generations can continue to enjoy the beauty and history of Winston-Salem.
• Enjoy Personalized Service - Historic inns often provide a more personalized level of service, with innkeepers who are passionate about sharing their love for the city and its history with their guests. This personal touch can make your stay at a historic inn more enjoyable.
BOOK NOW: Whether you stay at the Shaffner Inn or one of the two Summit Street Inns, you'll enjoy a memorable lodging experience that showcases the city's rich history and architectural beauty. For more on the properties, including pricing and availability, visit the Winston-Salem Historic Inns website.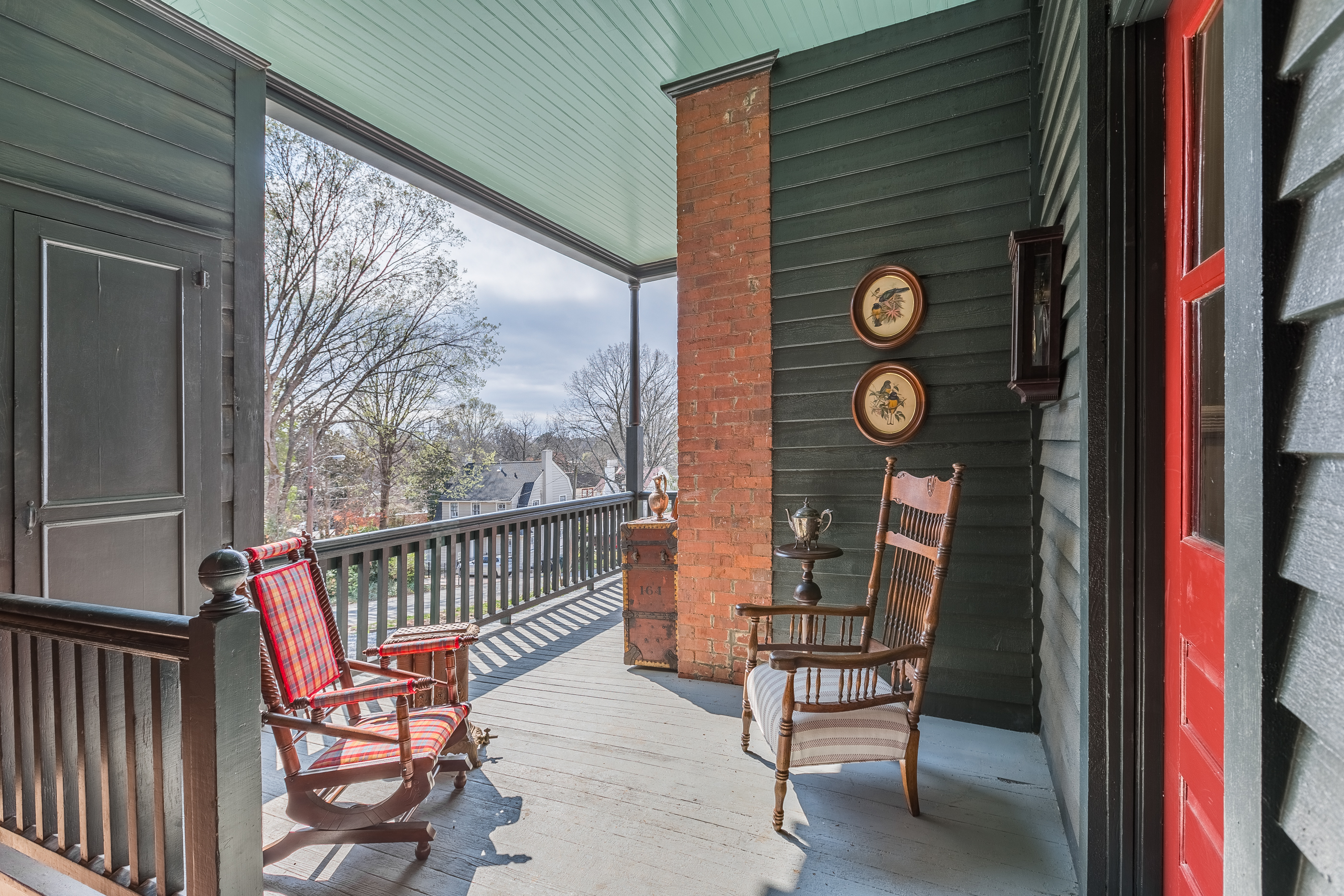 A Storied Past
Get to know the names and shared stories behind the Historic Inns
With nearly four centuries of shared history, the three homes comprising the Historic Inns collection were all built before the cities of Winston and Salem had united. 
The eldest of the three is the Colonel Ludlow House, which opened at 434 Summit Street in 1887. It was built by the city of Winston's first engineer, Colonel Jacob Lott Ludlow. He's best known for designing several of the city's most prominent neighborhoods, including Washington Park and West End — the latter of which is where he built his charming Queen Anne-style abode. Listed individually on the National Register of Historic Places, the house features several splendid architectural details typical of the Queen Anne style. This includes exterior touches such as a wraparound porch and ornate woodwork, along with interior details such as preserved wood paneling, a grand staircase, and period furnishings. However, its most distinct feature is the colorful stained-glass windows found in each room. 
Meanwhile in 1893 — five years after Ludlow built his West End abode — another prominent home would rise next door, the B.J. Sheppard House. Built by prominent tobacco leaf dealer Benjamin J. Sheppard, the imposing brick home features eclectic details such as a parapeted gable roof and an elaborate wraparound porch. However, it's the wooden columns on the front porch that provide the most unique feature, as each are crowned with custom-made capitals carved in the shape of tobacco leaves. 
Both the Ludlow and Sheppard houses were built by the city's most prolific contractors, Fogle Brothers, who would go on to build another iconic home in 1909, the Henry F. Shaffner House. Located at 150 S. Marshall St., the Tudor Revival-style residence was built for Henry F. Shaffner, co-founder of Wachovia Loan & Trust Company (which later became Wachovia Bank). He spared no expense when building the four-story abode, outfitting it with a wraparound porch, prominent staircase, five chimneys, and nine fireplaces. After the family vacated the home in 1948, the site was used as an American Legion Post and boarding house, but it has served as a bed-and-breakfast since 1992. With its prominent location along Salem Parkway (formerly Business 40), the Shaffner House remains one of the most recognizable homes in Winston-Salem — its distinctive dark green half-timbering grabbing the attention countless drivers passing through downtown.
* * * * *
Whether you stay at the Shaffner Inn or one of the two Summit Street Inns, each of offer a novel and memorable lodging experience that showcases the city's rich history and architectural beauty. So, whether you are visiting the city for its arts, history, or natural attractions, consider staying at a historic inn to enwrap yourself in the charm and elegance of Winston-Salem.