For the Birds
Learn how 'the Birdhouse Man" is making Winston-Salem a better, prettier place. (And how you can, too!)
By Tina Firesheets | Photos by Scott Muthersbaugh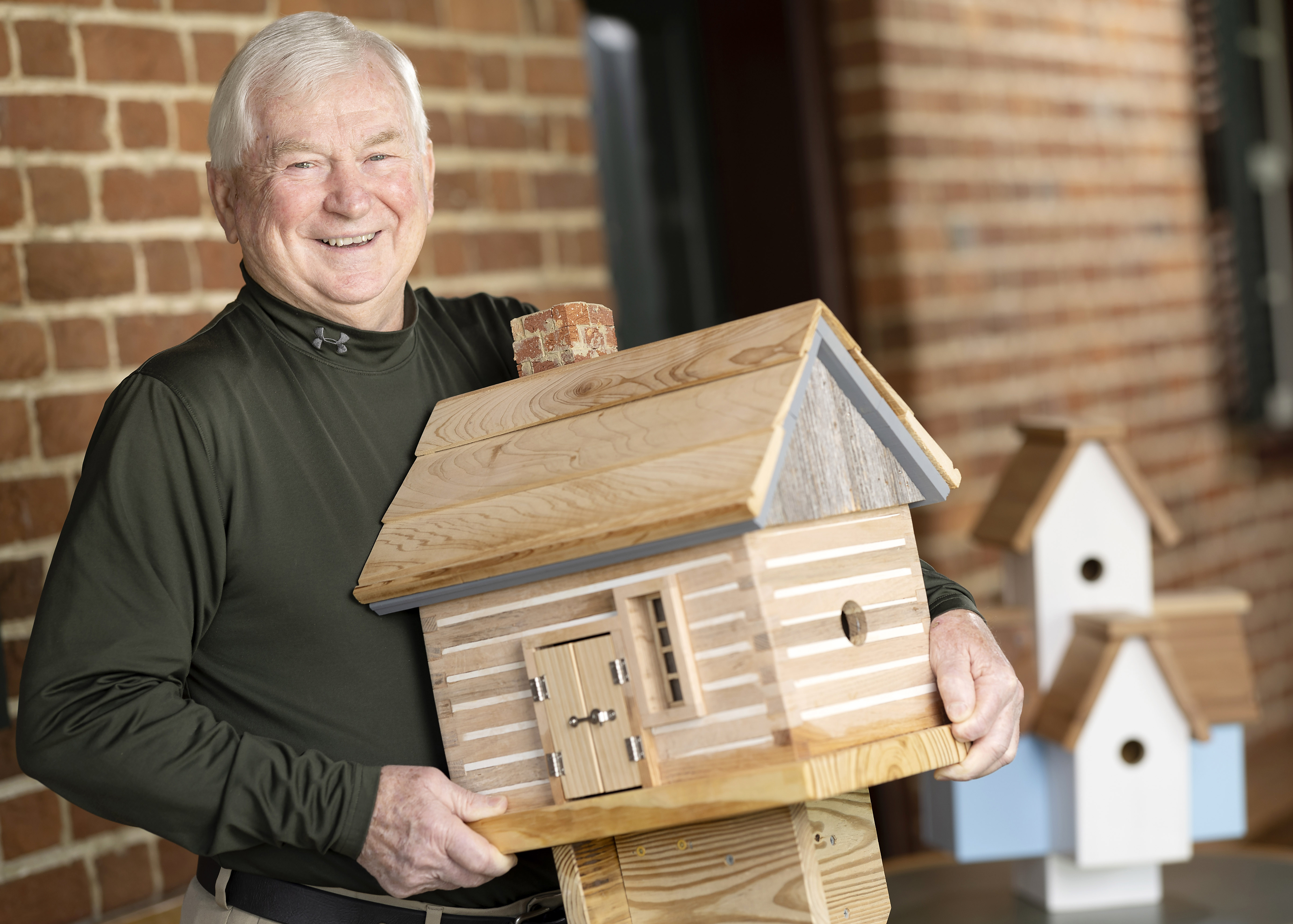 Bobby Davis has built hundreds, if not thousands, of homes since he retired as a financial analyst 20 years ago. He's carefully handcrafted cottages, condos, farmhouses, Victorians, and rustic tobacco barns. He salvages the wood from which they are made, fabricates them from beginning to end, and even paints each one by hand. Residents quickly flock to the houses, mostly through word of mouth.
That's because Davis' houses are — quite literally — for the birds: chickadees, bluebirds, white-breasted nut hatches, and tufted titmice, among others.
Davis, also known as "the bird man" or "the birdhouse man," sells his birdhouses independently and at Old Salem Museums & Gardens. He donates half his proceeds — about $6,000 annually — to help fund his church's food truck, The Table, which feeds those in need around the community, as well as disaster areas across the country. Davis uses the other half of his earnings for materials, supplies, and to keep his workshop running.
'Flying off the shelf'
Pat Albert, Old Salem's retail manager, says his birdhouses sell "remarkably well" and that last year, "they seemed to be flying off the shelf." Albert, who describes herself as a bird lover, appreciates the care he takes with each house he builds. She says gift shop customers often purchase multiple houses because they appreciate their craftsmanship and quality.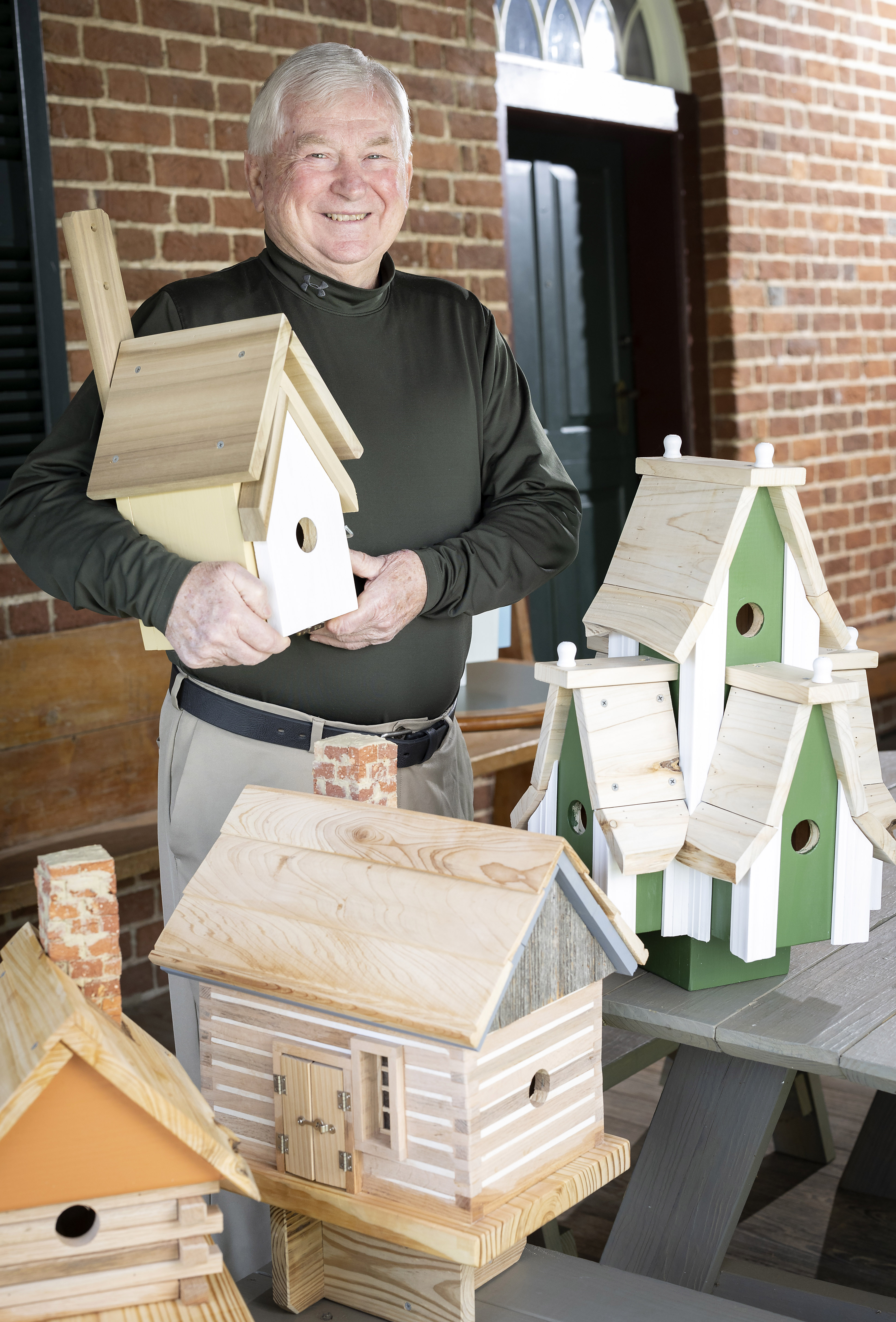 "They're so special," she says. "And through the years, Bobby and I have developed a friendship beyond a vendor/customer relationship. He is such a wonderful person to work with."
Davis' artistry starts with taking downed trees throughout the Piedmont area and envisioning what they can become. He salvages wood from local arborists or neighbors with damaged trees and takes them to the mill himself. He built a wood workshop and an adjoining lumber storage area. It smells like fresh-sawn lumber, and the floor is dusted with wood shavings. His inventory includes neat rows of cedar, Leyland cypress, white oak, yellow pine, poplar, wild cherry, and ambrosia maple. He works in the shop every day, including after church on Sundays.
Old Salem sells several varieties of his birdhouse models in their retail areas. This includes smaller models such as his birdhouse condos, which retail for $110, and birdhouse cottages (ideal for a single bird family), for $86. Larger models include the Settler's Cabin ($110) and the Victorian ($120), which can house five bird families. But his most distinct model is the Tobacco Barn ($160), modeled after the original tobacco barn in Old Salem. It features the same number of logs as the original barn and salvaged brick from a structure there.
Each birdhouse is adorned with a handwritten notecard from Davis detailing where he harvested the wood and what birds he envisions living there. He also shares instructions on hanging and cleaning the houses while his wife, Barbara, paints a bird on the front of the cards.
In addition to his custom birdhouses, Davis's craftsmanship also helped restore the endangered brown-headed nuthatch population in North Carolina. The Audubon Society enlisted him and other woodworkers to build birdhouse kits for scout troops to assemble to earn merit badges. Their work helped provide homes for the endangered birds. Davis estimates that he made 980 kits between 2012-2015.
You can now purchase his birdhouse kits at Old Salem — and you'll occasionally see him there, doing on-site demos. But for the most part, you'll find him happily tucked away in his workshop in Kernersville, 10 minutes east of downtown, building his next masterpiece.
---
New Retail in Old Salem
Old Salem's primary retail shop has reopened with a new name and new location. Winkler Book & Gift Store reopened this spring on the second floor of Winkler Bakery (521 S. Main St.). The store is open during Old Salem's operating hours: 10 a.m. to 4 p.m., Wednesdays through Saturdays.
"Not surprisingly, Winkler Bakery is the most popular location in Old Salem," Albert says. "So consolidating our retail operations there makes it a convenient one-stop shopping experience for visitors."
In addition to the fresh-baked goodies downstairs, visitors will find a variety of gift items in the new retail space. This includes a variety of Moravian-themed gifts, home décor, holiday items, handmade candles, jewelry, stationery, books, soaps, and — of course — birdhouses. Visitors will also find retail items for sale at the Old Salem Visitor Center, while admission tickets to Old Salem are sold in both locations. For more details, go to oldsalem.org