The More You Grow: Winston-Salem's Historic Gardens Guide
Experience history in full heirbloom with a self-guided exploration of Winston-Salem's lush garden collection dating back more than 260 years. Read on to build your own garden tour through some of our fastest-growing attractions (literally).
Stop #1: Historic Bethabara Park One step into Historic Bethabara Park will transport you to 18th-century North Carolina. These gardens date back to 1753 when the Moravians first settled here. Explore two centuries of gardening traditions as you meander through the reconstructed Hortus Medicus, the country's oldest known medicinal garden, and the 1759 Community Garden (then referred to as the "Kitchen Garden), the only known well-documented colonial community garden in the United States. 2147 Bethabara Road • Winston-Salem, NC 27106 • (336) 924-8191
Stop #2: Old Salem Museums & Gardens One of America's most authentic historic attractions, Old Salem Museums & Gardens give visitors an up-close and in-depth look into 18th and 19th-century Moravian life. Stroll through the Miksch heirloom garden, and don't miss the Single Brothers' Garden, an award-winning restoration garden and the largest interpreted garden in Old Salem. If you're looking for even more history, buy a ticket from the Old Salem Visitor Center to tour the historic buildings and learn from costumed interpreters. However, you can absorb the sights, sounds, and smells that Old Salem's historic district has to offer as you take part in their newest initiative, Salem Pathways. Historic figures are ready to walk with you on an immersive tour of folks who lived in Winston-Salem from 1770 to 1989. It's up to you where you walk and who you follow, guaranteeing a different sightseeing tour than ever before. Learn more about Salem Pathways here. 900 Old Salem Road • Winston-Salem, NC 27101 • (336) 721-7300
Stop #3: Reynolda Gardens Early 20th-century Reynolda Gardens is just 10 minutes away from Old Salem, making it ideal for the next stop on your garden tour. Planned by Katharine Reynolds, wife of tobacco baron R.J. Reynolds, and landscape architect Thomas Sears, the expertly manicured gardens have served as a gift to the community continuously for more than 100 years. Open the doors to the 1913 greenhouse to reveal an oasis of colorful and lush plant life. Stroll the formal garden that incorporates elements of Japanese architecture and classical, European gardens. Admire more than three hundred rose bushes, selected from varieties of tea, hybrid tea, hybrid perpetual, and multiflora roses listed on the 1917 plan. Additionally Japanese weeping cherry, saucer magnolia, and Japanese cedar are among the featured trees that border the lawn. While here, take a self-guided tour of Katharine's former home, now the Reynolda House Museum of American Art. And don't forget to bring your binoculars! As part of the North Carolina Birding Trail, Reynolda Gardens make for excellent bird-watching. View upcoming events at Reynolda Gardens here. 100 Reynolda Village • Winston-Salem, NC 27106 • (336) 758-5593
Stop #4: The Arboretum and Gardens at Tanglewood Park From Reynolda Gardens, venture the short drive to Clemmons, a quaint Winston-Salem suburb, to see 26 spectacular gardens in the Tanglewood Park Arboretum and Gardens. Get lost in the rose gardens next to the Historic Manor House, and marvel at rows and rows of seasonal flowers and ornamental shrubs, or wander the wildflower garden for NC native plants. Discover carnivorous plants at the Bog Garden before making your way back to the greenhouse. One of the most beautiful outdoor attractions in Forsyth County, the 1,100-acre park is also a terrific destination for fishing, horseback riding, and other soft outdoor adventure.  4201 Clemmons Road • Clemmons, NC 27012 • (336) 703-6400
Stop #5: Paul J. Ciener Botanical Gardens Located just 15 minutes outside Winston-Salem, Paul J. Ciener Botanical Gardens (PJCBG) offer 15 different gardens to explore, including the Kitchen Garden, an 18th-century-style American Southern Garden with four Moravian Quilt-style raised beds. In addition, PJCBG features over 20,000 tulip bulbs, making it the largest spring bulb display in the area. Pop into the gift shop on your way out to pick up locally handcrafted birdhouses and seasonal plants to grow at home. With events happening year round, but especially in the spring and summer when the gardens are in full bloom, there is always something to do in this beautiful outdoor oasis. View upcoming events at PJCBG here. 215 South Main Street • Kernersville, NC 27284 • (336) 996-7888  
Enjoy these enchanting experiences and much more during your next visit to Winston-Salem. View (or download) our Historic Gardens Guide to kick start your spring trip planning.
---
GARDEN GETAWAY AT THE HISTORIC BROOKSTOWN INN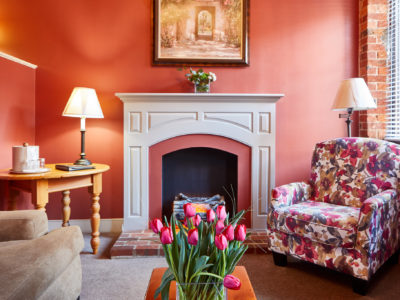 Spring on over to Winston-Salem with a special hotel getaway package complete with a personal garden itinerary, jar of locally sourced honey, and freshly baked cookies and milk at bedtime.