Must-Try Holiday Beers at Winston-Salem Breweries
---
The weather outside is frightful, but the beer is so delightful...
---
The holiday season is here, and it truly is the most wonderful time of the year -- for a beer. Breweries across Winston-Salem are serving up pints of good cheer in the form of holiday beers and seasonal releases. From winter warmers to spicy ales, boozy stouts to cocoa-infused porters, here's a sampling of some of the best holiday beers to try this season. Time to sip, savor, and be merry.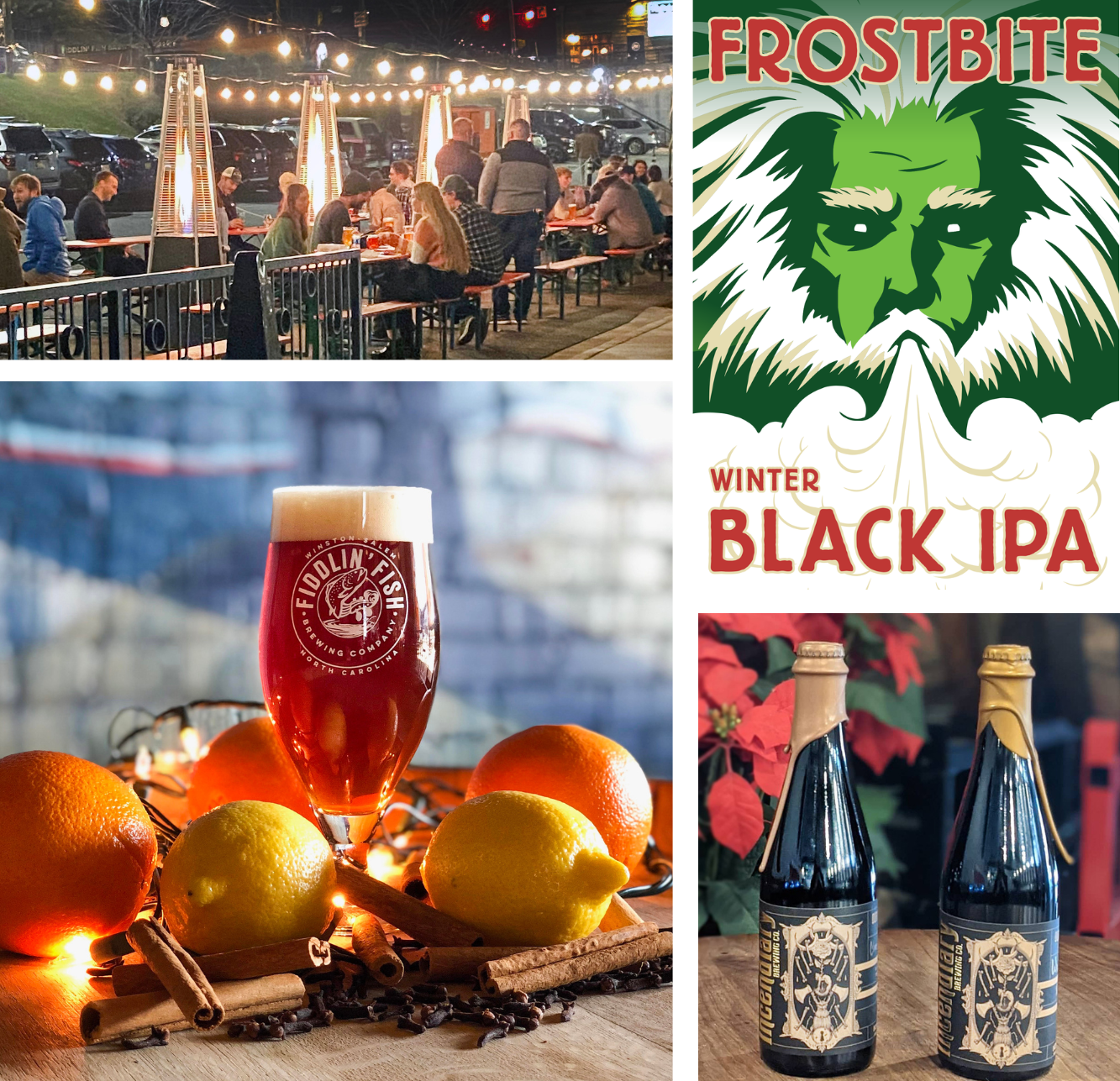 Merry World Breakfast Stout from Wise Man Brewing
Warm, rich, and decidedly merry, this beloved seasonal stout is made with locally roasted coffee beans from Krankies Coffee, giving it a complex dark chocolate profile and a toasty finish. It's surprisingly drinkable considering its potency (9.4 ABV). In addition to the standard Merry World Breakfast Stout, Wise Man is unveiling a Merry World Breakfast Stout with peanut butter this year. Both will be available Nov. 24, along with a number of other seasonal selections, including it's spiced winter ale Winter Wave. Stop by the brewery to sample them all. (The more the merrier we say!) 
Frostbite Winter Black IPA from Foothills Brewing
As the "official beer of Jack Frost," this hugely popular seasonal can be found at grocery stores and bottle shops throughout the Southeast as well as Foothills' two in-town breweries. This year Foothills unveiled a festive new logo for Frostbite, replacing the black and blue color scheme with merrier shades of red and green. This taste, however, remains unchanged.  Blending select dark malts with bright citrusy hops, Frostbite features notes of dark chocolate, orange, and lemon peel, culminating in a big blast of flavor that's as refreshing as a cold winter day.
Ass Over Tea Kettle from Fiddlin' Fish
Inspired by Russian Tea, this seasonal favorite from Fiddlin' Fish is an amber colored ale brewed with cinnamon, clove, lemon peel, and blood orange. It's quite boozy (9.75 ABV%), yet super easy to drink, delivering the warm fuzzies with each sip. "This is the damnedest beer," said one online review. "It just hits that nostalgic sensory effect. I don't even know how to describe it -- spicy?" Fiddlin' Fish cofounder Stuart Barnhardt offers a more succinct summary. "It's Christmas in a glass!"
Nitro Cherrywood Smoked Porter from Joymongers
As the name implies, Joymongers is all about joy. This is especially true during the holidays when you'll find a festive mix of flavors on tap, from the subtly spicy Spicecraft Saison to the malty-sweet Wee Bit Scottish Export. But for something truly unique, order up the Nitro Cherrywood Smoked Porter, available annually around Thanksgiving. The beer takes a robust porter foundation and infuses with smoky depth thanks to the cherrywood-smoked malt -- the perfect pick-me-up on a long winter's night.
Lunar Handshake from Lesser-Known Beer Co.
The Moravians who founded Winston-Salem knew a thing or two about beer. In fact, they founded the state's first microbrewery here some 250 years ago. Lesser-Known Brewery celebrates this lesser-known aspect of Moravian culinary history with a number of Moravian-inspired beers, including its popular seasonal offering Lunar Handhake (5% ABV). Brewed with Moravian Pilsner and specialty malts, this dark lager offers microtones of toffee, caramel, and toasted pumpernickel. (Also, in addition to Lunar Handshake, Lesser-Known is debuting 13°, a Czech-Inspired Polotmavy amber lager delicately laced with spice notes. 
Black Friday beers (take your pick!) at Incendiary Brewing
Christmas comes early at Incendiary Brewing. Each Black Friday, the brewery unveils nearly a dozen unique stouts and porters as part of its annual Black Friday Stout Release. "We love making brews that are infused with vanilla beans, chocolate, or cinnamon for some warm and toasty winter sippers," says Chris Straus, Incendiary's taproom manager. This year, in addition to the various stouts, Strauss is excited to debut a Holiday Spiced Imperial Blonde Ale — a high-gravity, full-bodied version of the easy-drinking blonde ale, imbued with holiday goodness. And like all of Incendiary's seasonal beers, the Imperial Blonde Ale is available on draft and canned/bottled for customers to take home. (Stocking stuffers, anyone?)
---

CRAFT DRAFT CRAWLIN' FOR CHRISTMAS
With nine breweries in and around downtown, it's easy to plan a DIY holiday brewery adventure in Winston-Salem. Check out our Craft Draft Crawl itinerary to start making your wishlist.