Planning a Visit to Winston-Salem with Your Pup in Mind
Afternoons spent strolling through the park, breezy nights at the local brewery, and enjoying the plush comfort of your hotel room: what's all of this fun without your furry companion? When you're planning your next trip to Winston-Salem, don't leave home without Bruiser in the back seat!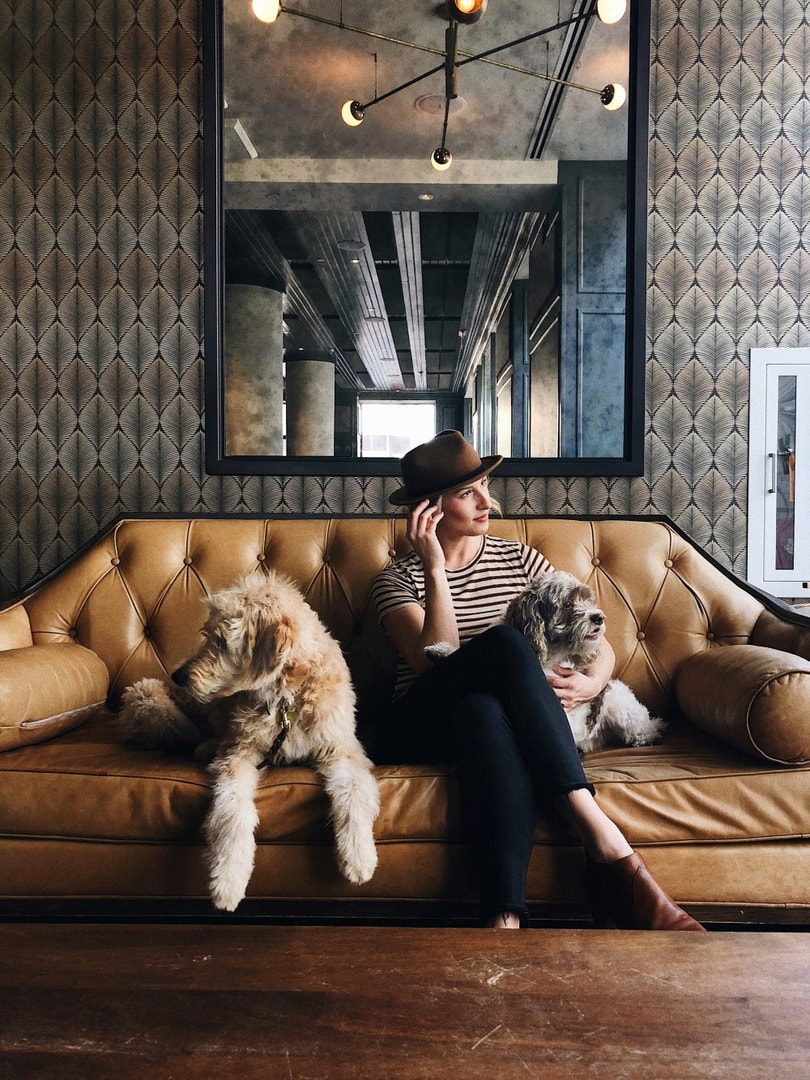 Three historic Winston-Salem hotels roll out the red carpet for you and your pup. Built in the Roaring 20's era, Graylyn, the Kimpton Cardinal Hotel, and Hotel Indigo know how to party, and keep it pet-friendly.
The Kimpton Cardinal Hotel Knows "HosPETalitity" Former home to the corporate world headquarters of R.J. Reynolds Tobacco Company, the iconic Art Deco Reynolds Building now houses the Kimpton Cardinal Hotel. In the heart of downtown Winston-Salem, The Cardinal is six floors of sleek, chic, and dare we say it...sexy décor, reminiscent of the era the building was built. Top-notch dog treatment begins as soon as you check in with a personalized welcome sign and a fresh bowl of ice-cold water and snacks. Here they even make the dog's bed and at no extra pet fee. Almost right outside The Cardinal's front door is the Downtown Arts District. Shop 'til you drop and support local art galleries in the district, many of which have pet bowls of chilled water at their doors.
The Royal TREATment at Hotel Indigo One of downtown's newest overnight retreats, Hotel Indigo invites you to bring your furry friend for a pawsitively pampered stay, complete with dog treats upon arrival. Hotel Indigo is a short stroll from several dog-friendly breweries downtown including Incendiary Brewing, Wise Man Brewing, and Fiddlin' Fish Brewing Company. Hotel Indigo? More like Hotel InDOGo. Whether you're toting along your favorite feline friend or your closest canine companion, your entire family will feel welcome as soon as you enter the lobby. With an Art-Deco inspired space, featuring local art, plush bedding, spa-inspired showers, Aveda bath amenities, and complimentary Wi-Fi, you'll be in the heart of the action on 4th Street but feel like you're right at home.
You're the MVP (Most Valuable Pet) at Graylyn Estate Just five minutes outside of downtown and nestled on 55 pristine acres sits Graylyn Estate. Once the home of Bowman Gray, former president of Reynolds Tobacco Company, and wife Nathalie, the stunning Norman Revival-style architecture and has hosted dignitaries such as President Gerald Ford and famed dog-lover, Oprah Winfrey. Graylyn continues to honor the Gray family pets with Butterscotch cookies (Nathalie's recipe) served daily in honor of Nathalie's two beloved Scottish Terriers, Butter and Scotch. It is also one of the few hotels in the state with butler service -- hello VIP status!
Request a guided butler tour of the historic home to learn more about the family and their frequent international travels. When you need a little more space to roam, head out and let your pet run wild along the serene walking trails on the property or start up a game of man-vs-dog frisbee on the stretching lawn of the historic Manor House. While at Graylyn, you're also just steps away from Reynolda House Museum of American Art (historic home of R.J. Reynolds, and the Southeastern Center for Contemporary Art (SECCA), former homes of the Hanes Textile family, which also features winding nature paths and open space for Fido to explore.
Book your next hotel getaway package for you and your pup to Winston-Salem here