Our Favorite Fall Drives
---
You don't have to go to the mountains to find color this fall. Check out these five easy drives in and around town.
---
We like to take the long way home during the fall months, traveling down back roads and soaking up seasonal tones. While the nearby Blue Ridge Parkway draws millions of leaf-peepers each year, you'll find plenty of fall color in and around our fair city. Whether you're looking for a quick, in-town loop or an all-day autumn excursion, here are a few drives we go out of our way to make each autumn.
---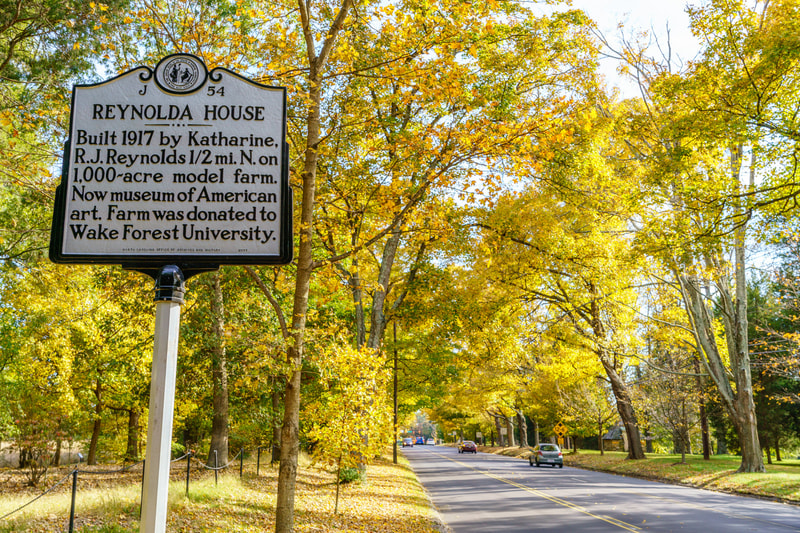 The "Reynolda Mile" (above) is lined with historic estates and shaded by a canopy of hardwoods. While it's a pretty drive throughout the year, it shines a little brighter in the fall when the leaves are blazing and the sunlight peeks through the branches. Start your trip around Hanes Park and head north on Reynolda Road toward Wake Forest University. Along the way, you'll pass by Crosnore Children's Home, Graylyn, and Reynolda Village, covering around 3 miles total, making it perfect for a quick-and-easy fall refresh.
---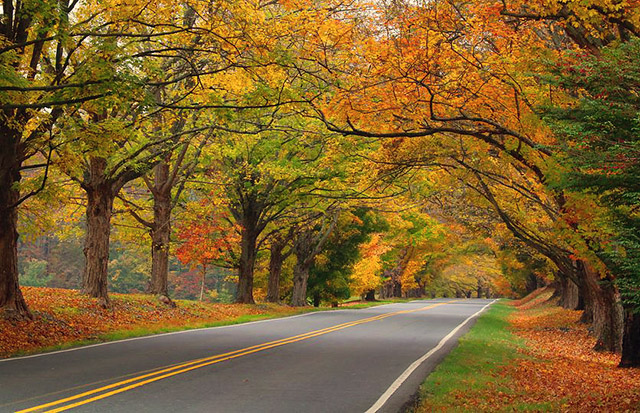 Conrad Road in Lewisville features one of the prettiest sights in our part of the world — a tunnel of colorful maple trees that run for nearly a mile. The trees are appealing all year, but they really seem to radiate in the fall, and the road's pastoral backdrop only adds to the appeal.
---
Mickey Road, just off Moore's Spring Road in Stokes County, is about as close to the Blue Ridge Parkway as we've seen in these parts. The road runs along the edge of Hanging Rock State Park and offers some exceedingly pleasant views of the Sauratown Mountains and the surrounding countryside.
---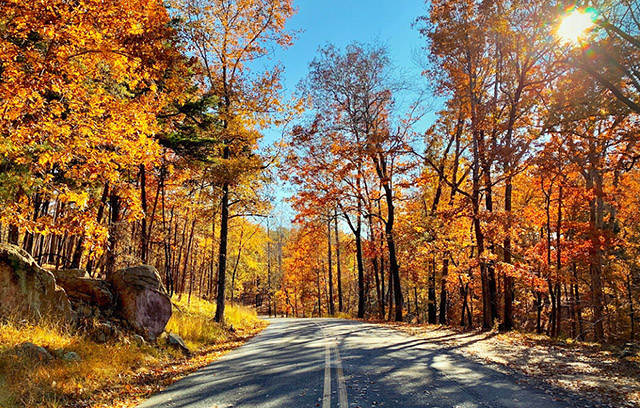 Highway 109, heading toward the Uwharrie National Forest, is always a beautiful drive in the fall. One recommended route is to take the road south to N.C. 49 west, then take N.C. 740 into Badin. From there, take Valley Drive to Morrow Mountain State Park.
---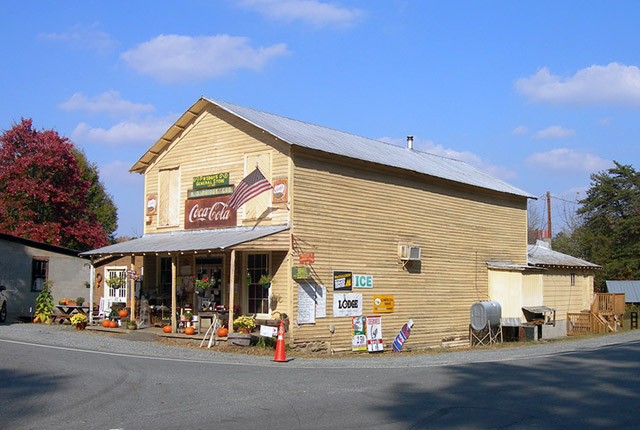 Stokes County loop: For a nice, long loop around the Foothills, take U.S. 421 to Rt. 601 near Yadkinville, then take Highway 89 toward Walnut Cove, followed by U.S. 311 toward Walkertown. You'll pass by a few vineyards, the Dan River, the Sauratown Mountains, and a whole lot of wide-open landscapes. The loop will also take you a mile or so from Priddy's General Store (above), a classic mom-and-pop shop now eternalized thanks to the cult classic film "Cabin Fever."