Raise a Glass to 2022!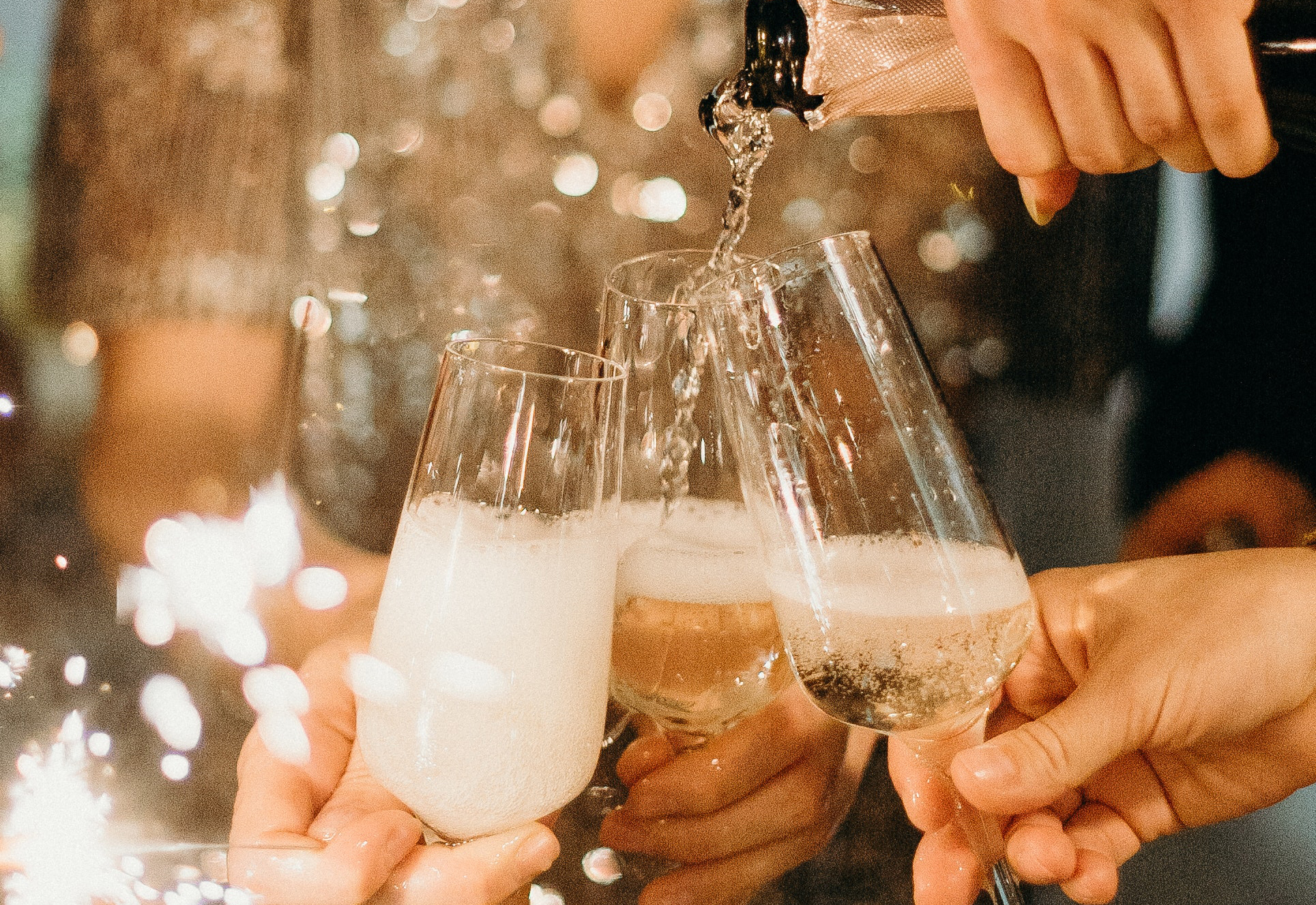 Surely we aren't alone in saying 2021 has been a whirlwind of a year. Yet we're also betting that if you think hard enough, you've probably had some wins in your life this year as well, even if they seem a bit small in the grand scheme of things.
No matter the case, we're toasting you! We're toasting a beautiful farewell to 2021 and celebrating what's to come in the new year. Maybe you want to commit to finally picking up yoga or meditation, trying your hand at baking, or shedding a few of those quarantine pounds – whatever goal you're looking forward to most, we've got just the thing to help you ring in the new year.
As the gateway to the Yadkin Valley wine region with more than 45 nearby wineries, we also have our fair share of sparkling wines (and cider) to sample year-round.
Here we've curated a selection of Yadkin Valley bubbly to help you celebrate the highly-anticipated arrival of 2022:
Childress Vineyards
Childress Winery and Vineyards is conveniently located just 20 minutes from downtown Winston-Salem and is the largest wine producer in the Yadkin Valley. Childress features over 70 acres of vineyards and produces a range of more than 30 wines, accommodating introductory palates as well as seasoned tasters.
Sparkling: Victory Cuvee
Their Chardonnay-based Blanc de Blancs Brut is made in the traditional "French Methode Champenoise." It is rich with Bartlett pear and Granny Smith apple flavors and has a creamy elegant texture, excellent for pairing with food.
A personal touch: The back label features a toast from owner and Nascar legend, Richard Childress to all your winning moments in life.
McRitchie Winery & Ciderworks
Family-owned and operated, McRitchie Winery & Ciderworks specialized in small lots of award-winning artisan wines and hard ciders. Owner and winemaker Sean McRitchie learned the craft from his father, who was a winemaker in California and Oregon. Now he and his wife, Patricia are dedicated to sustainable growth and low intervention winemaking.
Sparkling: North Carolina Apple Cranberry Cider
Sip on a sparkling with a holiday twist this season. McRitchie's NC Apple Cranberry Cider is a limited-edition holiday cider produced from North Carolina mountain-grown apples blended with tart New England cranberries.
Did You Know: Hard Cider was the most popular beverage in North America until the mid-nineteenth century, and has since seen a renewed popularity in the United States. While McRitchie's is similar to styles found in Brittany, France (dry and crisp), hard ciders come in many styles, with varying levels of dryness, alcohol, and effervescence.
Junius Lindsay Vineyard
Owner Michael Zimmerman started growing his vineyard on a century-old family farm worked by his late grandfather and winery namesake, Junius Lindsay Zimmerman. Today, Junius Lindsay serves Old World French wines just 20 minutes from Winston-Salem's bustling downtown.
Sparkling: Special Delivery Bubbly Rosé
This refreshing sparkling rose is created from a blend of Syrah and Petite Sirah. Described as "bone dry with refreshing acidity," you'll taste notes of lime peel and rose petals. Pair with your favorite cheese and crusty bread, or over a spread of brunch favorites.
When U.S. Postal Service offered, "special delivery," in years past, letters were sent with utmost urgency. So just as the name suggests, this sparking is considered a must-have for all of life's happiest moments...even if you're rewarding yourself for simply rolling out of bed today.
Piccione Vineyards
Family-rooted and sommelier produced, Piccione offers some of the highest quality wines in the Yadkin Valley. Dr. William Piccione is a Harvard-trained cardiovascular surgeon turned sommelier. Inspired by the memories of his hardworking Italian grandfather, he and his wife started Piccione Vineyards in 2010 and proudly serve 100% estate-grown wines.
Sparkling: 2019 Rospira
Say hello to 2021 with this dry, sparkling rosé with notes of citrus, raspberry, and strawberry.
Raffaldini Vineyards
Neighboring Piccione Vineyards, Raffaldini Vineyards, is known as the "Chianti in the Carolinas," and provides the total Italian experience. Sample award-winning wines at the Villa tasting room surrounded by the breathtaking scenery of the Blue Ridge Mountains.
Sparkling: Auguri 2019
"Auguri." This toast to well wishes translates from Italian, as "to your health and happiness!" Eschewing the more common method of fermentation in the tank, Raffaldini winemakers chose to ferment each bottle one at a time. Though extremely laborious, this method produces the highest quality of wine and it is frequently compared to Franciacorta, on the higher end of Italian-style Champagnes.
RayLen Vineyards & Winery
Until 1998, RayLen Vineyards & Winery functioned as a dairy farm for nearly a century. Loyal customers return for the lush vista and RayLen's award-winning wines from winemaker, Steve Shepard.
Sparkling: RayLen Sparkling Brut
Made by traditional Methode Champenoise, this Sparkling Brut is light-tasting and refined, with a balanced, medium-dry finish and "delicate pinpoint bubbles." Lively aromas of citrus and toast leading to crisp flavors of apple and lime make this brut a memorable one.