Six Hundred Degrees: Bringing the Heat Downtown
Temperatures may be dropping, but things are sizzling at Six Hundred Degrees, downtown Winston-Salem's hottest new restaurant.

When Travis Myers and Ryan Oberle were planning to open a new restaurant in downtown Winston-Salem, they had a specific goal. Myers, the head chef, and Oberle, the general manager, didn't just want it to be any old spot. They wanted it to be THE spot. "We wanted to create something downtown hadn't had in a long time: A new, hot, attractive farm-to-table restaurant," Myers says. "A place with a lot of buzz that everybody wants to check out." So they got to work, creating an upscale spot in the heart of downtown's Innovation Quarter. They named the restaurant Six Hundred Degrees, the temperature (in Celsius) that wood burns, and centered the operation around a live woodfire grill.
Since opening in March, Six Hundred Degrees has become precisely what they envisioned — the hottest new place in town. Here are six reasons why:
---
1. A Rock-Star Chef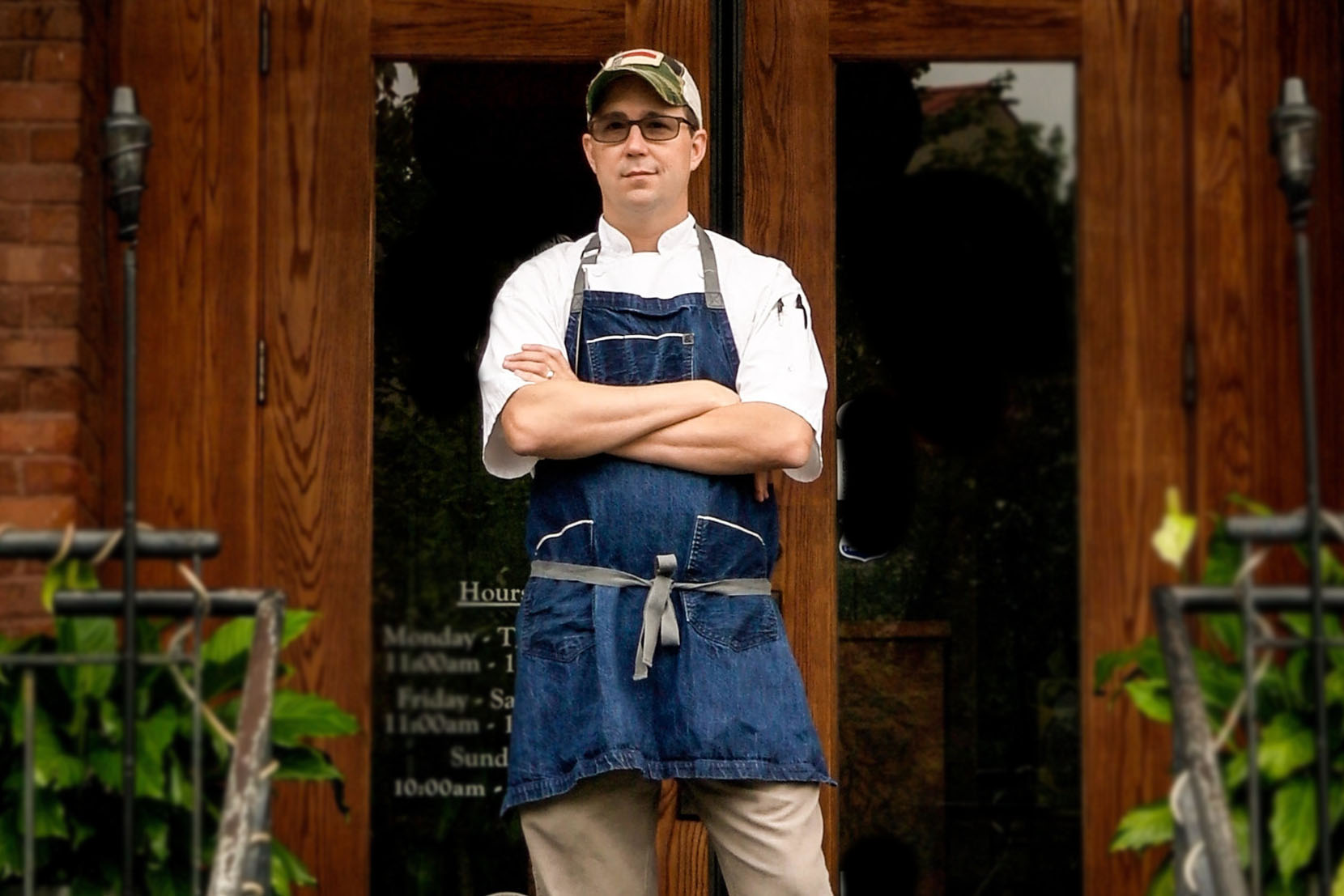 A native son hailing from neighboring Davidson County, Chef Travis Myers has been a big name in the local food scene for nearly two decades. He was the chef at River Birch Lodge for ten years before becoming head chef at Willow's Bistro downtown in 2015. While at Willow's in 2018, he was named N.C. Chef of the Year by the North Carolina. Restaurant and Lodging Association. A champion for local farmers and food producers, Myers believes that excellent food begins with high-quality ingredients and time-tested techniques. "I have a lot of pride in what we do here," he says. "So whenever I'm looking for something, whether it's ingredients or suppliers or anything else, I'm always looking for the very best."
---
2. Commitment to Community
As patrons of Willows Bistro know, Myers is a big fan of local farms and artisan foods. It's a trait he brought with him to Six Hundred Degrees, which lists a number of local farmers and producers it supports in one of its hallways. "Our whole concept here is tied to local, seasonal foods," he says. "And to do that right, you have to have great relationships with local farmers. I love showing off what they do; I help keep them in business, and they do the same for me." "If you want to survive in Winston-Salem," he adds, "you need to ensure that some part of the business model focuses on other local businesses. We are a tight community, and we all share the same goal of raising all ships. I think that hyper-local focus makes the culinary scene here so special."
---
3. Prime-Time Location
Six Hundred Degrees occupies more than 5,000 square feet on the ground floor of the Bailey South building, part of the Bailey Power Plant complex in downtown's Innovation Quarter (IQ). With a patio that overlooks Bailey Park, the space had everything Myers and his team were looking for in a location. "We knew that if we wanted to be Winston's most innovative local restaurant, we needed to settle in a place that fits our core values and represents our brand," he says. [The IQ] is a breath of fresh air and gives us a great base to showcase our food and culture."
Myers says the space is a transformative one, which could be said for the Innovation Quarter as a whole. Just a decade ago, the area was essentially an urban wasteland filled with abandoned warehouses, factories, and the ghosts of our tobacco-stained past. These days those abandoned buildings have been rehabbed into multi-million dollar offices, labs, living, and entertainment spaces, all of which have helped the IQ become the fastest-growing urban research park in the country. The latest of those upfitted abandoned structures is the Bailey Power Plant complex, which includes the $25 million Bailey South building that opened in early 2022.
---
4. Industrial Chic Aesthetic
Like the IQ itself, the setting in Six Hundred Degrees melds the city's industrial past with its enterprising present. The restaurant's design, by STITCH Design Shop of Winston-Salem, mixes a vintage, industrial look with a sleek, contemporary feel. Original concrete walls are decorated with local artwork, a live moss wall, and wood from an old tobacco farm. Other woodwork — such as the bar's countertop — was made by local craftsmen at Sunnyside Millworks. Also highlighting the interior is a water-vapor fireplace that can be set to change colors and a tall, glassed-in wine cellar.
---
5. Approachable, Eclectic Menus
The old-world approach to cooking extends to the menu, Myers says. "We're using traditional ingredients and recipes, but then we're putting our modern twist on them." The restaurant has separate menus for lunch, brunch, and dinner, with some overlap in each case. And while Myers' Southern roots certainly inform the menus, you'll also find global inspirations throughout — from Asian to Hispanic to Italian influences.
A few dinnertime favorites include the tender Korean short ribs and perfectly seasoned Certified Angus Beef Filet. The lunch menu features a great selection of sandwiches, including beer-batter fried chicken, fried bologna, fried green tomato BLT, and a black-bean burger. Several appetizers appear on all the menus, including chowder fries, bacon-wrapped venison, spicy cucumbers, and coconut-fried shrimp.  Other popular options include small plates — including shrimp & grits, seared ahi tuna, and coal-roasted carrots served with pistachio butter.
---
6. Woodfire Grill
At the center of Six Hundred Degrees sits the star attraction — a wood-fired grill on which most everything in the restaurant is cooked. Hardwood used to power the flames is locally harvested and stacked high outside, adding to the restaurant's old-is-new appeal. "From the beginning, we always envisioned an all-wood-grill restaurant," said Myers. "It takes us back to our roots. This is how people originally cooked, and it gives food so much flavor."
The grill was custom-made by Grillworks, a small Michigan-based company that's grown into the premier maker of wood-fired grills. With the grill in place, Myers and company were able to bring the global trend of live-fire cooking to town — one defined by crackling embers, tantalizingly smoky flavors, and the mesmerizing glow of live flames.
---
WANT TO GO?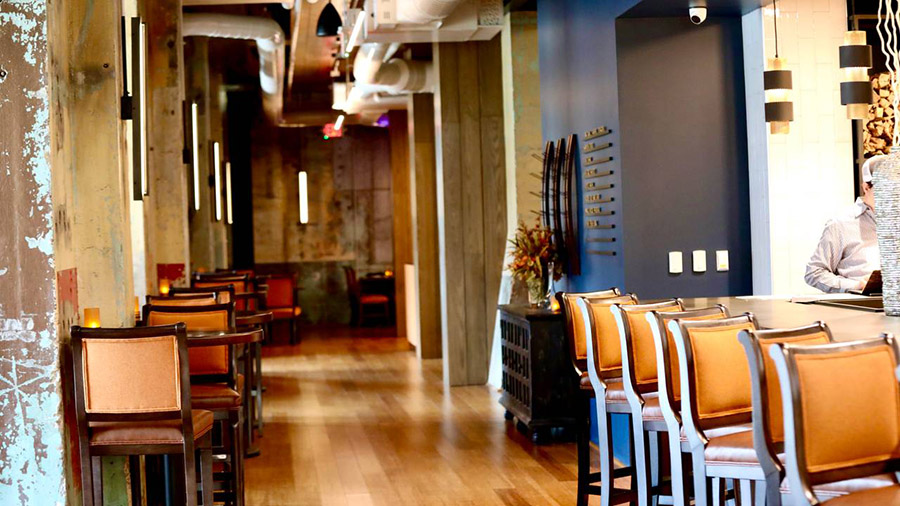 ADDRESS: Six Hundred Degrees is in the Bailey Power Plant complex in downtown Winston-Salem. The street address is 450 N Patterson Ave, Ste 120, Winston-Salem.
HOURS: The restaurant is open Monday – Saturday for dinner until 10 p.m. (closed Sundays). Lunch is also available Thursday – Saturday.  Check out current menus on the restaurant's website
RESERVATIONS: As Myers says, "Make reservations early because we are constantly booked, especially on weekends." You can make reservations using Open Table (link)
PARKING: The restaurant offers free valet parking on Thursday, Friday, and Saturday. Just pull up to the front door, and the staff will take care of the rest. Otherwise, your best bet is the 4th/Church St. public parking deck, viewable on the IQ parking map.
EVENTS: The restaurant offers a private dining area/event space with A/V capabilities that can fit up to 40 people. More info is available online here.