Springtime Strolls: Winston-Salem's Top 10 Walking Trails
---
Springtime in Winston-Salem is magic. The flowers are blooming, the birds are chirping, and we're itching to get outside. If you're looking for some alfresco exercise this spring, check out these 10 in-town strolls, all of which are pet-friendly, postcard-worthy, and perfect for all ages. Happy trails!
---
Downtown Strollway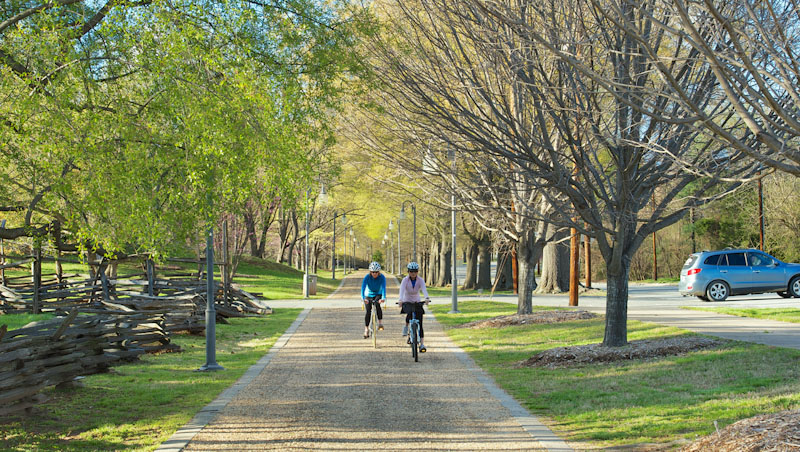 Short, sweet, and packed with scenery, this 1.2-mile path links downtown to Old Salem and beyond. We like to start at the Corpening Plaza and head south, passing over Salem Parkway via the Strollway Pedestrian Bridge. From there, the Strollway parallels South Marshall Street and eventually reaches the Old Salem Visitor Center. You can extend your walk to Old Salem by crossing over the covered bridge into the historic district (which is free to roam). Or you can continue south to the Gateway area, where you'll link up with the Salem Creek Greenway.
---
Long Branch Trail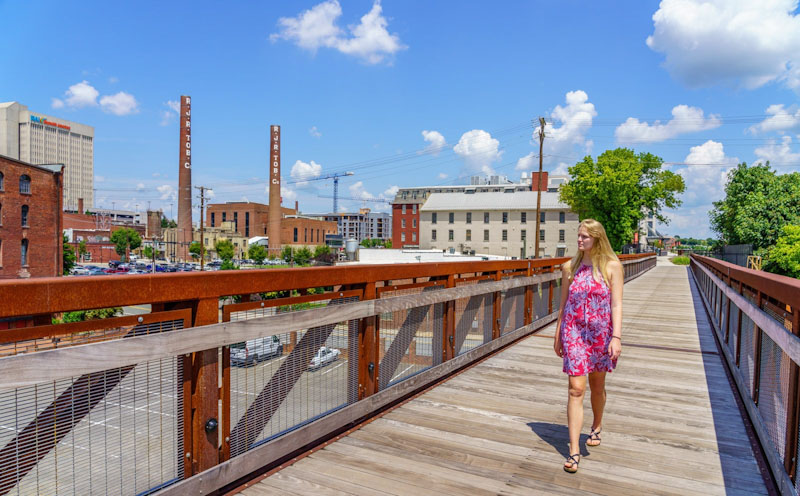 Opened in 2016, this 2.2-mile urban pathway runs along the eastern edge of downtown through the Innovation Quarter. Starting at MLK Jr. Drive on the north end of downtown, the trail passes through the Innovation Quarter, under Salem Parkway, and over several old train trestles. In addition to encountering public art, you'll also get a few impressive views of the city skyline. The trail ends at the Salem Creek Greenway, which runs perpendicular to Long Branch, connecting Washington Park on the west end and Salem Lake on the east. All told, the trails combine to create a 27-mile loop in the heart of the city.
---
Salem Lake Trail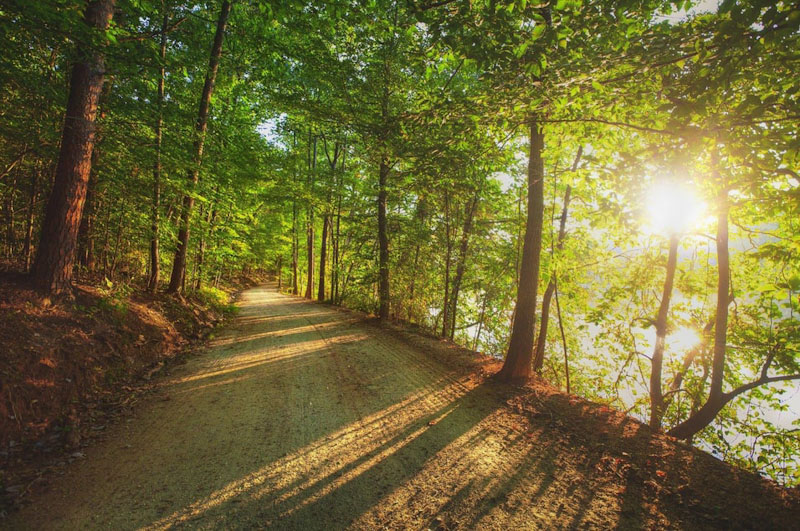 Just minutes from downtown, this popular 7-mile loop wraps around the edges of Salem Lake, creating some incredible panoramas along the way. For a long walk with alternating glimpses of trees, water, and sky, complete the entire 7-mile loop. For a shorter route, head counter-clockwise from the main parking access and turn around at the first of nine tributaries, where you can relax on the bench or skip rocks. When you're there, keep an eye out for the "Kids in Parks" info signs spaced along the trail, which offer fun facts about the plants and animals that call Salem Lake home.
---
Reynolda walking trails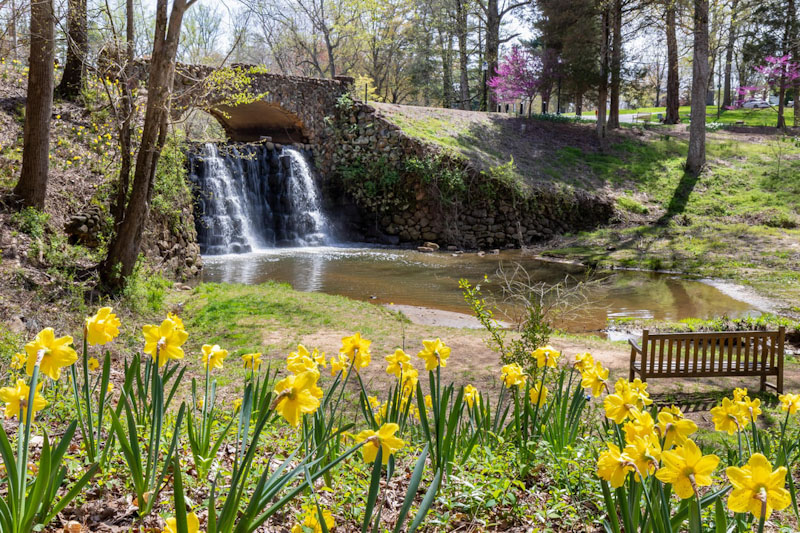 When it comes to stunning scenery, you can't do much better than Reynolda, the former estate of tobacco tycoon R.J. Reynolds. Several paths meander through the historic grounds,traveling through woodlands, wetlands, and rolling fields. For a quick walk, take the Reynolda Walking Trail (0.25 miles) that links Reynolda Village to the Wake Forest University campus. The paved pathway travels through a wetlands area and over the Lake Katherine Bridge, where you'll get an up-close look at Reynolda's waterfall. For a longer walk, take the Perimeter Trail (1.7 miles), which loops around the entire 130-acre estate. 
---
Graylyn Estate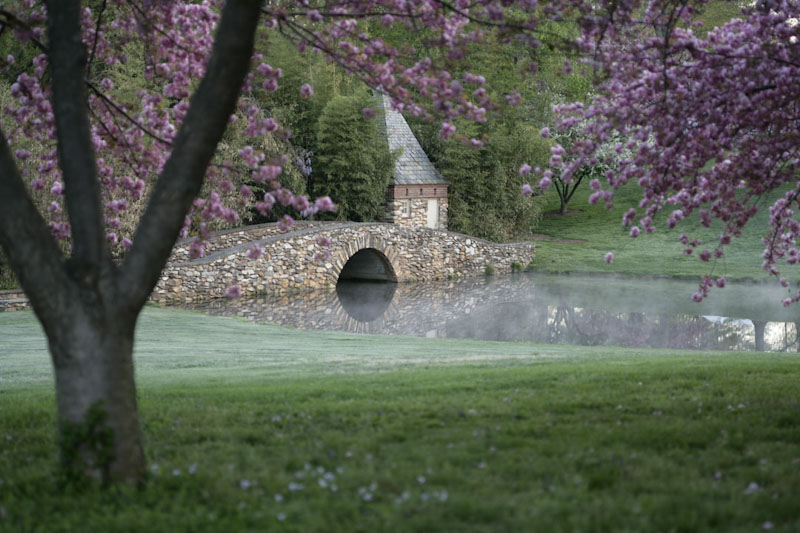 A historic mansion turned enchanting hotel, Graylyn sits adjacent to Reynolda along Winston-Salem's famed "Reynolda Mile." Once home to Bowman and Nathalie Gray (Bowman was former president of Reynolds Tobacco) Graylyn sits on 55 sprawling acres. Several paved and unpaved paths circumvent property, passing by rolling fields, stately cottages, stone bridges, and a duck pond. And because Graylyn is so close to Reynolda (about a 5-minute trek across Reynolda Road), you can easily extend your walk there.
---
Historic Bethabara Park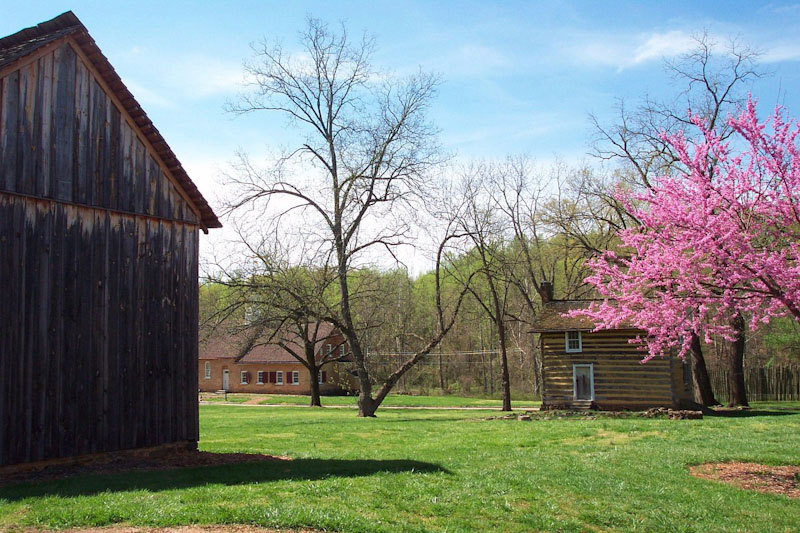 Step back in time at Historic Bethabara Park, a 183-acre park and nature preserve. The park features archaeological ruins, historic gardens, a reconstructed village and fort, and miles of nature trails. The "anchor" trail is the 2.7-mile Bethabara Greenway, which provides access to the park's other popular trails, including the Monarcas Creek Trail, Spring Flower Trail, God Acre's Loop, and (our personal favorite) the Woodlands Loop Trail. The greenway also connects to a marshy wetlands area known as the Beaver Pond, viewable from two observation decks. Part of the N.C. Birding Trail, the marsh features a magnificent display of wildlife and plant life. 
---
Horizons Park Loop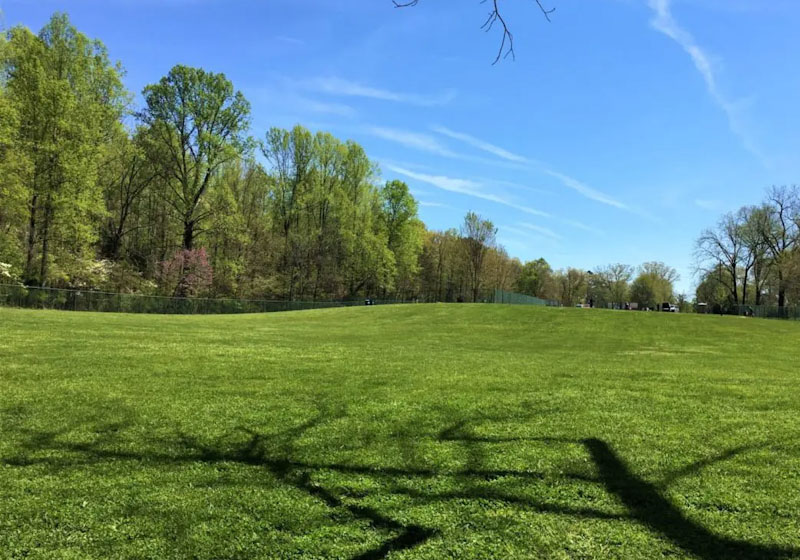 With 492 acres of woods, fields, and streams, this park in northern Forsyth County is a great place to get reacquainted with nature. A 2.6-mile trail meanders through the grounds and features several loop options. The scenery is accented with bright red barns, trickling streams, rolling meadows, an old cemetery, and distant views of Pilot and Sauratown Mountain. 
---
Trails at Historic Bethania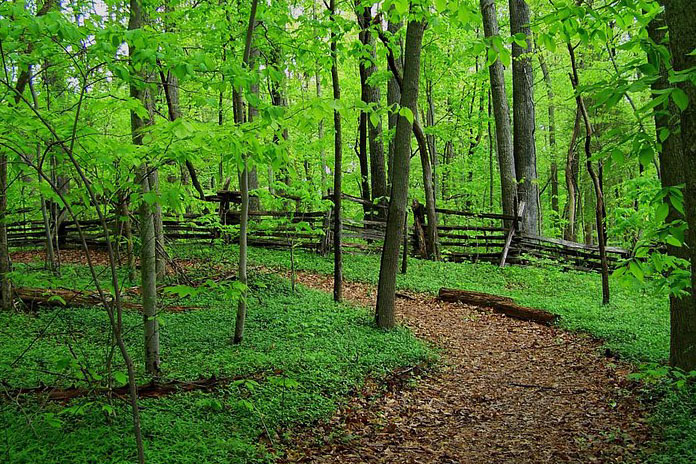 Located 8 miles northwest of downtown, the quaint village of Bethania features a network of under-the-radar trails ranging from 1 to 1.5 miles. Among the most popular is the 1.4-mile Black Bottom Trail, which starts at Bethania's Visitor Center and traces along the banks of Muddy Creek. The trail features no steep hills, great for a leisurely stroll. The slightly-more strenuous Reuter Trail (1.4 miles) leads to the top of Bethania Knoll, a high ridge and bluff above Muddy Creek, before descending into deep woods.
---
Muddy Creek Greenway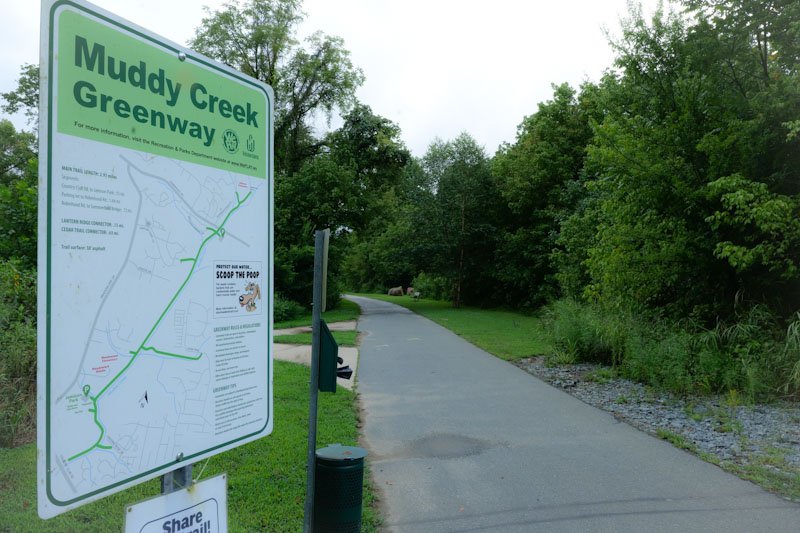 This popular 2.9-mile walkway follows the quiet waters of Muddy Creek along Meadowlark Drive, passing by small farms, soccer fields, and horse pastures. Although several designated access points are off Robinhood and Country Club roads, we like to park at Jamison Park and begin our walk there, heading north along the paved path toward Jefferson Elementary. The greenway sits 10 miles west of downtown near the Brookberry Farm area of Winston-Salem.
---
Tanglewood Park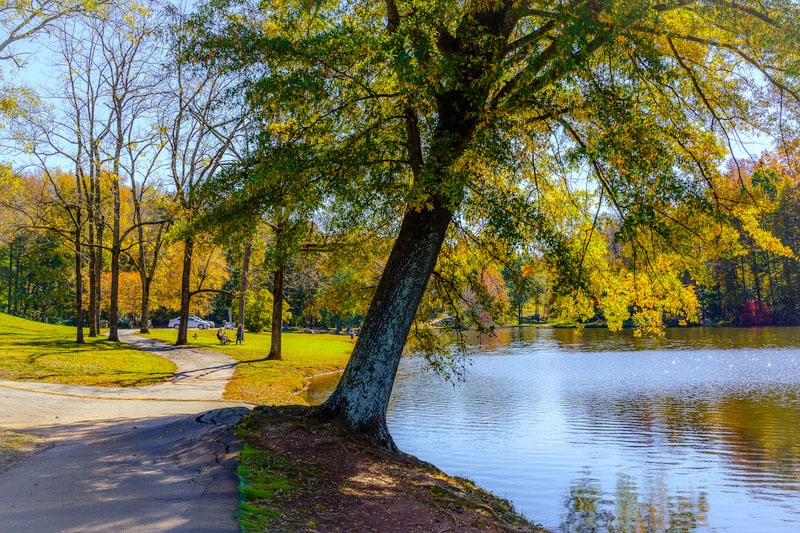 With nearly 1,100 acres of rolling hills and forests, there's plenty to explore at Tanglewood, a popular park tucked in the suburb of Clemmons (10 miles west of downtown). Most walkers opt for the park's 2.2-mile multi-use trail — a paved loop that passes through pastures, hardwood forests, horse stables, and Tanglewoof dog park. Kiosks along the route provide info on other points of interest inside the park, including Tanglewood's always-lovely Arboretum.