Winston-Salem Holiday Shopping Guide
---
Looking for a creative, one-of-a-kind gift? Check out our roundup of holiday craft fairs and artist markets.
---
By Tina Firesheets
There's no doubt that holiday shopping can be stressful. But there are ways to make it fun and creative. Shop local and buy from area artisans. Winston-Salem abounds with gallery hops, craft fairs, and art markets through December. Here's a holiday roundup of ideas below.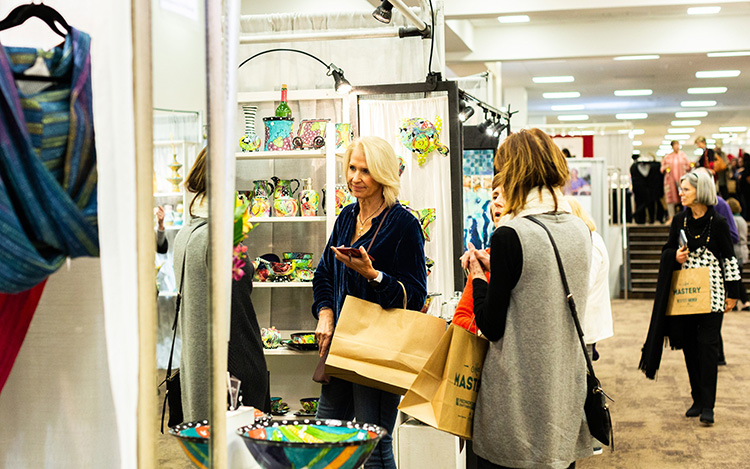 Craft a Tradition at the Piedmont Craftsmen's Fair
Since its inception in 1963, Piedmont Craftsmen Inc. has showcased the handiwork of area craft artists. The guild grew from a conversation around a kitchen table between artists and collectors about their mutual love for crafts. From there, it became a nonprofit with a mission to support its artist members and to foster connections between them, supporters, and the community. Piedmont Craftsmen President and CEO Jane Doub credits their success and longevity to this partnership between supporters and artists.
"I believe that our strength is that we have had— from the very beginning — both artists and supporters working together. Our board is still made up of that combination. So we have the creative side, and yet, we also have the business side," she says.
Established in 1963, Piedmont Craftsmen Gallery occupied multiple locations around Winston-Salem before settling into its current home at 601 N. Trade Street in 2002. For more than two decades, it has anchored the Downtown Arts District and served as a flagship for the area. Initially, the guild only welcomed artists based in the Southeast. Yet, it eventually expanded its membership and today has exhibiting members throughout the U.S. Now, in addition to shopping in the gallery, you can learn more about the guild's 400+ members and purchase their works on the Piedmont Craftsmen website. Or, better yet, you can plan to attend the guild's signature event, the Piedmont Craftsmen Fair, Nov 18-19. The event welcomes over 80 artists to the Benton Convention Center, where they sell their works, demonstrate their trades, and interact with thousands of annual attendees. Doub says this year's fair will be significant for a few reasons.
"Not only are customers excited about our 60th anniversary," Doub says. "They're excited because the fair will finally be all the way back to where it was pre-pandemic."
Among the excited customers is Lynn and Barry Eisenberg, who have attended the fair annually for the past 50 years. For them, the event serves as the kick-off to their holiday season. 
"We look forward to attending every year to see the artists' new work and to visit with those we have enjoyed getting to know over the years," Lynn says. "We have collected crafts for ourselves, but also have enjoyed purchasing for others, especially for holiday gifts. Many of our family members and friends have developed a high regard for the incredible arts and crafts created by hand." 
One of the things that makes this event unique, Doub says, is that shoppers get to meet artists as well as watch them at work. There are demonstrations on both days, and many artists often work at their booths. 
Founding member Tom Suomalainen says he looks forward to visiting longtime artists and new exhibitors to see their creations. 
"The spectrum is of great interest and an opportunity to discover, learn, and enjoy the creative work," he says. "It is uplifting to see so many craftsmen together and their beautiful displays."
Doub shares these pro tips for anyone new to the event:
•    Browse the website beforehand to purchase tickets or to peruse participating artists.
•    Reserve a minimum of several hours if you want to see everything. 
•    If you're interested in artist demonstrations, check the schedule online.
•    Wear comfortable shoes. 
Need nourishment while there? There are concessions in the convention center, and there will be a food truck outside. (Not to mention more than 100 local restaurants and nightlife options in downtown Winston-Salem.)
IF YOU GO: Piedmont Craftsmen's Fair
When: Nov. 18 and 19
Where: Benton Convention Center, 301 W. 5th St.
Note: You can visit Piedmont Craftsmen Gallery (601 N. Trade St.) throughout the year at Hours are 11 a.m.-4 p.m., Tuesday-Saturday
---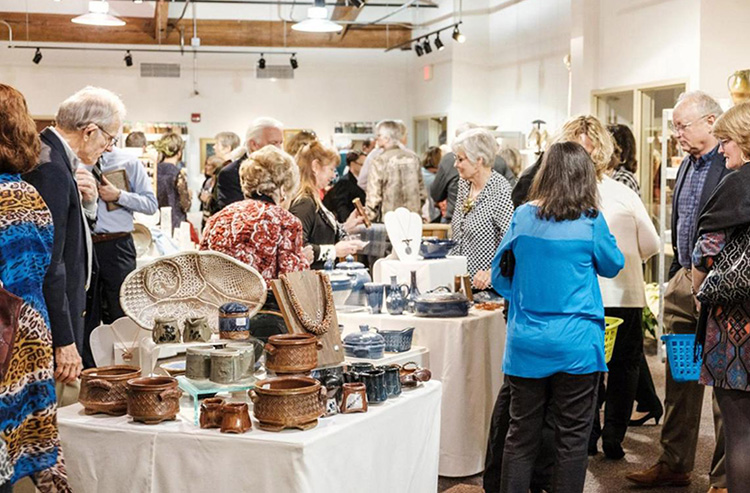 Buy or Make Art at Sawtooth
There are two ways to gift the art lovers in your life: present them with a unique work of art and support their artistic endeavors with a class at Sawtooth School for Visual Art. Sawtooth executive director Lauren Davis says instructors serve students of all skill levels, from beginners to those wishing to elevate their craft. Gifting a class is a great way to introduce the community to the range of expertise offered there, she says. Gift certificates of varying denominations are available; call Sawtooth for more details: 336-723-7395
"So many of us would love to take a class but won't spend the money on ourselves," she says. "We'd always love to see more of these students come in to see what it's all about," she says.
A new seasonal event offered this year is Sawtooth Spotlight, which showcases 95 works of art created by Sawtooth students and instructors. The juried exhibit runs from Nov. 13-Dec. 9 and allows visitors to purchase work on display. Purchases can be collected after the exhibit.  
On Saturday, Dec. 2, from 11 a.m. to 7 p.m., Spotlight expands into Sawtooth's Holiday Market with over 50 artist vendors, hands-on activities, craft demonstrations, and fun for the whole family. "We scheduled the opening of the Holiday Market to coincide with the Winston-Salem Holiday Parade downtown, with the idea that people can come downtown and enjoy both events," said Davis. (The parade begins at 5 p.m. on Fourth Street, a block away from Sawtooth.)
In addition to vendors, demos, and hands-on art activities, the Holiday Market will feature food and drinks from local favorites and refreshments. The market is open to the public with a $5 suggested donation supporting Sawtooth's scholarship and community outreach programs. Visitors can expect to spend about 1.5 hours to gain the whole experience. 
IF YOU GO: Holiday events at Sawtooth
Sawtooth Spotlight: Exhibit dates are Nov. 13–Dec. 9 with an opening reception on Saturday, Nov. 18, from 5-7 p.m. (Free and open to the public.)
Sawtooth Artists Market: Dec. 2, 11 a.m.–7 p.m. Admission is free, but donations are appreciated. To see more on the event and participating artists, click here
Sawtooth winter classes: Registration opens for Sawooth's winter classes on Nov. 14. For a look at the full class schedule, go here
---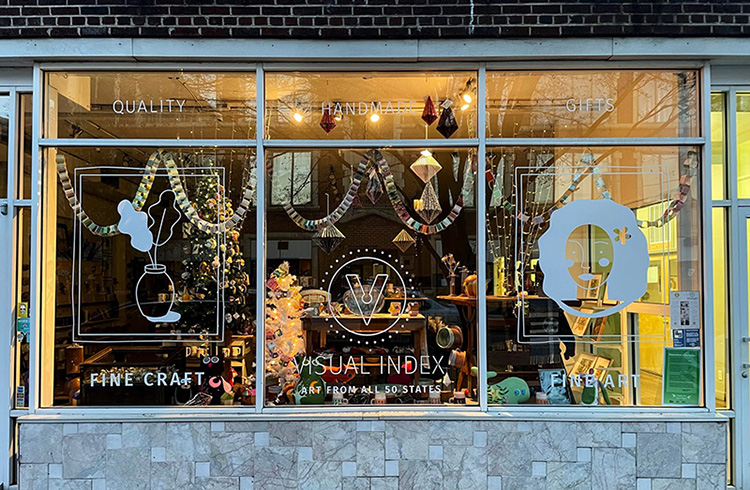 Crush Your Holiday Shopping on Trade Street 
Knock out your gift list and spread a little holiday cheer at Art Crush. Held monthly on the third Friday from 7–10 p.m., Art Crush is held along a two-block section of Trade Street between Fifth and Seventh streets. Stroll the block, mingle with fellow art crushers, and buy unique, handmade gifts while supporting local artists. Art Crush founder and chairwoman Toni Tronu says the event, which features local artists and performers, celebrates the city's artists and the arts community. 
In addition to live performers and street vendors, most of the galleries, restaurants, and shops in the Arts District are open late, giving shoppers a great excuse to visit someplace new and browse unique gift items. Among the must-stops is Tronu's gallery, Visual Index, which prides itself on being approachable and affordable. The gallery includes art from all 50 states, with a particular focus on North Carolina artists. Items are priced from $1 to $1,500, and visitors are encouraged to pick things up and engage with the items.
"A lot of times, people are afraid of art galleries. They're afraid to pick things up or that their kid might break something. But we encourage people to interact with the artwork," she says. "There's an emphasis on a lot of giftable goods that are fine art, craft, and small batch design work that includes stickers, mugs, and two-dimensional artwork." 
IF YOU GO: Art Crush 
Where: 500-700 blocks of Trade Street
When: The third Friday of each month, 7-10 p.m. (holiday events are Nov. 17 and Dec. 15)Fpr
For more info on upcoming Art Crush events, go to the Arts District website: https://artsdistrictws.org/events/
---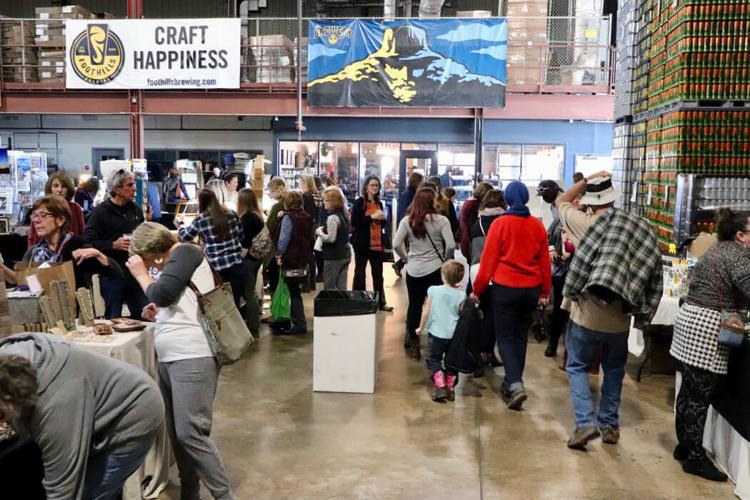 Catch a Catbird Market
You don't need to be fast to catch a Catbird event. There are numerous opportunities throughout the holidays to shop for handmade items by local artists. Kristin Schollander, the founder of Catbird Events, partners with various small businesses throughout the city to host the craft fairs. 
The main ones are the Camel City Craft Fair at Foothills Brewing and Tasting Room (pictured above), the Jingle All the Way Market at Winston Junction Market, the Small Business Market at Hanes Mall, and Angelo's Artisan Market at Wise Man Brewing. The emphasis at each is on handmade items by local artists.
"I've always tried to buy handmade gifts," Schollander says. "It's all about keeping money in the local economy and supporting local makers. People are spending time and putting their hearts into it. I think getting a handmade gift means so much. They're one-of-a-kind." 
Catbird Holiday Events
Angelo's Artisan Market: Noon-5 p.m., Sunday, Nov. 5 at Wise Man Brewing, 826 Angelo Bros. Ave.
Small Biz Market: 11 a.m.-8 p.m., Saturdays, Nov. 11 and Dec. 16 and noon-6 p.m., Sundays, Nov. 12 and Dec. 17, at Hanes Mall.
Firefly Market: 11 a.m.-4 p.m., Saturdays, Nov. 18 and Dec. 2 at the breezeway by Footnote Coffee, 634 W. 4th St.
Black Friday Market: 11 a.m.-5 p.m., Friday, Nov.24 at RayLen Vineyards, 3577 US-158 Mocksville.
Jingle All the Way: Saturday, 11 a.m.-4 p.m., Dec. 16, Winston Junction Market, 901 Trade St.
Camel City Craft Fair: Noon-5 p.m., Saturday, Nov. 25, and Sundays, Dec.3 and 10, Foothills Brewing Tasting Room, 3800 Kimwell Dr.
Water Tower Market: Noon-5 p.m., Saturday, Dec. 9 at 9th Street by Radar Brewing, 216 E. 9th St.
Browse all Catbird events in November and December here.
---
This article was written by Tina Firesheets, author of 100 Things to Do in Winston-Salem Before You Die. (Which, we think, makes a fantastic holiday gift!) Order your copy here