Day 1
The Long Branch Trail
An urban greenway, the 1.6-mile Long Branch Trail runs the entire length of Innovation Quarter, comprised of reinvented former tobacco warehouses now occupied by restaurants, a brewery, high-end lofts, and more.
Start on the northern end of downtown at Industry Hill District. Once abandoned wholesale stores and tobacco auction sites, the now-entertainment district is home to two breweries--Radar Brewing Co. and Wise Man Brewing, Ramkat (a music venue), and Earl's (a restaurant).
Head down Martin Luther King Drive to the entrance of Long Branch Trail on your right just before Research Parkway. The Trail winds around Bailey Park, which features vibrant mandala murals by local artist Laura Lashley, a covered stage, a food truck court, and public restrooms.
Long Branch Trail then winds down the less crowded roads of Research Parkway, where you'll find joggers and cyclists enjoying the scenery of downtown. The beautifully-lit overpass bridges make a stroll at dusk especially pleasant.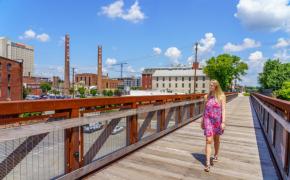 Winston-salem Strollway
The .75-mile Strollway runs alongside Old Salem Museums & Gardens. Starting at the intersection of Old Salem Road and Salem Avenue, a journey along the strollway first brings you to the Heritage Bridge. Connecting the 1766 Moravian settlement of Salem (now Old Salem Museums & Gardens) to the Old Salem Visitor Center, the pedestrian Heritage Bridge is built of repurposed Southern yellow pine, commonly used during the days of Colonial America, and its arch detailing is inspired by the architectural heritage of the original Moravian settlement.
Continue along the shaded strollway past historic homes built in the 18th century, until you reach downtown's historic train depot. Originally the Winston-Salem Southbound Railway Freight Warehouse, this train depot is the earliest surviving building associated with the city's once thriving railroad commerce.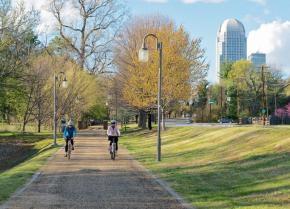 Frolic on Fourth Street
The heart of Downtown pumps strongest along the Fourth Street thoroughfare. Known to some as "Restaurant Row," Fourth Street is home to dozens of locally owned restaurants, bars and nightlife spots. Catch a film at a/perture, pick up an iced coffee at Camino Bakery, try a local craft beer at Foothills Brewing, or discover vintage and unique finds at Design Archives. Head east and you'll notice the recently opened Hotel Indigo at Fourth and Liberty Streets, housed in the historic 1928 Pepper Building. To the west is Winston-Salem's oldest established neighborhood, Historic West End.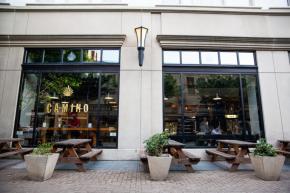 Salem Lake Trail
The Salem Lake Trail encircles Salem Lake and is one of the most popular outings for exercise in the area for runners, walkers, and cyclists alike. Pick your pace along this 7-mile jaunt with picture-perfect sights along the way.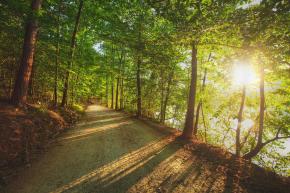 Tour End