3 Things to Know about Lesser-Known Beer Co.
---
Less is more at Lesser-Known, Winston-Salem's newest craft brewery. See what makes the city's 10th brewery one-of-a-kind.
---
New to the Winston-Salem beer scene, Lesser Known Beer Co. opened in July 2022 in the West Salem neighborhood, just south of downtown. The brewery is the brainchild of Will Loring and Ryan Gramlich, two Virginia transplants who chose to open shop in Winston-Salem after a statewide search.  
Gramlich, the head brewer, has been brewing for nearly a decade. He worked for two breweries in Richmond before setting out on his own with Loring, who runs the front of the house. The two friends initially met in college before reconnecting years later and making plans to open a brewery.  "We looked at a few different cities — Charlotte, Burlington, Greensboro — but we kept coming back to Winston," says Gramlich. They were drawn to the city's "relaxed feel," he says, and the fact that it's "small but not too small."  
After settling on the Twin City, the guys set out to carve a niche in its burgeoning craft beer scene. "We knew we had to bring something different to the table, and we think we've don't that."   Below is a look at three things that make Lesser-Known experience one-of-a-kind.
---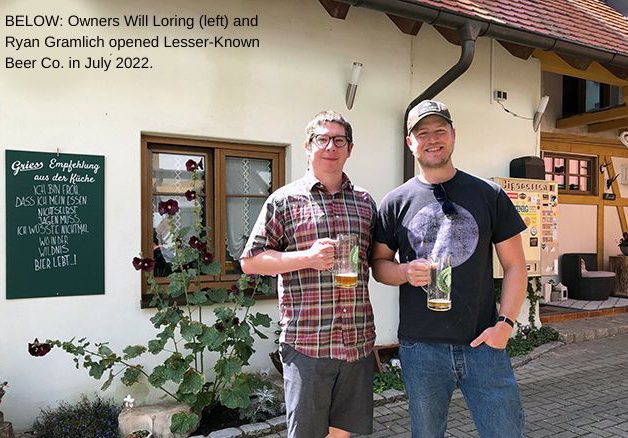 1. They champion under-represented styles
The name "Lesser-Known" reflects their goal to champion under-represented beer styles, ingredients, and processes. This means they put less of a focus on IPAs and other popular styles, instead focusing on brews inspired by Czech and German beer traditions. In fact, before opening, the guys traveled to Germany and the Czech Republic for research and inspiration. (Interestingly enough, part of the trip included a visit to Moravia, the homeland of the Moravians who settled in Old Salem, which sits about two blocks from the brewery.)   With only four taps on site, they plan to keep the beer selection small and regularly rotate the offerings. There are currently five varieties available, including our favorite, Lunar Handshake, a Czech-inspired dark lager at 5.0%. (For a look at their beer lineup, go here.)
2. They use unconventional brewing methods
Aside from their unique beer styles, Lesser Known also uses a few less-common brewing methods. For starters, Gramlich uses an "open fermentation" process when creating some of the beers, claiming it gives the beer a more rustic, nuanced flavor. He also uses a flavoring technique called "decoction," which involves removing part of the mash and boiling it before returning it hot to the rest of the mash.   Lesser Known is one of the few breweries in the state offering tank pours in their brewhouse. This means they bypass the keg and instead place a spout directly on the brewing tanks. "The beer isn't necessarily better that way; it's just a different experience."
3. They keep distractions to a minimum
When it comes to the aesthetic, Lesser Known embraces a "less is more" philosophy. The brewhouse features a small indoor tasting area and two patios, one of which is covered. You'll find plenty of parking across the street and may see a food truck parked outside occasionally. The guys also plan to add an on-site hot dog cart shortly and are open to hosting private events.   That said, it's what you WON'T see at Lesser Known that makes it so unique. You won't find any TV's over the bar or neon signs along the walls — no live music or trivia nights on the calendar, either. Instead, the guys encourage visitors to "turn off" and keep the focus on the beer and socialization. (There's even a box for storing your phone if you want to take "unplugging" to the extreme.) It all goes back to bringing a different experience to the local craft beer scene — even if it means taking the road less traveled.
WANT TO GO? Lesser-Known Beer Co. is at 901 S. Broad St. in Winston-Salem. It's currently open Thursday through Sunday. For operating hours, on-tap beers, and more info, go to lesserknownbeer.com
---
Craft Draft Crawl 
As the historic birthplace of North Carolina's first microbrewery distillery (Single Brother's House in Old Salem), Winston-Salem knows a thing or two about beer. The city is home to 10 breweries — nearly all of which are within walking distance of one another — making it easy to enjoy a downtown DIY Craft Draft Crawl. Be sure to visit local standbys such as Foothills Brewing, Hoot Beer Co., Wise Man Brewing, and Fiddlin' Fish, all of which serve specialty brews and seasonal varieties. To plan your brewery hop this fall, check out our handy Craft Draft Crawl digital guide to hand-pick your favorites. Cheers!