IT'S A SCREAM! Ghost tours with Carolina History & Haunts
Take a Walking Ghost Tour through Winston-Salem's spookiest streets with Carolina History & Haunts.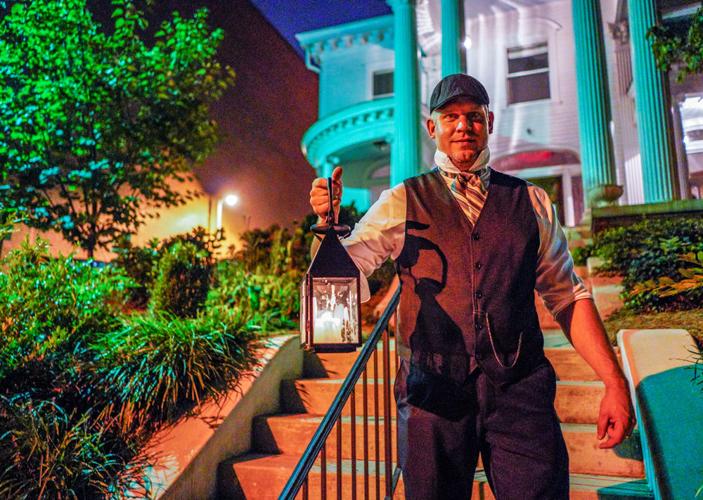 The undead are quite alive in Winston-Salem. You'll find them lingering in every corner of the city — from the cobblestone streets in Old Salem to the wooded trails at Reynolda Gardens to the historic inns and pubs downtown. But if you're looking for the spookiest spot in town, look no further than West End, says Dan Riedel, founder of Carolina History & Haunts.  
"You can't throw a stone in West End without hitting something historic," says Riedel. "No matter where you're standing, there's a story."  
Originating in the late 1800s just west of downtown, West End was planned as an exclusive neighborhood for Winston's wealthiest citizens. It was a place where the Reynolds and Hanes families showcased their manufacturing muscle, creating the city's famed "Millionaire's Row" of mansions. The neighborhood is hallmarked by its sloping topography, curvilinear streets, stately architecture, and — most importantly — its eerie past, one that Riedel and his fellow guides help bring to life nightly.  
The 90-minute walking tours — cheekily dubbed "West Endings" — occur throughout the year, rain or shine, but are most popular during the fall. Beginning at the historic Rosenbacher House on Fifth Street, tour-goers trace along the neighborhood's winding streets and knobby sidewalks, guided by lantern light. They'll explore some of the city's most chilling sites and stories along the way.   Like the tale of an age-old curse that hovers over the Zevely House (now home to Bernardin's Restaurant). Or the story of the last public hanging in town, the result of a romance gone awry, which occurred near the site of the ill-fated Hotel Zinzendorf, a grand resort that burned down less than a year after opening.  
Bringing history to life
Carolina History & Haunts, which also offers tours in Greensboro and Charlotte, recently celebrated its sixth anniversary in Winston-Salem, having earned unanimous praise on websites such as Trip Advisor.  
"This tour is a must-do," said one recent reviewer. "We've been on lots of ghost tours in different towns, and this is at the top of our list. The stories are spooky but filled with history, and the guide (Riedel) spoke with so much enthusiasm. He made it all come alive. What a perfect night out!"  
According to Riedel, it's the focus on history — stories that are both terrifying and true — that make Carolina History & Haunts unique. Where some ghost tours thrive on myths and gimmicks to bring the screams, he lets the stories speak for themselves. As he explains, "No one is going to jump out and scare you along the way; we aren't that kind of tour."  
"It's funny," he continues. "People always ask, 'Am I going to see a ghost?' The truth is, I have no idea. … But what I DO know is that you're going to hear some amazing stories and see some cool things — and you might even have an 'experience' along the way. If nothing else, you'll leave with an incredible appreciation for Winston-Salem and its history — and you'll want to want to learn more. We usually have people who hang out long after the tour ends, just asking questions about the city."  
When asked which question he hears the most, Riedel laughs before responding: "People always want to know where they hung all the witches," he says. "I have to tell them, 'Sorry ... this isn't THAT Salem … but we've got some stories that are way scarier."
---
WANT TO GO? West Endings Tour
WHEN: Tours last 90 minutes and are offered nearly every night; reservations are required.
WHERE: Tours start and end at the historic Rosenbacher House (848 W. Fifth St.) and cover four blocks total.
COST: $15 for adults, $13 for children (7-12), free for kids (6 and under). Gift certificates are also available.
GOOD TO KNOW: Tour groups are typically around 20 people but can be as few as four or as large as 25. Private and corporate tours are also available. For more details, including info on nearby parking and dining options, call 833-628-6277 or go to carolinahistoryandhaunts.com.