Our Favorite Things: 12 Reasons We Love the Holidays in Winston-Salem
---
When it comes to the holidays, few cities shine like Winston-Salem. It's a place where Moravian stars hang proudly from front porches, where the red-and-green glow of the Reynolds Building brightens the skyline. It's the smell of hand-dipped beeswax candles, the nostalgic taste of sugar cake, the sight of "blinkies" along busy streets, and the sounds of carols on a centuries-old pipe organ. It's all these things and more that make the holidays here an experience like no other.
From timeless traditions to one-of-a-kind spectacles, here are 12 things we love about the holidays in Winston-Salem.
---
1. Old Salem Museum & Gardens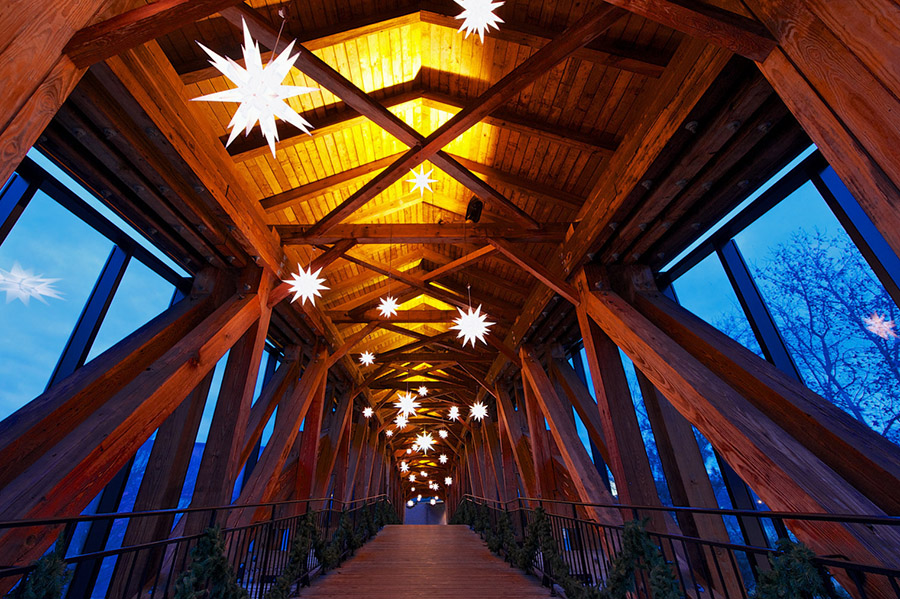 When it comes to our local holiday traditions,  Old Salem  is where it all begins. (It's where most everything begins in Winston-Salem, really.) The historically restored village paints a picture of Christmases past, reflecting the customs of our area's first settlers — the humble, hard-working Moravians, who arrived in the mid-1700s by way of Bethlehem, PA, after migrating from Bohemia and Moravia (modern-day Czech Republic.)   Visitors can experience the season at a slightly slower pace here, whether by candlelight, carriage ride, or self-guided tour. The holiday happenings are highlighted by Salem Saturdays at Christmas, happening each Saturday now through Dec. 17, plus Dec. 31, as well as a new tradition, Salem NIght, on Dec. 17. Both events allow visitors to tour the historic buildings, interact with period interpreters, visit with St. Nick, and experience Moravian traditions first-hand.   While in Old Salem, you can shop for a one-of-a-kind gift at Old Salem's retail shops, explore dazzling sights and scenes at the Museum of Early Southern Decorative Art (MESDA), and pose for a pic along the star-lined Heritage Bridge (seen above). And no visit to Old Salem would be complete without a trip to historic Winkler Bakery to indulge in fresh-baked sugar cake and whisper-thin Moravian cookies.   IF YOU GO: For more on Old Salem's holiday events and offerings, or to purchase tickets, go to oldsalem.org
---
2. Candle Tea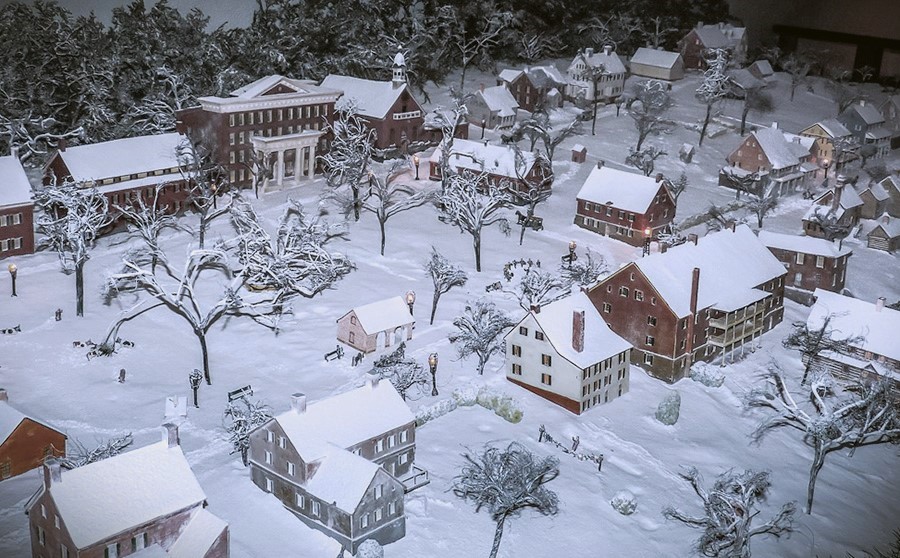 The Single Brother's House in Old Salem is home to one of the city's most beloved holiday traditions — Home Moravian's annual Candle Tea. Held for nearly a century, the event offers a glimpse at a few Moravian Christmastime traditions, including beeswax candle-making, carols sung with a historic organ, slices of sugar cake, and steaming cups of Moravian coffee. You'll tour the Single Brothers House room by room, culminating with a trip to the sub-basement for the grand finale — the Putz. Spanning 30 feet, the display depicts a snowy Salem in the early 1900s and features more than 100 scaled structures, along with miniature people, wagons, trees, even a mini water wheel. (And just an FYI, the word "Putz" in this case is a variation on the German word "putzen," meaning "to decorate.")   Longtime Candle Tea volunteer Jim Baucom says many visitors return each year specifically to see the Putz, which is a variation on the German word "putzen," (meaning "to decorate). "We hear a lot of 'Wows,' even from people who've seen [the Putz] before," he says. "No matter how many times you've seen it, you'll always see something new."   IF YOU GO: Candle Tea is held Thursday, Friday, and Saturday evenings in early December; this year's dates are Dec. 1-3 and 8-10. While walk-ins are accommodated, advance reservations are highly encouraged and can be made online here. Tickets are $8 with proceeds supporting various causes, including local charities and Moravian mission work.
---
3. Tanglewood Festival of Lights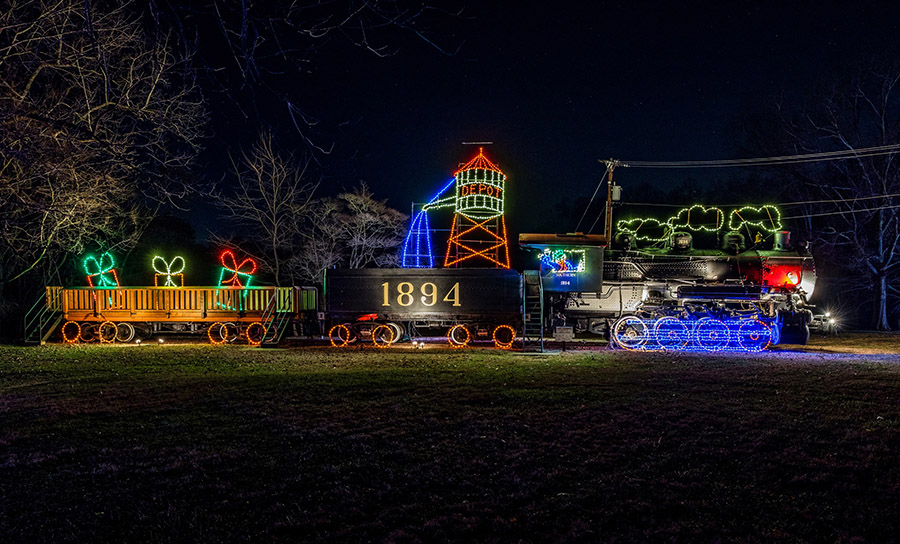 A million twinkling lights — and then some. That's what you'll find illuminating the rolling hills of Tanglewood Park during the annual Festival of Lights (FOL). Now in its 31st year, the display stands as the most popular holiday light show in North Carolina, attracting more than 250,000 visitors. It's earned countless accolades throughout the years, including being one of the top-10 holiday displays in America by MSN.com. You'll find more than 80 displays spread along the 5-mile route, including favorites such as the nativity scene, the falling snowflakes, a prancing horse, and a Santa-hat-donning dragon peering out of the lake.   Returning for 2022 are the popular Holiday Gift Village and S'moresville attractions. Located at the Red Barn (about halfway through the lights route), the Village features dozens of exhibitors selling crafts, ornaments, specialty food items, and other handmade gifts. For those wishing to experience the festival in a new light, make reservations for a horse-drawn carriage ride or tractor-pulled hayride by contacting Tanglewood Stables.   IF YOU GO: The Festival is open nightly from now until Dec. 31. Entrance fees are paid at the gate; $20 cash / $23 credit card for family vehicles (cars, trucks, vans). To avoid lengthy wait times, we highly suggest visiting on a weeknight when crowds are smaller, particularly early in the season. For more tips on getting the most out of your FOL experience, check out our FOL Insider's Guide.
---
4. Graylyn Estate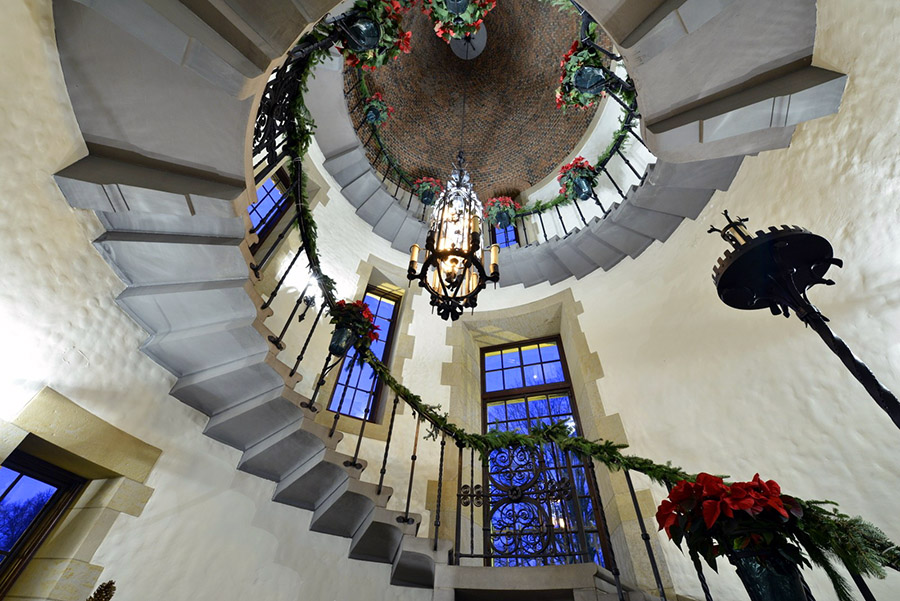 One of Winston-Salem's most storied hotels, Graylyn elevates your holiday getaway with rich traditions, festive decor, and family-friendly activities (not to mention butler service). Built in 1932 as the residence for former Reynolds Tobacco president Bowman Gray, the 85-room estate occupies 55 acres along the picturesque Reynolda Mile, just minutes from downtown.   While Graylyn is opulent year-round, it takes on a special glow during the holidays. Festive tunes fill the halls, flames crackle in cozy fireplaces, garland adorns the staircases, and poinsettias color the common areas. The decor is hallmarked by a series of uniquely themed Christmas trees scattered throughout the house, each paying homage to a Gray family tradition. Also, don't miss the exquisite gingerbread house — a mini-scaled model of the Graylyn Manor House — located at the base of the Graylyn's spiral staircase. It's a favorite among Winston-Salem visitors and locals alike. To book a stay, check out our special packages webpage for Graylyn and other hotel offerings here.   Want to experience Graylyn's holiday glow but can't stay the night? Consider coming for dinner. Dining is offered nightly at the estate by reservation. Families can also bring little ones out to Graylyn's annual "Santa Experience" (aka, Breakfast With Santa) each weekend in December leading up to Christmas. For more details on the holiday experience at Graylyn, check out the seasonal section of their website.
---
5. The Nutcracker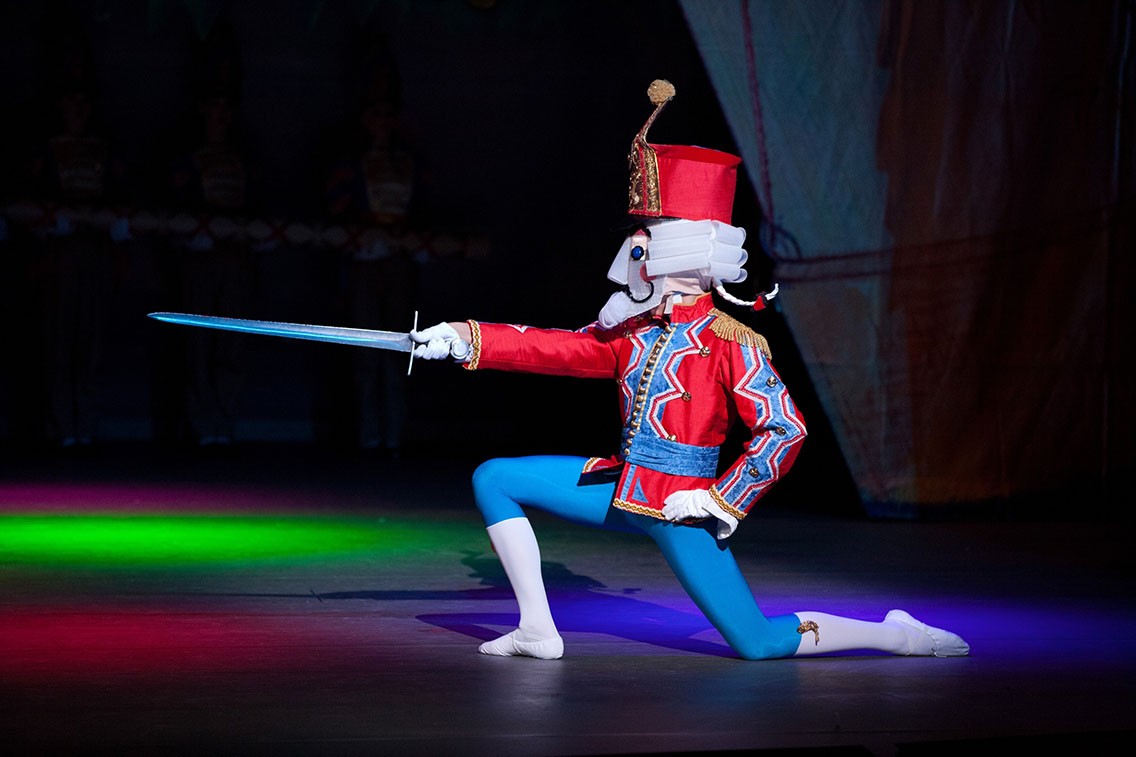 Held annually in the 1929 Stevens Center theatre downtown, The Nutcracker has been dazzling audiences for more than 50 years. Each year, hundreds of students and staff from UNC School of the Arts stage the show alongside young dancers from the community and world-class guest artists from across the globe, culminating in a holiday spectacle like no other. The vivid sets, vibrant costumes, and subtle injections of humor make the show something even non-dancers can appreciate. The student-led production also uses a 50-person live orchestra — all UNCSA students — to deliver Tchaikovsky's time-honored score. As a bonus, many of the show's iconic sequences were recently refreshed and "reimagined" by  Ilya Kozadayev, a world-renowned choreographer who's directing this year's production.   IF YOU GO: The production opens Friday, Dec. 9, and runs for 11 performances through Dec. 18. Tickets, which can be purchased online here, begin at $25 with proceeds supporting student scholarships. In addition, UNCSA is once again offering a kid-friendly alternative in the form of the Nutcracker Tea Party (Dec. 17-18), held on campus in the Agnes de Mille Theatre. (UPDATE, all Tea Party tickets are sold out.)
---
6. Moravian Sweets and Treats
Winston-Salem can thank the Moravians for a lot of our holiday traditions, from Moravian stars to Moravian lovefeasts. But this time of year, we're especially thankful for all the tasty goodness they brought when they settled here some 260 years ago, including these two heavenly treats:  
Ginger Spice Moravian Cookies. If the holidays in Winston-Salem had a flavor, it'd probably taste something like Ginger Spice Moravian cookies — light and paper thin with the perfect balance of sweet-to-spice goodness. You can find them all over town, from Old Salem to Dewey's Bakery to kiosks at Hanes Mall. Or you can head to Mrs. Hanes Moravian Cookie Factory and watch the cookies being made by hand, then buy them straight from the front counter.
Moravian Sugar Cake. Perfected by the early settlers in Salem, sugar cake is also available at local standby shops such as Dewey's and Winkler Bakery, as well as local Lowes Foods stores. The sweet treat is made using an age-old recipe involving yeast, flour, butter, and (believe it or not) mashed potatoes. After the dough rises in the pan, bakers poke indentations on the surface before filling them with cinnamon, nutmeg, butter, and brown sugar. It might not be the prettiest cake in the bakery, but you won't care after you take a bite.
---
7. Holidays at Reynolda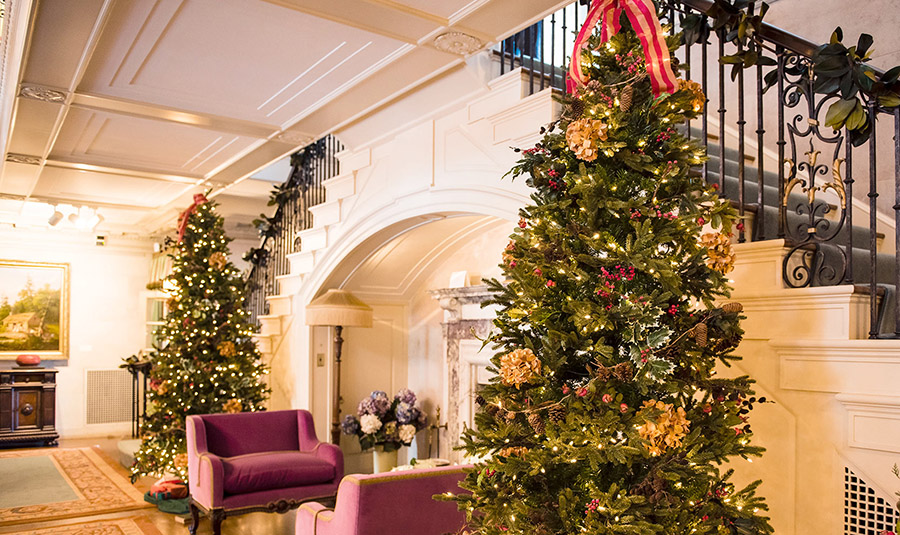 One of Winston-Salem's seasonal showpieces, Reynolda offers a mix of festive activities, décor, and experiences each year. Built in 1917 for the family of tobacco tycoon R.J. Reynolds and his family, the 34,000-square-foot estate is now equal parts art gallery and history museum (and an absolute must-see). And while it's spectacular throughout the year, it always shines a bit brighter during the holidays — going all the way back to the Reynolds' first Christmas in the home. In fact, many of the decorations seen today reflect the family's first Christmas in 1917, from the lit trees to the fresh wreaths to the holly-filled vases.   You can experience Reynolda's wonder first-hand during one of the many holiday events planned this year. The festivities are highlighted by a new tour, "Through the Years: Christmas at Reynolda," offering a festive glimpse into Reynolda's past. Other seasonal events include the Enchanted Christmas Evening tours (Dec. 9, 15) and Caroling Fridays, (Dec. 2, 9, 16), along with special shopping days, musical performances, family-first workshops, and more.   The celebrations continue in the adjacent Reynolda Village, which kicks off the shopping season with its annual Holiday Stroll on Nov. 19. Enjoy a magical evening full of shopping, dining, carolers, carriage rides, and Santa Claus during this free event. Meanwhile, the holidays will be in full bloom at neighboring Reynolda Gardens during the annual Holiday Plant Sale, happening Nov. 18-19 and Dec. 2-3. Check out Reynolda's website for a full look at the holiday happenings at Reynolda,
---
8. Korner's Folly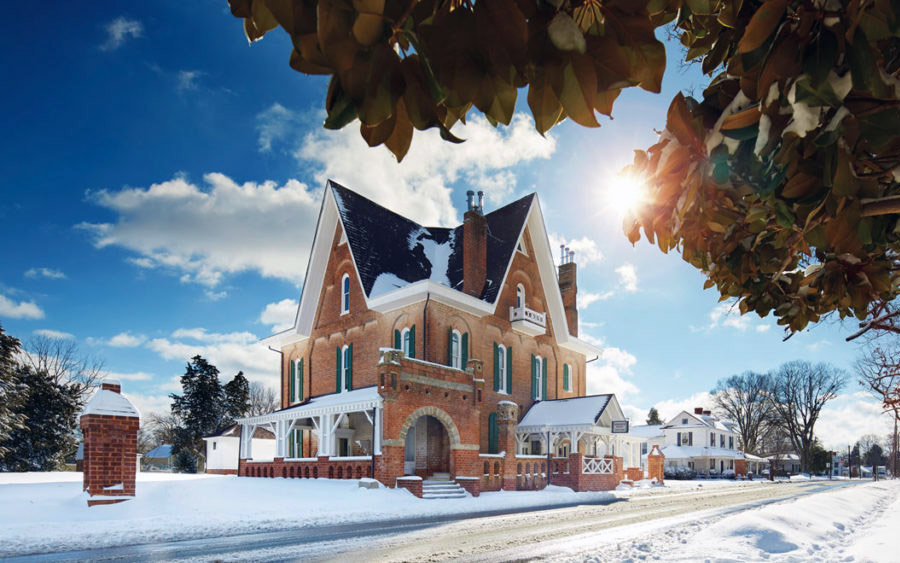 While Reynolda might be the most famous "house" in these parts, Körner's Folly might be the most unconventional. With three stories, seven levels, and 22 rooms, the 1878 abode has been called "the strangest home in America" — and something you have to see the really believe. Yet, along with its quirkiness, there's also a wondrous old-world charm at Körner's Folly that keeps visitors coming back year after year. And never is the home more charming than the holidays, when its 22 rooms are decked top to bottom with Victorian-inspired décor (trees, wreaths, garlands, ornaments, lights, and more.)   From Nov. 25 to Jan. 7, visitors can enjoy self-guided holiday tours of the home each day except Monday. Tickets can be purchased onsite or online, and tours last around an hour. In addition, Körner's Folly offers guided candlelight tours Dec. 3 and Dec. 17 (5-9 p.m.) Advanced tickets are required and can be purchased here.   The home is nestled along Main Street in Kernersville, just 15 minutes from downtown Winston-Salem. If you head that way, be sure to also visit the neighboring Paul J. Ciener Botanical Gardens and its Spectacular Holiday Blooms display. The handcrafted spectacle is on display each weekend evening during the holiday season through Dec. 30.
---
9. Paul J. Ciener Botanical Garden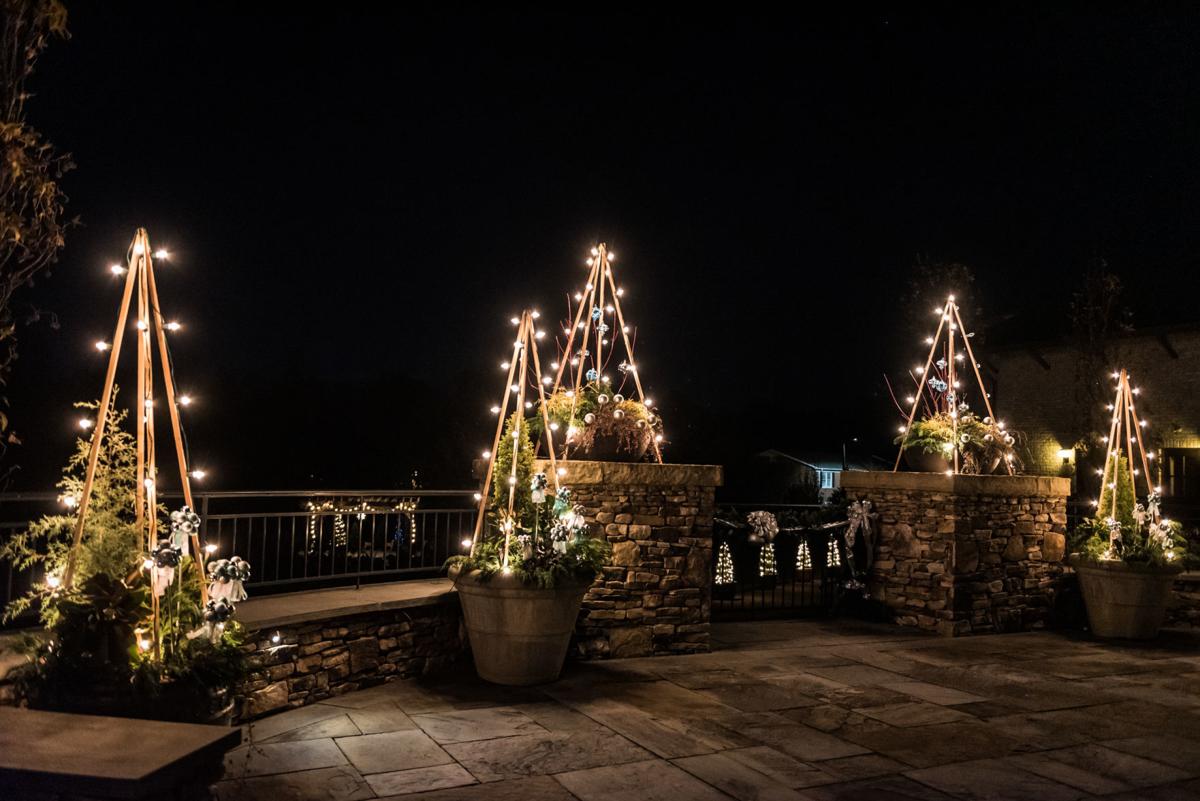 Also in Kernersville, just a half-mile north of Körner's Folly, stands the dazzling Paul J. Ciener Botanical Garden. Even in the height of winter, the gardens here are in full bloom with a stunning seasonal display.   Now in its fourth year, the garden's signature holiday event — Spectacular Holiday Blooms — brings together dozens of volunteers and garden staff, who tirelessly handcraft more than 6,500 blooms from recycled plastic bottles, each one radiating holiday cheer. Visitors can stroll through the dazzling wisteria lights, get lost in the illuminated trees along the patio terrace, and find more surprises as you stroll to the Performance Stage. The seasonal spectacle complements the garden's dazzling springtime display, Spectacular Tulip Blooms, which begins annually around late March.   This year's Spectacular Holiday Blooms will be on display Thursdays through Sundays (5:30 p.m.–9 p.m.) from Nov. 26 through Dec. 30. Tickets (available here) are $5 for adults and free for kids 18 and under.   GOOD TO KNOW. If you linger after dark in Kernersville, you'll see one of our area's signature decorations lighting up the night — blinkies! Created by local handyman Roger Briles, the twinkling lights are found throughout the town, particularly along Main Street, delighting passersby with their simple, mesmerizing glow.
---
10. Signature Sights & Lights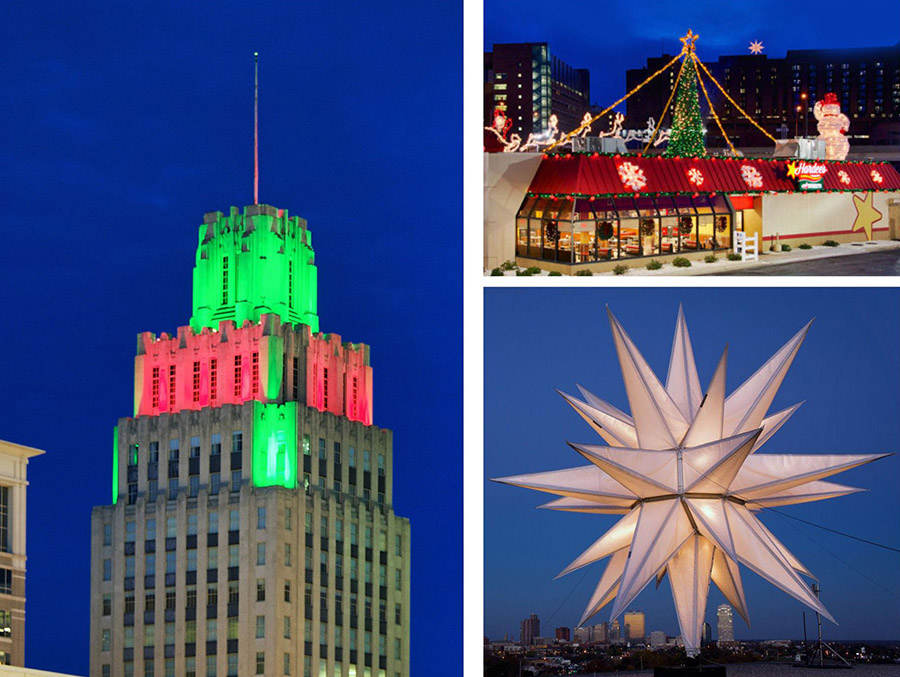 Most cities have their own variation of "blinkies" — those cherished sights that mark the arrival of the holidays — and Winston-Salem is no exception. From a waving snowman to a 30-foot star, here are a few time-honored attractions to look for:  
"The Big Star." If you're looking for the biggest Moravian star in town, look to the rooftop of our biggest employer, Wake Forest Baptist Medical Center. That's where, since 1992, a 31-foot aluminum star reigns supreme, providing a mega-sized reminder of our city's Moravian roots.
The Hardees Lights. A signature holiday scene atop a fast-food chain? Strange as it sounds, the nostalgic display at the First Street Hardees has delighted passersby for more than three decades. It features Santa, his reindeer, and a 6-foot snowman — along with a touching back story. (Read more about the lights here.) 
The Reynolds Building. There's always been a sense of local pride associated with the 1929 Reynolds Building, now home to the 173-room Kimpton Cardinal Hotel. (Most locals will tell you, correctly, that the 20-story building served as the prototype for New York's Empire State Building. .) That pride turns to adoration each December when the building's crown, lit in shades of red and green, glows like a giant Christmas candle in the night.
11. Moravian Christmas Lovefeasts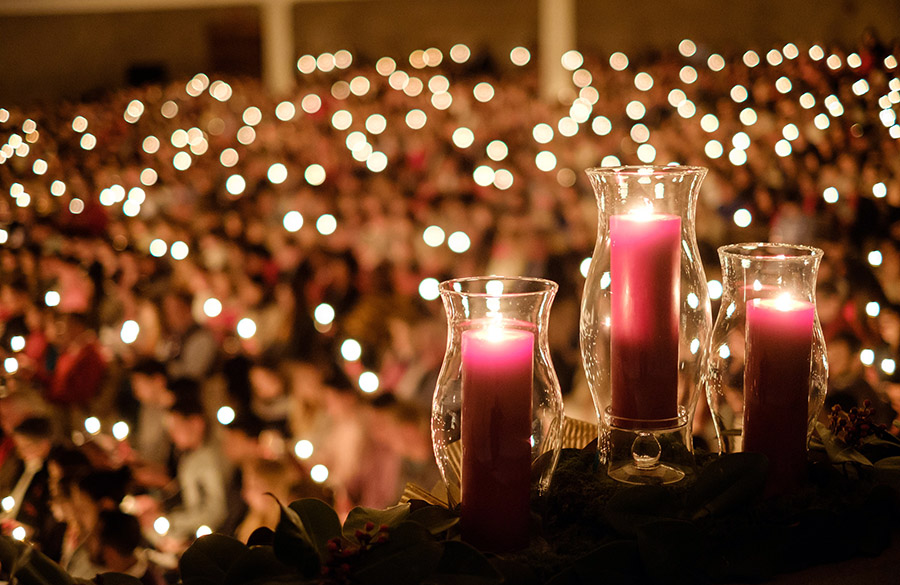 Carols, coffee, and candlelight: simple traditions that have come to define the holiday season for many in Winston-Salem. They're all components of the Christmas Lovefeasts, held annually at Moravian churches throughout the region. Although lovefeasts occur throughout the year, they take on a special glow at Christmastime — particularly on Christmas Eve — when the sanctuary lights give way to hundreds of flickering beeswax candles that are passed out and lit one-by-one. While the lights are dim, a number of traditional Christmas carols fill the air — among them, "Morning Star," a traditional hymn that's led by children and echoed by the congregation. All services are free to attend.   GOOD TO KNOW: There are more than two dozen Moravian churches in our region, and most hold Christmas Eve lovefeasts — with many holding multiple services. For specific service times, check individual church websites. (Here are the results of a quick search of Moravian churches in Winston-Salem.)     
12. Annual Sounds and Shows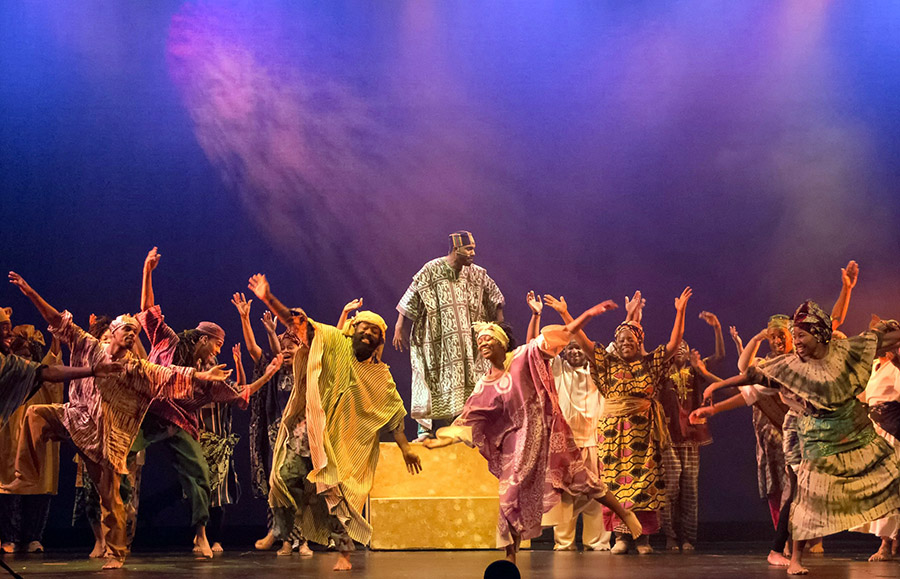 While everyone knows about "The Nutcracker," it's certainly not the only holiday show in town. Here are a few annual events we put at the top of our must-see list each year:  
The Winston-Salem Symphony (WSS) offers two unique holiday concerts beginning Thanksgiving weekend with "A Carolina Christmas" at Reynolds Auditorium (Nov. 26-27).  Now in its ninth year, the concert features popular Christmas tunes and the high-flying acrobatics of Cirque de la Symphonie — not to mention a visit from Santa himself. Another symphony tradition — Handel's Messiah — returns to Wake Forest's Wait Chapel on Tuesday, Dec. 13, and will be conducted by former WSS conductor Robert Moody.
Pictured above, N.C. Black Repertory Company is offering an updated take on their annual "Black Nativity" production at Hanesbrands Theatre from Dec. 10-19. The new show — "Nativity According to the Gospels" — debuted last year to rave reviews with its infectious music, brilliant costumes, and high-energy dance routines.
Next to Hanesbrands Theatre at Sawooth School for Visual Art, another tradition returns with a new name and slightly new format. Sawtooth's Artists Market (formerly Deck the Halls) will feature dozens of talented local artists selling their work and demonstrating their trade live in-studio.
These and other annual events are complemented by a number of exciting new shows unfolding this year — including the Winston-Salem Little Theatre's spin on "A Christmas Carol" and a musical rendition of "A Christmas Story" by the Winston-Salem Theatre Alliance.  All of the events help cement Winston-Salem's reputation as a hotbed for the arts and a showstopper during the holidays.     For more holiday happenings in and around Winston-Salem, check out our events calendar or our holiday landing page here.