A Sweet Tradition
Written by: Robin Sutton Anders
Just south of Winston-Salem, the family-owned and operated Mrs. Hanes' Hand-Made Moravian Cookies still makes and fulfills all their orders the old-fashioned way.
At 87, Travis Hanes is a jovial tour guide. Leading a dozen visitors past the window-lined industrial kitchen, where the company's "artists in aprons" knead molasses-colored dough and roll out those iconic, paper-thin cookies, he points out the bakers are particularly busy preparing for the holidays. "We sell seven million Moravian ginger cookies in a two-month period."
Travis gestures to a blue, wood-fired stove that inspired his wife, Evva's, earliest memory. "I can remember my mother making cookies and me sliding down under the wood cook stove, sucking my bottle," says Evva. "The ginger cookie is a Moravian Christmas tradition. But my mother developed the sugar cookie recipe, and nobody made it except us. Now everybody makes a variation, but we were the first."
Evva's mother, Bertha, sold her cookies to local Winston-Salem bakeries, like Dewey's, to supplement the family's dairy farming income. "My mother was the best cook in the world," Evva adds. Bertha soon put Evva to work. "Her job was to watch the oven," explains Travis. When Moravian cookies go into the oven, they're less than an eighth of an inch thick — so just a sliver of seconds can mean the difference between a perfect, crisp cookie and a burned disc. "There was no thermometer. She had to know from the aromas coming out whether they were baked or not."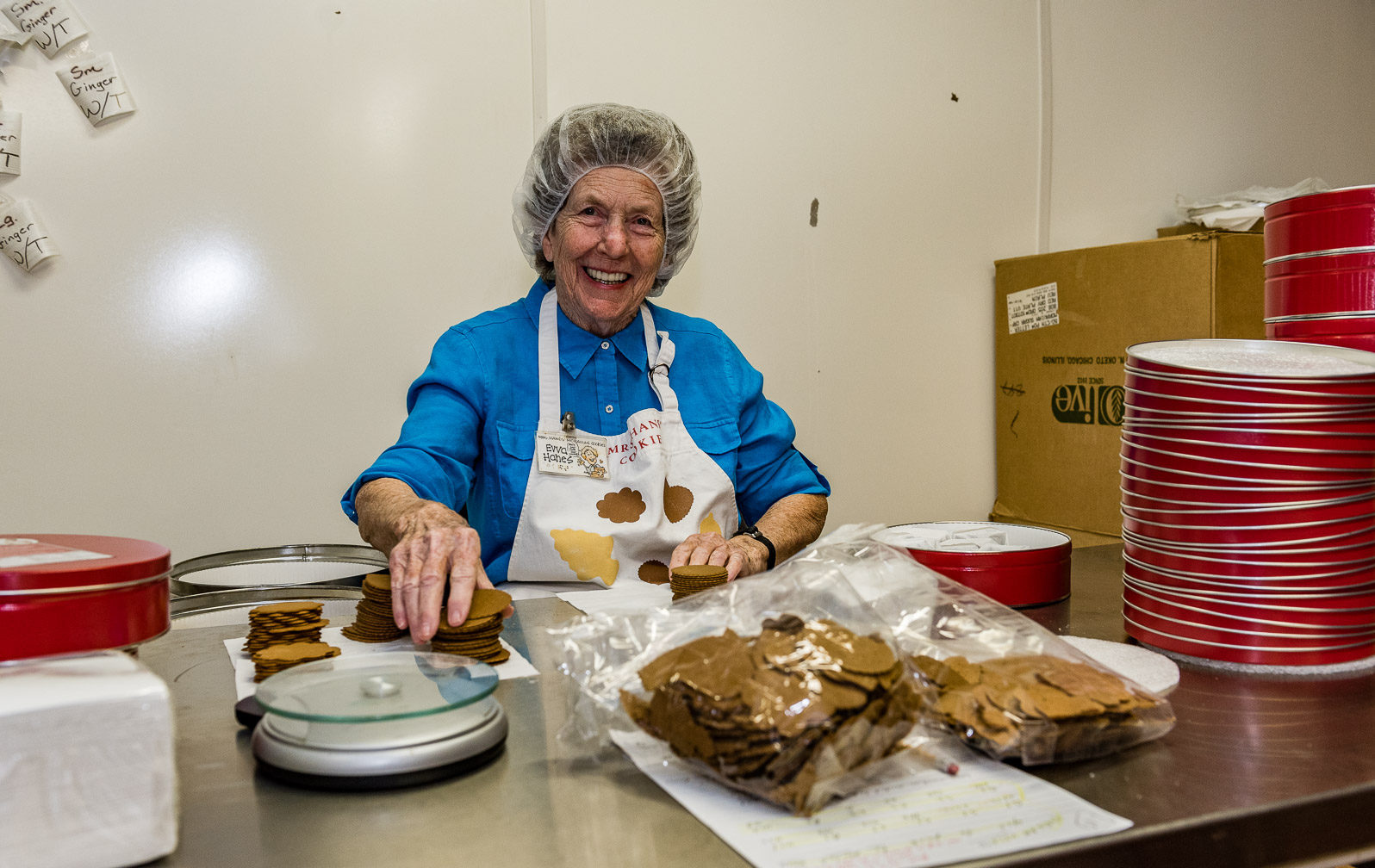 Evva spent more than two decades perfecting her cookie craft under Bertha's expert eye. At 29, she quit her job as a Hanes Hosiery inspector to work with her mother full-time. By then, Evva and Travis had fallen in love and married. They lived in a house on the family's dairy farm and eventually added an industrial kitchen to their basement, where Bertha came to work for Evva. Travis and Evva had four children, two of whom joined the family business — Mona as president and her brother, Mike, as treasurer.  Mona, now 65, recently added the 90,000th devoted customer to their mailing list.
Through it all, they've held fast to their mission: "not to be the biggest, but the best cookie makers in the world."
If the Hanes family wanted to be the biggest, they might've followed in the footsteps of their competitors, all of whom make Moravian cookies with a machine. But a machine-made cookie just doesn't taste as good, Mona explains. "Our bakers have decades of experience. They know when to add flour and just how much to add. That consistency changes based on the weather. You have to know when it feels right. A machine doesn't know."
From adding the ingredients — spices, black molasses, and vegetable shortening — to filling the tins, every cookie is prepared with care. "There's not one step of the process where a person is not involved," Mona says. "When it goes into the oven, it's looked at. When it comes out of the oven, it's looked at. When you pack it in the bags, a person is hand-packing it. When you put it in the tin, someone is looking at it again."
Plus, Travis adds, there's the publicity that comes with being the largest producer of hand-rolled, hand-cut, and hand-packaged Moravian cookies in the world.
"One year, Oprah picked our cookie as one of her favorite things," he remembers. "She said it wouldn't be Christmas if her pal, Quincy Jones, didn't send her — and many other celebrities — our cookies."
Evva may be retired, but it's not unusual to spot her behind the glass at the bakery, pitching in if the 30-plus artists in aprons need an extra set of hands. Even at 87, Evva holds the efficiency record. "After our bakers have been trained, we hope they will make 30 pounds of cookies a day," Travis says. "Evva could go down there now and make twice as many as anybody."
When Evva's grandson, Jed, moved back home from Kansas two years ago to join the bakery as vice president, he became the ninth generation to carry on his family's Moravian cookie tradition. "My mother would never believe it," Evva says.  "I can't believe it. It makes me happy."
Visit the Bakery:
Mrs. Hanes' Moravian Cookies
4643 Friedberg Church Rd, Clemmons, NC 27012
Monday - Friday; 7 a.m. - 5 p.m.
Saturdays; 9 a.m. - 2 p.m.
Closed Sundays