Plan the Perfect Football Weekend in Winston-Salem
---
Coming to a college football game in Winston-Salem? Check out our Gameday Guide for tailgating tips, gameday advice, plus the best places to stay, eat, and celebrate.
---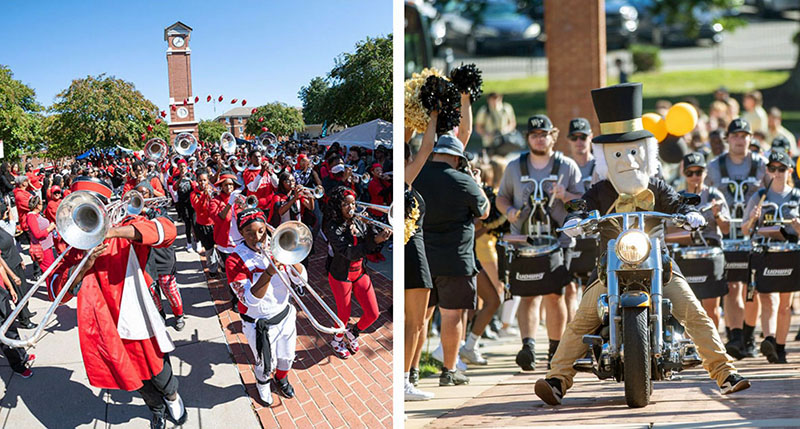 Football season is upon us, and for many here in the South, it is the most wonderful time of the year. That is especially true in Winston-Salem, as thousands of fans visit town to catch a game at Allegacy Stadium, home of the Wake Forest University Demon Deacons, or Bowman Gray Stadium, home of the Winston-Salem State University Rams. But attending the game is only part of the fun if you're looking for an ideal football weekend in Winston-Salem.  Here are a few pro tips to enjoy the most out of your Winston-Salem weekend visit. 
WHERE TO STAY
With more than 5,300 hotel rooms in town, you'll find plenty of lodging options close to both stadiums. Explore all the lodging options by visiting the Places to Stay section of our website and using the map view to see downtown listings, and be sure to check out the Special Hotel Packages available this fall. If you aren't sure where to start, downtown is always a safe bet. You'll be in the heart of the city's dining and nightlife scene and only two miles from both stadiums, and you'll have more than a dozen options to choose from —everything from cozy B&Bs to historic inns to luxury hotel brands. If you aren't sure where to start, here are a few fan favorites:
Kimpton Cardinal Hotel. Located inside the 1929 R.J. Reynolds Building — an art deco icon that served as the prototype for the Empire State Building — this 174-room hotel was recently named a top 12 hotel in N.C. by U.S. News & World Report. Amenities include a classy restaurant/bar (The Katherine) and a rec center featuring a basketball court, bowling, ping pong, adult-size twisty slide and more.
Hotel Indigo. This chic hotel opened in 2019 inside the historic 1928 Pepper Building. While there are copious amenities here — including an onsite restaurant and wine loft — perhaps it's biggest draw is its prime location in the heart of downtown.
Historic Brookstown Inn. You'll feel intimately connected to the city's past at this 70-room boutique inn stationed in a 19th-century textile mill next to Old Salem. Charming perks such as a complementary Southern breakfast buffet and a free wine-and-cheese reception in the evening only add to the appeal.
WHERE TO GRAB BREAKFAST
You know what they say: breakfast is the most important meal of the day (especially on game days!). If you're looking to crab up ahead of the game, here are some good bets close to both stadiums.
For cozy comfort food: Cagney's Kitchen: This local diner serves all-day breakfast at all its area locations, including its flagship location at Cloverdale Avenue, less than 10 minutes from both stadiums.
For pancake perfection: Midtown Café: Breakfast is served anytime at this venerable diner in the Five Points area. Go for the French Toast, Irish Oatmeal, Big Buckaroo special, or one of Midtown's 10+ pancake specialties. (And ask about their mimosa flights.)
For grab-and-go pastries: Bobby Boy Bakeshop or Louie & Honey. Modeled after a French-style bistro, Bobby Boy pairs Instagram-worthy scenery with fresh-baked perfection. Favorites include chocolate croissants, morning buns, cinnamon rolls — and everything else. It's less than 2 miles from Wake Forest and 5 miles from WSSU…but so popular, expect to meet and mingle with other fans while waiting in a que
For caffeine on the go: Coffee Park Airstream. The drive-up coffee shop sits in Silver Bullet Airstream on Reynolda Road, halfway between downtown and Allegacy Stadium. Just pull up to the window, place an order, and you'll be merrily on your way.
What about Sunday Brunch? The best thing about staying in Winston-Salem on Saturdays? Waking up for brunch on Sundays! You'll find plenty of places downtown to kickstart your Sunday Funday, including standbys such as Krankies, Young Cardinal Cafe, Mozelle's, and the Fourth Street Filling Station. Outside of downtown, you can't go wrong with 1703, The Porch, or either Village Tavern location — particularly the original  Reynolda Village location — all of which offer amazing food, ample patio space, and boozy beverages.
WHERE TO STOCK UP
In need of tailgate provisions? Check out these go-to local options.
For one-stop tailgate shopping: Lowes Foods
With six locations in town, this Winston-Salem-based grocery chain has all your gameday needs. Pick up a big box of fried chicken in the Chicken Kitchen, stock up on local brews in the Beer Den, and choose from a dozen different party platters and trays (veggie trays, sandwich trays, charcuterie, you name it.) If you're in a rush, place your order online and pick it up curbside. (NOTE: There are two Lowe's Foods within 10 minutes of both stadiums; the Robinhood Road location (Store #149) and the Reynolda Road location (Store #165)
For take & bake meals: Buie's Market  
Tucked in the Buena Vista neighborhood, two miles from Allegacy Stadium, Buie's Market offers a rotating selection of grab-and-go foods perfect for tailgating. Reliable options like white chicken chili, buffalo chicken casserole, fresh-made pizzas, and enchiladas complement local favorites like Moravian chicken pie and Red Clay pimento cheese. You'll also find plenty of sides, dips, craft beer, and locally made snacks. 
•Closer to downtown in the Five Points area, Salem Kitchen also offers hearty to-go meals, tailgate-friendly appetizers, hors d'oeuvres, and more than two dozen party trays.
For local barbecue in bulk: Little Richard's
Fans hankering to sample North Carolina barbecue need look no farther than Little Richard's Smokehouse Bar N Que. Just went of downtown off U.S. 421, Little Richard's is less than five miles from both stadiums. Pick up their signature chopped BBQ in bulk by the half-pound ($10) and pound ($15), and add a few favorite fixins' — cole slaw, hushpuppies, potato salad, Brunswick stew, and (of course) banana pudding. 
•Closer to downtown, Camel City BBQ Factory also sells Lexington-style 'cue by the pound along with various sides and smoked meats (brisket, ribs, smoked sausage, and more).
For gameday wings to-go: East Coast Wings 
Pick up an order of 50 boneless or bone-in wings at this Winston-Salem-based franchise and get up to three free flavor selections. You'll find locations throughout town, including the Reynolda Manor Shopping Center (2894 Reynolda Road), three miles from Allegacy Stadium.
•Another legendary wing stop, Mountain Fried Chicken, sits only minutes from both stadiums and offers their famed "Winston Wings" in quantities of 50 ($42) and 100 ($76).
 
WHERE TO GRAB A DRINK
Only a few miles from both stadiums, downtown offers dozens of places to soak in the victory (or drown out your sorrows). The following spots offer friendly, casual vibes, late-night bites, and big games on big-screen TVs.
Foothills Brewpub. The O.G. of Winston-Salem's breweries, Foothills pairs top-notch pub fare with over a dozen craft beers on tap, including fall seasonals like Oktoberfest and Pumpkin Ale. Located on Fourth Street in the heart of downtown, the brewpub is a short walk from other popular bars, including Recreation Billiards, a legendary watering hole that opened in 1947.
Incendiary Brewing. Anchoring the ground floor of the iconic Bailey Power Plant, Incendiary pairs industrial vibes with award-winning brews. Enjoy your pint inside amid the big screens and brewing tanks, or grab a seat on the brewery's massive outdoor space (aka, the Coal Pit), one of the most popular patios in town. Hungry? Try a Neapolitan-style pizza or a scoop of gelato from Incendiary's neighbor, Cugino Forno.
ROAR. Located on Liberty Street in the Downtown Arts District, ROAR is a four-story entertainment mecca that opened in 2022. Find a food hall, boutique bowling, golf simulators, and a 90-tap self-serve beer wall. The basement houses a digitized mini golf course (Twisted Putter), while the top floor offers a swanky rooftop bar and dazzling skyline views.
Downtown Arts District: ROAR isn't the only post-game option in the Arts District. The lively area is also home to two top-notch breweries — Fiddlin' Fish and Wise Man — and downtown's beloved Irish pub, Finnigan's Wake. There's also Reboot Arcade Bar, a family-friendly pub with dozens of retro arcade games, and the aforementioned Camel City BBQ Factory, which offers a full bar, cornhole boards on the patio, and a third-floor arcade with billiards, foosball, skee-ball, and more.
 
WHAT TO SEE AND DO
Sure, you can come to Winston-Salem just to tailgate and take in the game — and there's nothing wrong with that. But to get the most out of your trip, make it a full weekend. Come for the football on Saturday, but arrive early on Friday and stay until Sunday afternoon to experience all the city has to offer. If you need help mapping out an itinerary, here are a few must-dos: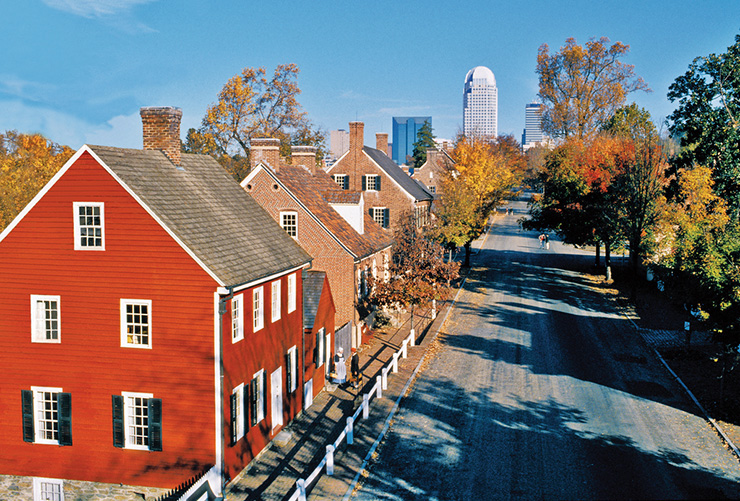 Time travel in Old Salem. To know the history of Winston-Salem is to know the story of the Moravians, a group of humble, hardworking Eastern European immigrants who established the village of Salem in the mid-1700s. Today, the 87-acre village has been authentically restored into Old Salem Museums & Gardens (pictured above), one of America's most immersive historic sites. Since there's no charge to wander through Old Salem, many visitors are content to stroll along its cobblestoned streets and delight in the sights, perhaps grabbing some goodies at Winkler Bakery or snapping a pic on the famed Heritage Bridge. But for the full experience, purchase an admission pass, which grants you access to more than a dozen interpreted buildings, museums, and gardens. 
Explore Reynolda. Built in 1917 for tobacco tycoon R.J. Reynolds and his family, Reynolda House Museum of American Art is now part art gallery, part history museum — and a must-see. The home's 64 rooms feature a dazzling collection of art and a treasure trove of Reynolds' family relics, period furnishings, vintage toys, and more. After touring the house, stroll through the adjacent Reynolda Gardens — home to miles of wooded trails — and Reynolda Village, a former working farm now filled with boutique shopping and dining options. 
Discover Downtown. Named one of America's Top 10 downtowns by Forbes, our center city is home to more than 120 shops, bars, and restaurants. Looking for some retail therapy? Check out unique shops such as Mast General Store, Bookmarks, Just Be, and Design Archives Emporium (all open on Sunday). Interested in local libations? Plan a DIY Craft Draft Crawl to the 10+ breweries and distilleries that call downtown home. Want a quick history lesson? Book a guided 2-hour segway or e-bike tour with Triad Eco Adventures. Whatever you choose, check our events calendar to see what's happening during your stay.
 
Take a hike. Some of the most scenic hiking spots in the South are found in our backyard, including Pilot Mountain and Stone Mountain state parks. But for unbeatable fall scenery, we suggest making the 30-minute trek north to Hanging Rock State Park. Take the mile-long hike to the Hanging Rock summit for a view that will leave you breathless (literally and figuratively). Or take the quarter-mile path to the Lower Cascades and dip your toes in the wading pool. 
---
LET'S TALK TAILGATING
No matter what team you're cheering on, here are a few pro tips to get you primed for game time.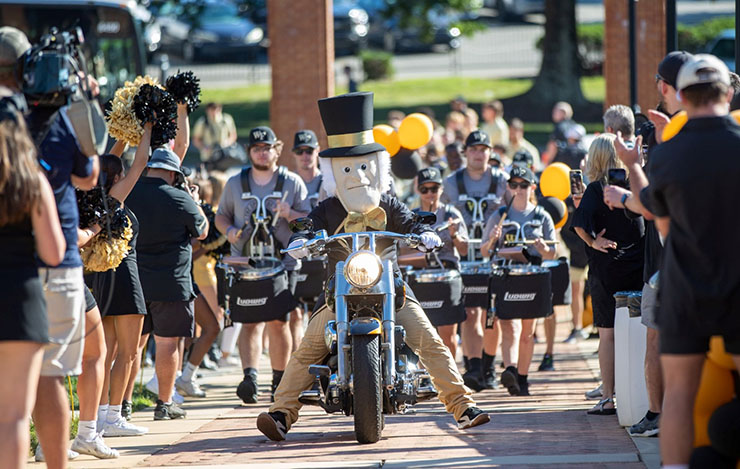 GAMEDAY NOTES:  5 Things to know about Wake Forest football
Same stadium, new name. Wake Forest plays their home games at the newly named Allegacy Federal Credit Union Stadium, formerly known as Truist Field. The 2023 season features six home games, including matchups against ACC foes Florida State (Oct. 28) and N.C. State (Nov. 11). 
Don't miss Deactown. If time permits, be sure to check out Wake's Fan Zone area (aka Deactown) on your way into the game. Located on Baity Street just west of the stadium, Deactown opens three hours before kickoff and is free for everyone. You'll find food and beer vendors, live music, interactive games, inflatables, face painting for the kids, and much more. There's also a giant video screen that plays various other games.
Full-service tailgating options. Through a partnership with REVELxp, Wake Forest offers an all-inclusive, turnkey approach to tailgating this season. Packages start at $525 and can include tents, tables, chairs, T.V.s, coolers, ice, food, and more. Wake handles all the equipment, setup, cooking, and cleanup — all you do is show up. For more on tailgating and ticket packages, call 336-404-7161 or go here.
Parking is no problem. If you don't have a parking pass, don't sweat it. You'll find day-of public parking in the Pepsi and Allegacy lots at the LJVM Coliseum, adjacent to Allegacy Stadium. Both lots offer plenty of room for grilling, tossing the football, and getting your tailgate on. Spaces here are available on a first-come, first-served basis for $20-$30 depending on the game. 
Shuttles and rideshares. Wake Forest offers free parking and shuttle service from its lot at 2400 Reynolda Road (about a mile from the stadium). If you plan on Uber-ing to the game, note that the rideshare drop off/pick up location is on Shorefair Drive behind the Wake Forest Tennis Center. For more details on transportation options and stadium policies, check out the Wake's Gameday homepage.
---

GAMEDAY NOTES:  5 things to know about WSSU football
The stadium is an icon. The Rams play their home games at historic Bowman Gray Stadium (BGS), one of the most storied venues in the nation. Doubling as a race car track, the legendary "Madhouse" sits a block from the WSSU campus and holds around 17,000 fans. 
Each game has a theme. The Rams' 2023 season is short on games but big on themes, as all four home games have a different theme/promo. First responders will be honored during the season opener on Sept. 16, which doubles as Greek Day. The annual "Red Out" game is Sept. 23, when WSSU Hall of Fame inductees are honored. The Oct. 7 matchup is themed the "Pink Game" to support breast cancer awareness. It all leads to the biggest game of the year…Homecoming
Homecoming is king. Like most HBCUs, homecoming at WSSU is the stuff of legends. The game is the culmination of a week's worth of festivities, including pageants, parades, a vendor market, step shows, and countless celebrations. This year's homecoming game will be held Saturday, Oct. 21. To keep track of all the happenings, visit the WSSU Homecoming 2023 homepage.
Parking is aplenty. There are three general tailgating lots surrounding the stadium. The South Lot is the easiest to access ($25 per space / $40 on homecoming). Spaces in the East and West lots are $15 regularly and $30 at homecoming. You can reserve tailgating spaces beginning at 6 a.m. on gamedays; call the WSSU Ticket Office for more details: 336-750-2905. 
Ticket info and more. Single-game tickets are $25 for all games except homecoming ($45) and can be purchased online at wssu.edu\tickets. For more on gameday festivities, parking info, and stadium policies, go to the Rams football homepage.
---
For a quick look at the 2023 football schedules for both Wake Forest and Winston-Salem State, check out our College Football page