Delight in the sights and sounds of over 265 years of historic holiday traditions in Winston-Salem this holiday season. Explore historic homes and museums by candlelight. Witness an enchanting performance of UNCSA's The Nutcracker. Marvel at more than a million twinkling lights at Tanglewood Park's Festival of Lights. Nibble on traditional Moravian holiday treats, including whisper-thin cookies and decadent sugar cake. Make Winston-Salem your "home away from home" this holiday with special hotel getaway packages here.
For a closer look at Winston-Salem's most beloved traditions and attractions, check out our 10 Can't-Miss Holiday Happenings below:
---

10 Can't-Miss Holiday Happenings in Winston-Salem
---

Graylyn Estate
One of Winston-Salem's most magnificent and historic hotels, Graylyn elevates your holiday getaway with rich traditions, festive decor, and family-friendly activities (not to mention butler service). Built in 1932 as the residence for former Reynolds Tobacco president Bowman Gray, the 85-room estate-turned-hotel occupies 55 acres along the picturesque Reynolda Mile, just minutes from downtown. While Graylyn is opulent year-round, it takes on a special glow during the holidays. Festive tunes fill the halls, flames crackle in fireplaces, garland adorns the staircases, and poinsettias color the common areas. The decor is hallmarked by a series of uniquely themed Christmas trees scattered throughout the house, each paying homage to a Gray family tradition. To book a stay, check out our special packages page for Graylyn and other hotel offerings.
GOOD TO KNOW: Want to experience Graylyn's holiday glow but can't stay the night? Consider coming for dinner. Dining is offered nightly at the estate by reservation. Families can also bring little ones out to Graylyn's annual "Santa Experience" (aka, Breakfast With Santa) each weekend in December leading up to Christmas (except the weekend just before Christmas).
---
Tanglewood Festival of Lights
Nov. 17–Jan. 1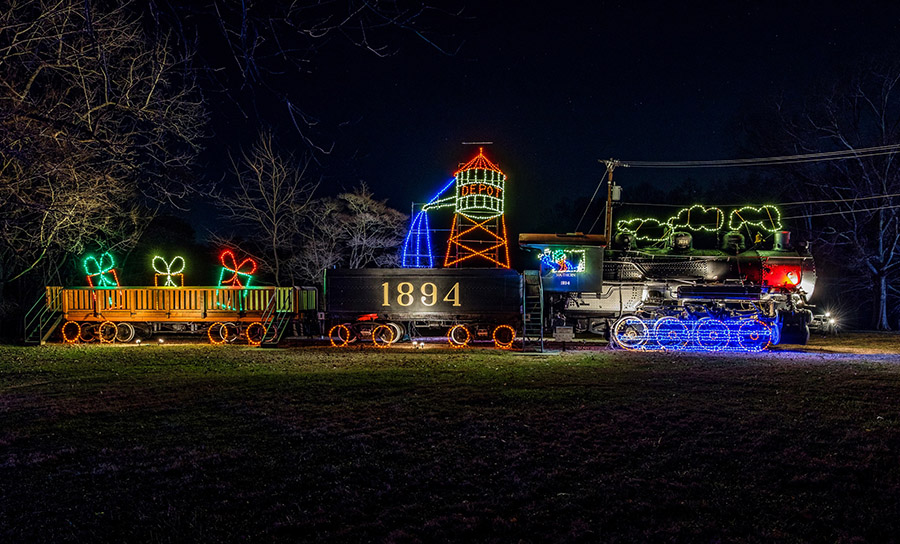 Tanglewood Park's rolling countryside transforms each holiday season into a shimmering winter wonderland with more than a million twinkling lights aglow. Entering its 32nd season, the Festival of Lights (FOL) at Tanglewood Park is open nightly from 6–11 p.m. through January 1. Attendees drive through the winding countryside route taking in the spectacular sights of more than 80 displays. Entrance fees are paid at the gate; $20 cash / $23 credit card for family vehicles (cars, trucks, vans). For those wishing to experience the festival in a new light, make reservations for a horse-drawn carriage ride or tractor-pulled hayride by contacting Tanglewood Stables at 336-766-9540.
Returning for 2023 is Tanglewood's popular Holiday Gift Village. Located in the Red Barn (about halfway through the lights route), the village features dozens of exhibitors selling holiday crafts, specialty food items, ornaments, and other handmade gifts. This is also where you'll find S'moresville, open nightly until 10 p.m. Sponsored by Lowes Foods, S'moresville lets visitors purchase roasting sticks with either marshmallows or s'more kits on-site. (Outside marshmallows and roasting sticks aren't allowed, FYI.)
GOOD TO KNOW: Because of its popularity, wait times can reach up to 4 hours on peak-visit days (weekends especially). We suggest visiting on a weeknight when crowds are smaller, particularly early in the holiday season. For more tips on getting the most out of your FOL experience, check out our Insider's Guide article.
Location: Tanglewood Park, 4061 Clemmons Road, Clemmons, NC 27012
---
Old Salem Museums & Gardens
Nov. 15–Dec. 30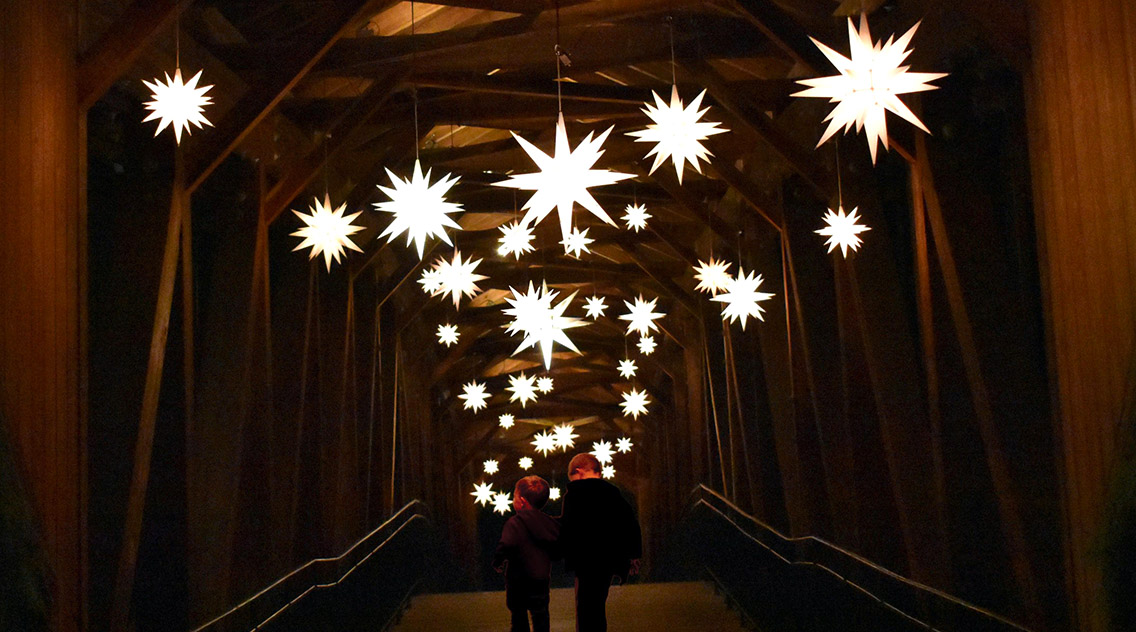 Discover early Moravian traditions as you stroll the charming streets of Old Salem Museums & Gardens, where the fragrances of pine-bough decorations greet you. Costumed interpreters invite you to explore centuries-old holiday customs inside the historically restored village, home to more than 100 original buildings and structures.
This year's holiday events are highlighted by Salem Saturdays at Christmas, which happen each Saturday leading up to Christmas (plus Dec. 31). Visitors can tour the historic buildings, interact with period interpreters, visit with St. Nick, and experience Moravian traditions first-hand during the Salem Saturday events, held 10 a.m.–4 p.m. Also don't forget to stop by the onsite shops for some uniquely festive gifts. And no visit to Old Salem would be complete without a visit to Winkler Bakery, where you can indulge in fresh-baked holiday treats such as sugar cake and Moravian cookies. Back by popular demand this year are the "Joy of Christmas" Holiday Lantern Tours! Each weekend in December leading up to Christmas, walk through the history of Old Salem with all the joy of the season lead by candlelight (purchase tickets here).
GOOD TO KNOW: While in Old Salem, make your way to Heritage Bridge for the perfect holiday photo opp. Dozens of Moravian stars hang inside the covered walkway, making it a beautiful sight day or night.
---
Reynolda 
Nov. 18–Dec. 14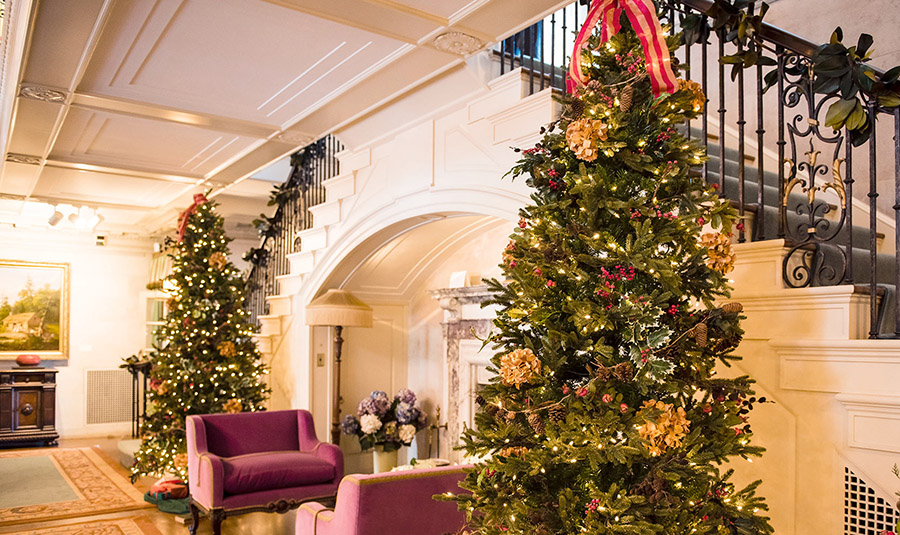 Step back in time to 1917 for a festive visit to Reynolda, located less than 10 minutes from downtown. The entire estate is decorated for the holiday season, and visitors can enjoy a mix of festive activities and experiences beginning in mid-November. This year's festivities are highlighted by a new tour, "Christmas with the Reynolds Family" offering a festive glimpse into Reynolda's past. Advance tickets ($25) are required for the tours, which can be purchased on their website. Other seasonal events include Caroling Fridays, (Dec. 1 & 15), along with special shopping days, musical performances, family-first workshops, and more.
The celebrations continue in the adjacent Reynolda Village, which kicks off the shopping season with its annual Holiday Stroll on Nov. 18. Enjoy a magical evening full of shopping, dining, carolers, carriage rides, and even Santa Claus during this free event. 
GOOD TO KNOW: With a full slate of events happening at Reynolda (both inside the museum and outside at the gardens and village), it can be hard to keep track. Luckily you can find Reynolda's full holiday program lineup at by visiting reynoldahouse.org/holidays.
---
Körner's Folly
Nov. 21–Jan. 6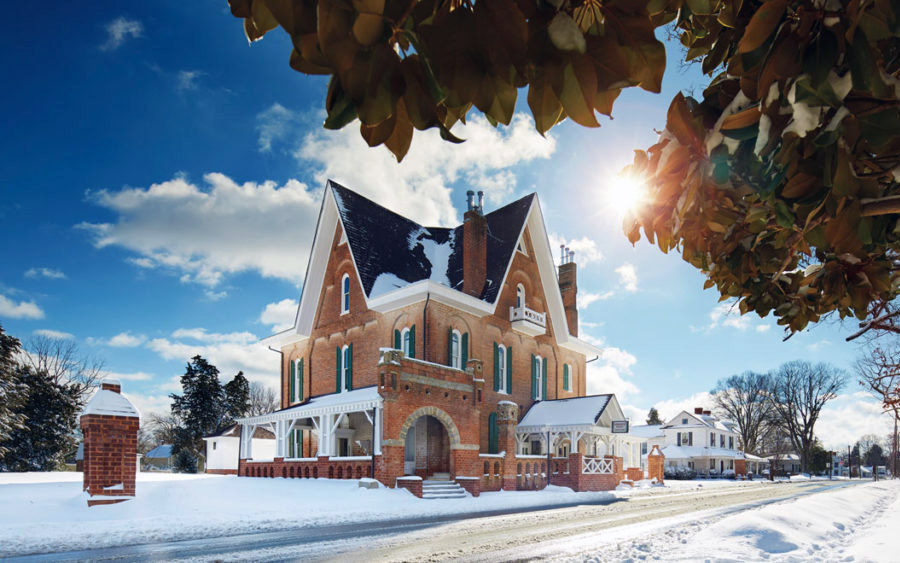 With three stories, seven levels, and 22 lavishly decorated rooms, Körner's Folly is often called "the strangest home in America." And every year at this time, it is also a beautiful showcase of historic holiday charm, as the entire estate is decked top to bottom with Victorian-inspired trees, wreaths, garlands, ornaments, lights, and more.
Beginning Nov. 21, visitors can enjoy self-guided holiday tours of the estate, which are offered Tuesday through Sunday from 10 a.m.–4 p.m., with the last entry at 3 p.m. The tours take approximately an hour, and tickets can be purchased onsite or in advance online. In addition to the self-guided tours, is offering Körner's Folly offers special candlelight guided tours Dec. 2 and Dec. 16 (5-9 p.m.) Advanced tickets are required and can be purchased here. Körner's Folly is nestled along Main Street in Kernersville, just 15 minutes from downtown Winston-Salem.
GOOD TO KNOW. If you linger in Kernersville after dark, you'll see one of our area's signature decorations lighting up the night — blinkies! Created by local handyman Roger Briles, the twinkling lights are found throughout the town, particularly along Main Street, delighting passersby with their simple, mesmerizing glow.
---
Paul J. Ciener Botanical Garden
Nov. 24–Dec. 30

Also in Kernersville, just a half-mile north of Körner's Folly, stands the dazzling Paul J. Ciener Botanical Garden. Even in the height of winter, the gardens here are in full bloom with a stunning seasonal display.
Now in its fifth year, the garden's signature holiday event — Spectacular Holiday Blooms — brings together dozens of volunteers and garden staff, who tirelessly handcraft more than 8,000 blooms from recycled plastic bottles, each one radiating holiday cheer. The evening spectacle is on display Thursdays through Sundays during the holiday season. Tickets are $5 for adults, $2 for children aged 6-17, and free for kids 5 and under. (Purchase tickets here.) While there, you can enjoy a stroll through the dazzling wisteria lights, get lost in the illuminated trees along the patio terrace, and find more surprises as you stroll to the Performance Stage.
GOOD TO KNOW: The Spectacular Holiday Blooms complement the garden's dazzling springtime display, Spectacular Tulip Blooms. Beginning around late March, you'll find thousands of tulips on display over a six-week period, augmented by special celebrations, kids' activities, lectures, and more.
Location: Paul J. Ciener Botanical Gardens, 215 S. Main St., Kernersville, NC 27284
---
Home Moravian Candle Tea
Nov. 29-Dec. 9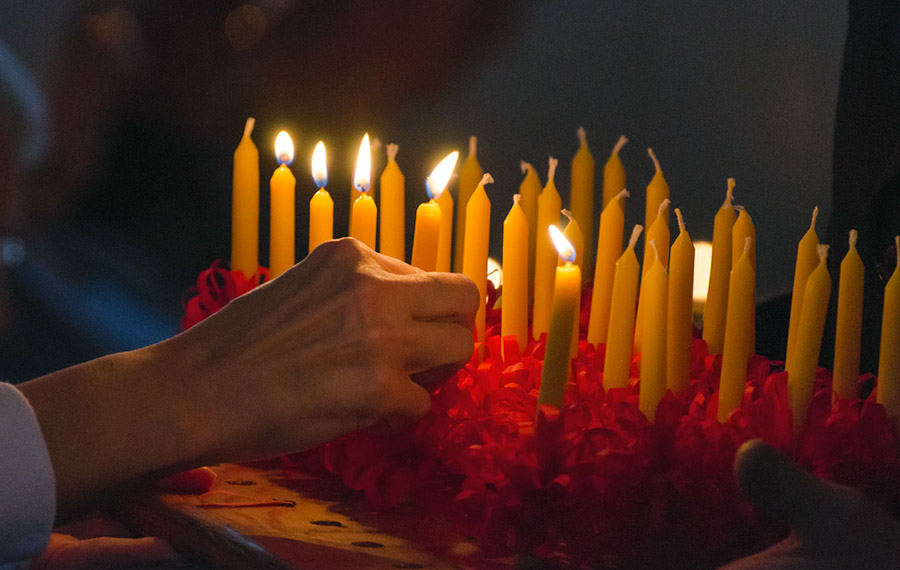 For two weeks in late November and early December, the sounds of carols and the smell of beeswax fill the Single Brother's House in Old Salem, the site of Home Moravian Church's annual Candle Tea. The event offers a glimpse at a few Moravian Christmastime traditions, including candle-making, carols sung with a historic organ, samples of Moravian coffee and sugar cake, and two elaborate "putz" displays. Event dates include various times on Nov. 29-Dec. 2., Dec. 4-5, and Dec. 7-9. Admission is $8.50 for adults and children — and nearly all of the proceeds go to local and worldwide charities.
GOOD TO KNOW: Advance reservations are scheduled for all times during regular operating hours. Reservations are limited to 25 per 15-minute admission slot and can be made on Home Moravian's website (link). Walk-in guests will be accommodated as space is available.
---
The Nutcracker 
Dec. 7–10

For nearly 60 years, UNC School of the Arts has been presenting its dazzling version of "The Nutcracker" in Winston-Salem. Students from UNCSA perform alongside younger dancers from local studios and with special guest artists, oftentimes visiting from the NYC Ballet or American Ballet Theatre. The vivid sets, vibrant costumes, and subtle injections of humor make the show something even nondancers can appreciate. The production also uses a 50-person live orchestra — all UNCSA students — to deliver Tchaikovsky's time-honored score.
Traditionally held inside downtown's majestic Stevens Center, this year for the first time the show will take place in nearby Greensboro at the Steven Tanger Performing Arts Center as the Stevens Center in Winston-Salem, begins its long-anticipated renovation. The iconic production was refreshed and reimagined in recent years by director Ilya Kozadayev, an internationally acclaimed dancer and choreographer who teaches at UNCSA. The 2023 production opens Thursday, Dec. 7, and runs through Sunday, Dec. 10. Tickets begin at $31 and can be purchased at uncsa.edu/nutcracker or by calling 336-721-1945. Proceeds from the show support student scholarships.
GOOD TO KNOW: Round up the kids and head to the ever-popular Nutcracker Tea Party, presented UNCSA's Preparatory Dance program.Held on December 16-17, children from 3 to 10 years old enjoy a 45-minute performance of "The Nutcracker" inside Agnes de Mille Theatre on the UNCSA campus. After the performance, audience members enjoy a Tea Party with Nutcracker-themed arts and crafts and the opportunity to dance alongside characters from the show.
---
Christmas Eve Lovefeasts
Dec. 24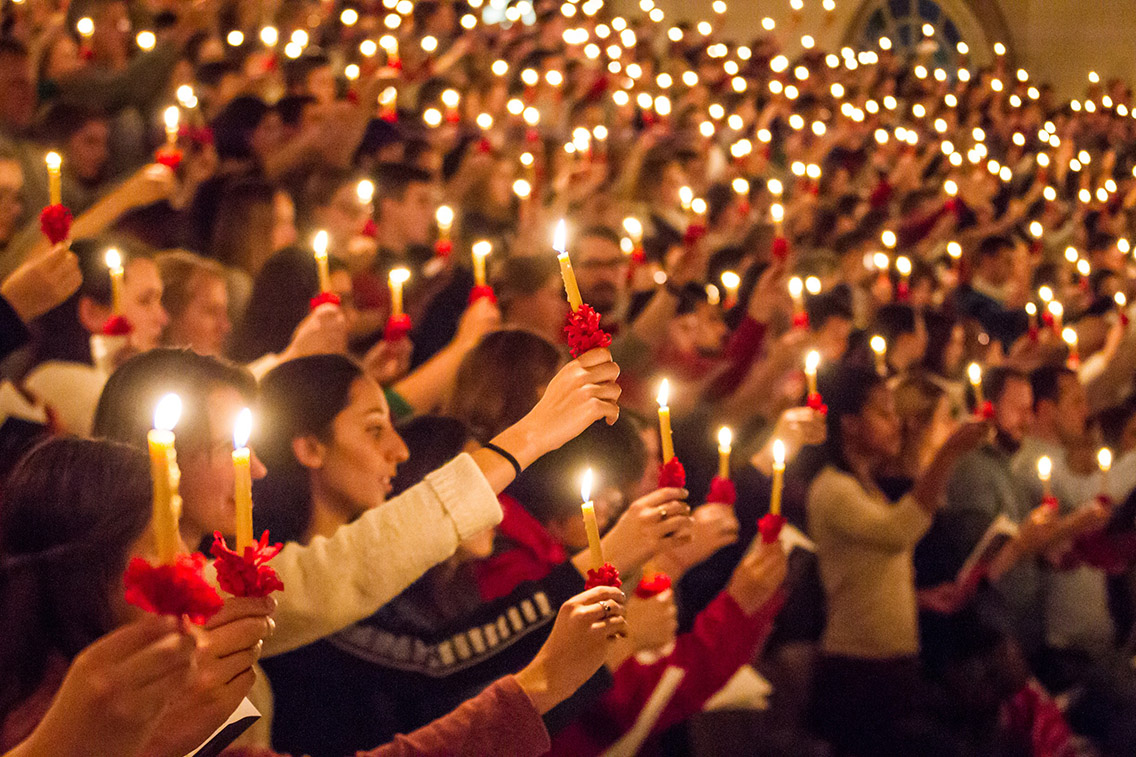 Carols, coffee, and candlelight: simple traditions that have come to define the holiday season for many in Winston-Salem. They're all components of the Christmas Eve Lovefeast, held annually at Moravian churches throughout the region. Although lovefeasts occur throughout the year, they take on a special glow at Christmastime. Toward the end of the service, the sanctuary lights give way to hundreds of flickering beeswax candles, passed hand-to-hand through the congregation. While the lights are dim, a number of traditional Christmas carols fill the air — among them, "Morning Star," a traditional hymn that's led by children and echoed by the congregation. All services are free to attend.
GOOD TO KNOW: There are more than two dozen Moravian churches in our region, and all hold Christmas Eve lovefeasts — with many holding multiple services. For specific service times, you'll need to check individual church websites. (Here are the results of a quick search of Moravian churches in Winston-Salem.) 
---
Running of the Lights
Dec. 31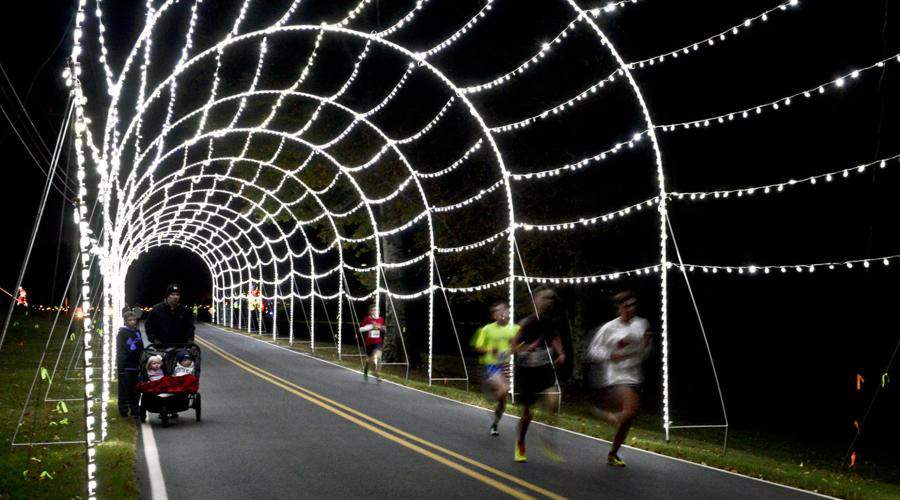 Skip the New Year's Eve parties and get a running start on your new year (and health goals!) at the annual Running of the Lights at Tanglewood Park. This family-friendly 5K race begins shortly before midnight on New Year's Eve and traipses through Tanglewood's Festival of Lights display. Participants watch a live feed from Times Square counting down to the new year, and when the clock strikes 12, the fun run/walk begins. You'll wind through the park aglow with Christmas lights and toast the new year with hot chocolate provided at the finish line. The event also serves a good cause, doubling as a food drive for the St. Peter's Outreach Center.
Good to know: In addition to the 5K race, there will be a 1.75-mile Fun Run/Walk that also begins at midnight. Registration for both events closes on New Year's Eve at 11:30 p.m. For details on registration, course maps, and more, go to runningofthelights.com
Location: Tanglewood Park, 4061 Clemmons Road, Clemmons, NC 27012 
---
Book Your Holiday Hotel Getaway!
(Click Image Below)

---
Holiday Events Calendar:

---