Downtown Views of Winston-Salem from the Rooftop (Bar)
Nothing cools down summer like a cocktail (or mocktail) chased with a cool view, and Winston-Salem's three rooftop bars are hotspots with refreshing views of the city.

Bar Piña, the city's first rooftop bar, opened in 2017, adding some palm tree vibes to Winston-Salem's downtown. The letters that light up the length of the building like a blue and hot pink neon "T" are an indication of the vibe that's going on inside.  First there's the sign. Then the cocktails, which lean toward the tropical. Don't be fooled by the fact that some of them are on draft. Bar Piña offers elevated and handcrafted cocktails against the breathtaking backdrop of the Winston-Salem skyline.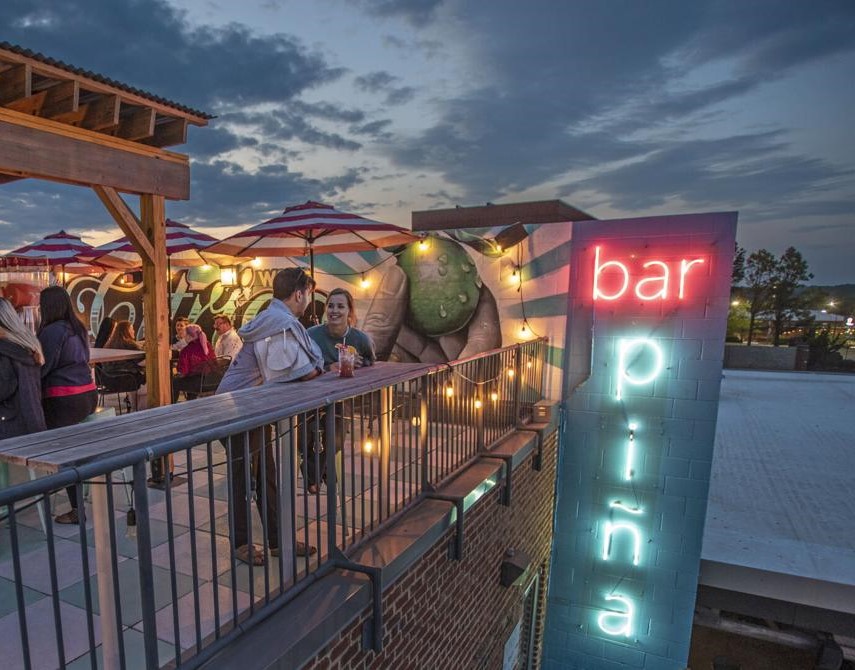 Owner Beau Tate loves it up there. Positioned in a downtown neighborhood known as Industry Hill, Bar Piña also hovers above the city's Downtown Arts District. The best time of day for a summer drink there is around 7 p.m. That's when you can catch what he calls "cotton candy sunsets," where the fluffy clouds are lit pink and orange by the setting sun. "My best Piña experience would be coming on a Friday night at like 7:15, catching a little bit of shade, watching the sun set and having a Miami Vice, which is equal parts piña colada and strawberry daiquiri," he says.
Bar Piña: 770 Liberty View Ct., Winston-Salem / FB: @coldbevvies / 336.355.4664

The city's second rooftop bar, Top of Fourth, opened last year, offering understated sophistication with a flair that is distinctly Winston-Salem — and it sits atop the Courtyard by Marriott Winston-Salem Downtown. Just a few Marriott properties have rooftop bars, but the hotel owners wanted to bring something a little different to downtown Winston-Salem. Some design elements, such as the charming brick patio in the alley, align with nearby historic Winston-Salem architecture.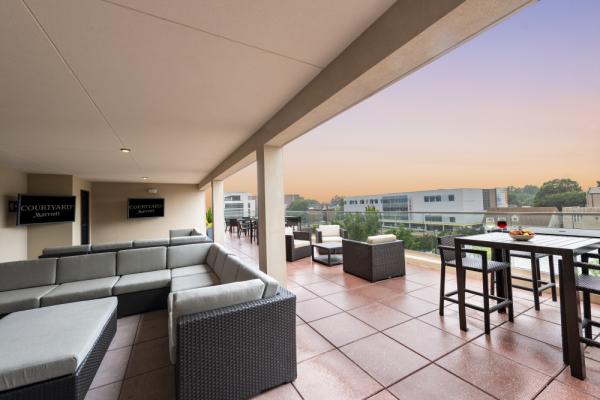 Top of Fourth offers enclosed seating, as well as covered and open-air options. Arnika Addison, the hotel's general manager, says people just gravitate to the rooftop to marvel at the panoramic views of downtown or the city's Historic West End neighborhood. "Being able to see the skyline, it's crystal clear," she says. "It's just a beautiful sight."
Top of Fourth: 640 W. 4th St., Winston-Salem / 336.917.3038

Great expectations come with a name like ROAR. But there's little concern about whether this soon-to-be-open rooftop bar will deliver. The prime view over Winston-Salem is provides allure to locals, families, vacationers, and business travelers to ROAR. The building was built in 1929, so it seemed fitting to use a theme of the Roaring '20s, says Ayshen Montiel, director of group sales for ROAR. "The name ROAR just fit the building and the concept we were going for," she says.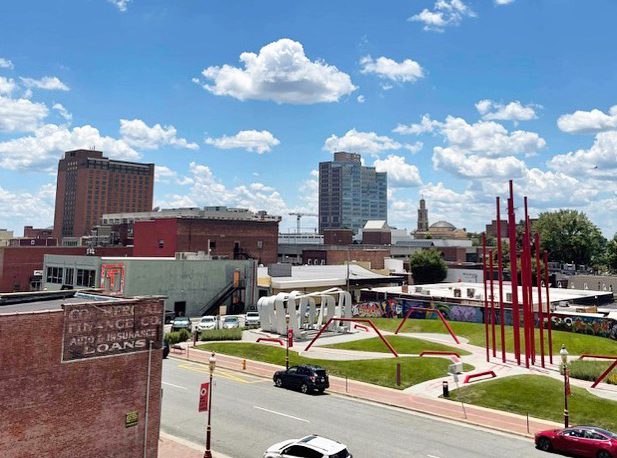 Owners were even able to acquire a 1920s Ford Model T during the naming process, and it will be a focal point in ROAR. ROAR offers four floors and 8,000 square feet of dining, live entertainment, interactive games like Duck Pin bowling, blacklight mini golf, Full Swing virtual simulators, a full-service golf club, and an eclectic array of food options. It's also the perfect backdrop for a sunset wedding or for those armed with a selfie stick. See our directory for more information.
ROAR: 633 North Liberty St., Winston-Salem / FB: @Roar.Winston-Salem